Miners Shot Down (pictured), a documentary looking at the massacre of mine workers in South Africa, has been selected as the second of three opening night films that will kick off Sheffield Doc/Fest in June, realscreen can reveal.
The 85-minute film, from director Rehad Desai, will launch the UK festival on June 7, alongside the previously announced music doc Pulp: A Film about Life, Death and Supermarkets, and a third documentary, which will be named by Doc/Fest on May 8.
Miners Shot Down looks at the August 2012 massacre of workers at the Marikana mine in South Africa, in which 34 people were shot dead and many more were injured, representing the single worst episode of bloodshed since the end of apartheid.
The miners had been protesting for a wage increase, and the film will have some contemporary resonance for Sheffield, which is a former coal mining town.
The UK premiere of the film forms part of a four-strong program of South African docs playing at this year's Sheffield festival, sitting alongside Petter Ringbom's music doc Shield and Spear, Jolynn Minnaar's fracking doc Unearthed, and Khalo Matabane's controversial doc Mandela: The Myth & Me.
BBC 'Storyville' editor Nick Fraser, who sits on Sheffield Doc/Fest's board of directors, told realscreen: "When you look at films like Mandela: The Myth & Me and Miners Shot Down, it shows what South African filmmakers can do given resources and freedom.
"Miners Shot Down shows in absorbing and horrifying detail how many were murdered by the South African police acting in collusion with the management and security forces of a multinational platinum mining company."
Mette Hoffmann Meyer, commissioning editor of documentaries for Danish broadcaster DR TV – and an early investor in Miners Shot Down – said that the doc was "the most important South African film in 20 years."
She said the 2012 massacre marked "the first time that the ANC has shot at its own people. We all, of course, understand the loyalty to the ANC, but the film shows how dangerous it is when one party has too much power, and when politics and money go hand in hand."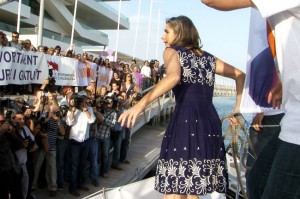 Other docs slated to play at Sheffield Doc/Fest this year will include Diana Whitten's acclaimed SXSW award-winning abortion documentary Vessel (pictured, right), and Marshall Curry's Tribeca-winning war doc Point and Shoot.
In a statement given to realscreen, Rebecca Lichtenfeld, director of social impact media at Bertha Philanthropies, said: "Bertha Foundation is proud to support Miners Shot Down, a powerful film that the world needs to see. We are thrilled that it has been selected as the opening night film at Doc/Fest."
Sheffield Doc/Fest runs from June 7-12. The event will this year kick off on a Saturday – as opposed to the traditional Wednesday – to avoid clashing with the 2014 FIFA World Cup.
Check out the trailer from Miners Shot Down below (warning: contains graphic footage):