Directors Amer Shomali (pictured below, left) and Paul Cowan (right) talk to realscreen about using animation to form a different narrative about politics, and enlisting the help of a Palestinian community to shoot their documentary. 
Between 1987 and 1993, the West Bank town of Beit Sahour played an integral role in the first Palestinian intifada, when a group of townspeople purchased 18 Israeli cows in order to take ownership of their dairy production. Until the Israeli army got wind of the outfit's effectiveness and forced it to go underground, the farm was considered a major coup.
Twenty-five years later, Beit Sahour relived this charged period of its history when Palestinian filmmaker Amer Shomali – who had learned about the story from a comic book as a child – and Canadian director Paul Cowan arrived to film their documentary The Wanted 18.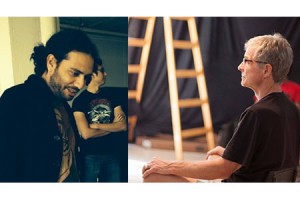 The National Film Board of Canada and Intuitive Pictures-produced film – which had its world premiere at the Toronto International Film Festival (TIFF) on Saturday (September 7) – uses quirky stop-motion animation, live-action scenes and numerous interviews with Palestinians and Israelis about the cows, but for Shomali in particular, this was never just a story about clandestine livestock.
"I've always feel there is a problematic approach when it comes to the Palestinian and Israeli conflict," he told realscreen in a phone interview from his home in Ramallah, Palestine. "You're always talking about the bloodshed and the demonstrations and the violence. In this film it's kind of different: it's not focusing on the Palestinian as a victim, it's focusing on the Palestinian as an active community."
However, the challenge for Shomali, an animator, and Cowan – who had no prior experience in the field – was to make a film about an often tragic political situation that also relied heavily on comedic animated segments.
"For me, it was the most problematic part of the equation because it was something I'd never done before and I just wasn't sure how it was going to go when you put an animated cow up against a mother talking about her son dying," says Cowan.
The directors – each of them at one point wanting either a wholly animated or fully live-action documentary – eventually met in the middle to craft a balance of both.
As for the recreations of the cow and army scenes (pictured below, right), the directors asked people who were active in the intifada to suggest relatives who looked like them to star as actors. The community members were happy to help, and went the extra mile.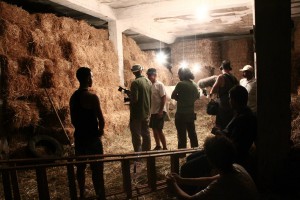 "The day before the shooting, the army arrested our props master and they took the military jeep and plastic weapons and military suits," explains Shomali. "They took everything we needed for the shoot, so we started panicking. Eventually, the [people] started making phone calls to look in the town and nearby villages to see if somebody had a similar jeep that we can paint in green to make it look like a military jeep. So the town itself gave us the jeep."
Later, the film's production manager began distributing the shooting schedule to townspeople, who would call and inform her not to shoot in particular locations because the army was around and to shoot at another time instead.
For Cowan, such interactions made work on The Wanted 18 an entirely unique experience. Prior to making the doc, the director had travelled to Israel a few times for work on a film with the military for an NFB series, but had never been exposed to Palestinian life.
"I know hardly any Arabs in Canada – I know way more Jewish people – so I was just much more aware of the Israeli position than the Palestinian position," says Cowan. "I guess that's the one thing that changed for me over the five years that I was making the film: that I came to see the Palestinian people as being an oppressed and occupied people."
With the past summer's conflict in Gaza, there is still a sizable question mark surrounding how the film will be received at TIFF. Cowan says the doc – largely due to its pro-Palestinian slant – is bound to be polarizing among audiences.
"Amer has shown it in Palestine and of course the most radical Palestinians think it's way too soft, and I've shown it to some Jewish friends over here and at least some of them think it's an abomination," says Cowan. "So we thought that was probably okay. That somewhere in the middle, it sits."
When Shomali was asked whether the film, with its novel perspective, might further a different kind of dialogue, the director remained ambivalent.
"I don't know," he said, after a pause. "Do you think that films can change the future? I showed it to some people here, and they got very excited, but I don't know."
The Wanted 18 screens on September 9 and 12 in Toronto.
Check out a trailer for the film below: