As the 39th Toronto International Film Festival passes to memory, realscreen re-caps all of the key doc news from the Canadian event's 11 days, from the directors and discussions to the red carpets and parties.
Conventionality in documentary was the key topic under discussion at the 2014 Toronto International Film Festival, with doc heavyweights Martin Scorsese and Michael Moore both weighing in on the issue.
Scorsese appeared at TIFF for the first time in 32 years to discusses The 50 Year Argument, his collaboration with David Tedeschi examining the history of The New York Review of Books, and used the opportunity to reflect on non-fiction filmmaking.
"I don't like the idea of 'documentary non-fiction' – this is cinema," the 71-year-old told TIFF attendees, adding: "I'm not that fond of conventional documentary, which is often a kind of journalism."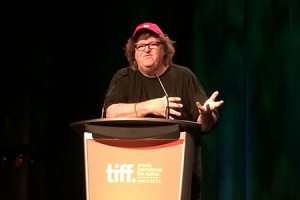 His comments came after Moore (pictured, left) – nothing if not a reliably excellent rabble rouser – stirred the pot earlier in the festival with a 13-point manifesto for documentary filmmakers.
"We are not documentarians, we are filmmakers," the Roger & Me director told delegates at TIFF's Doc Conference. "This word, 'documentarian'? I am here today to declare that word dead. That word is never to be used again.
"People love going to the movies," he added. "The audience doesn't want to be lectured, they want to be entertained. And that's the big dirty word of documentary filmmaking."
Moore's manifesto met with a mixed reaction from the doc industry. Oscar-nominee Marshall Curry was among the many who took to Twitter to welcome the comments.
However, not all were convinced. Kartemquin Films' director of distribution Tim Horsburgh dismissed the manifesto, saying that "it's dismaying to see near-universal agreement with it," while Orwa Nyrabia, the producer of TIFF doc Silvered Water, Syria Self-Portrait, Tweeted: "I profoundly admire & respect [Michael Moore], but this is much simpler than it should be. More like fast-fooding cinema."
Paradise Lost director Joe Berlinger also weighed in, penning an extensive critique of Moore's speech for the Indiewire blog.
Moore's manifesto wasn't the only news to come out of the festival's Doc Conference. ESPN Films revealed that it would be teaming up with Nate Silver's data journalism group FiveThirtyEight for two online docuseries, entitled Signals and The Collectors; while Condé Nast Entertainment's Jed Weintrob detailed how shareable content was at the top of his company's wish list.
Elsewhere, Bond Strategy and Influence CEO Marc Schiller talked to delegates about the marketing and retail campaigns behind films such as Breastmilk and Sign Painters; Netflix unveiled another original docuseries; and New York Times Op-Docs' commissioning editor Jason Spingarn-Koff presented footage from a forthcoming project by Errol Morris, entitled Three Short Films about Peace.
Also of interest was a research presentation by Hot Docs' head of industry programming Elizabeth Radshaw, which stated that documentary makers in Canada are under-serving audiences, who are have trouble accessing their films; and a talk from South African producer Steven Markovitz, who shared five tips for finding a coproduction partner.
Beyond the Doc Conference, the other main industry component of TIFF was the deal-making. On this front, it was a relatively lukewarm year for the festival, capped by a few headline-grabbing acquisitions.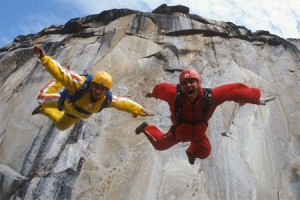 The most notable of these were Magnolia Pictures and CNN Films joint deal to buy the North American rights to BASE-jumping doc Sunshine Superman (pictured, right) and HBO's TV deal to acquire Nick Broomfield's serial killer doc Tales of the Grim Sleeper.
Elsewhere, Cinephil penned a handful of deals for Joshua Oppenheimer's The Look of Silence; Music Box Films and Films We Like picked up Sundance doc We Are the Giant; and Dogwoof sold fashion doc Dior and I into a host of territories. But at the close of the festival, many fine docs remained without U.S. distribution deals in place.
On the filmmaker front, realscreen was busy as always, interviewing a broad spectrum of directors. Harold Crooks spoke about his tax haven-exposé The Price We Pay; Amer Shomali and Paul Cowan shed light on their animated doc The Wanted 18; Sturla Gunnarsson reflected on Monsoon; Alanis Obomsawin spoke of making Trick or Treaty?; and Broomfield discussed the aforementioned Grim Sleeper.
Realscreen also interviewed Oppenheimer on The Look of Silence, Tedeschi on The 50 Year Argument, and Fred Wiseman on National Gallery – look out for those interviews, which will run ahead of their Big Apple premieres at the New York Film Festival, which kicks off later this week.
With TIFF being TIFF, of course, the other key element of the festival was the parties, which this year were as glitzy as ever.
The Scott brothers, Drew and Jonathan, kicked things off in energetic style at Toronto's Royal Ontario Museum on the eve of the festival, with their fourth annual Producer's Ball, which saw the good and the great bidding at a charity silent auction to raise funds for World Vision.
The next day, TIFF held its opening night bash, which this year moved to the festival's home, the TIFF Bell Lightbox, for an all-indoor experience, while the team behind hot festival title Sunshine Superman celebrated their doc's world premiere with a get-together at Parlour.
On the festival's first Friday, Mongrel Media attendees braved the rain to see bands such as Alvvays and Stars perform at the Canadian distributor's big-budget, food-truck-fueled bash at Evergreen Brickworks.
Two days later, fellow distributor eOne took over Canadian military facility Moss Park Armoury for its annual glitzy get-together, the same night that Netflix also hosted a TIFF party. And earlier in the day, the Canadian Film Centre (CFC) had hosted its fun annual afternoon BBQ fundraiser.
Later on in the week, for those who still had energy in their legs, Texas festival SXSW held its ever-popular TIFF karaoke bash opposite the Bell Lightbox, and the filmmakers behind Israel-Palestine doc The Wanted 18 also held a do.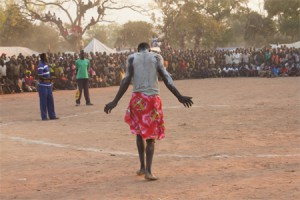 Closing the festival on September 14 was the TIFF awards brunch, and on the non-fiction side of things, the big winner was Hajooj Kuka's Sudan-focused film Beats of the Antonov (pictured, left), which claimed the People's Choice Documentary Award.
David Thorpe's doc Do I Sound Gay? was named first runner-up, while actor Ethan Hawke's profile of pianist Seymour Bernstein, Seymour: An Introduction, was named second runner-up.
As the festival drew to a close, however, industry conversation continued to reverberate around Moore's and Scorsese's comments.
On reflection, the swearing off of conventional docs came during an oddly conventional year for non-fiction TIFF films. Perhaps 2012 (which bought us the genre-challenging Stories We Tell, The Act of Killing and Leviathan) and 2013 (Manakamana, The Missing Picture, Midway) were exceptional years for experimentation in the factual form.
This year's festival delivered plenty of great films, but none that pushed the boundaries of the documentary genre. The Look of Silence and Tales of the Grim Sleeper both impressed, but Silence was far more conventional as a documentary than its predecessor, The Act of Killing, and Sleeper stuck largely to the template of past Broomfield successes.
Monsoon seemed a visual echo of last TIFF's crowd-pleaser Watermark, while Sunshine Superman felt Man on Wire-esque. Merchants of Doubt, Seymour, National Gallery, The Price We Pay and Natural Resistance all trod familiar ground. Not that that made the films any less interesting or enjoyable.
In that respect, the only thing unconventional about this year's TIFF doc selection was how conventional the selections seemed to be. Which perhaps poses more of a quandary for Michael Moore than it does for the festival: if audiences walk away happy after being "lectured" by works from conventional "documentarians," why fix something that isn't broken?