Janet Han Vissering (pictured), Nat Geo Wild's senior VP of development and production, talks to realscreen about changes at the channel and plans for the future.
Hosts ranging from dog whisperer Cesar Millan to punk rock icon Henry Rollins may be household names for U.S. network Nat Geo Wild, but the channel's true stars are of the double-winged, two- and four-legged variety, according to Janet Han Vissering.
"At the core of our business, we are putting animals first in all of our shows," says the network's senior VP of development and production, who – in addition to being a 19-year industry veteran – is also the proud owner of two cats, three chickens and eight rabbits.
"We showcase the animals, the wildlife and the people who actually foster great animal husbandry and are living it day to day," she adds. "We're trying to show a very positive message and striving to be the number one network for those who love animals – and it's really working."
Han Vissering has programmed Nat Geo Wild since its inception four years ago: more than 150 hours that run in 166 countries, cover 34 languages, and are available in 330 million homes.
She says it has only been during the past year that the network has fine-tuned its recipe for channel-specific programming success.
"Over the first three years, there were no new programs specifically being made for the channel," admits Han Vissering. "Now we've been ramping up shows specifically gear towards Nat Geo Wild, and we're getting better at what we believe really works for us."
The channel's most successful series is The Incredible Dr. Pol, about a 72-year-old Michigan vet who makes farm calls and operates a clinic.
"That's a series that continues to break records for us as a network," says Han Vissering. "He's the most charismatic guy and spends all his life dedicated to bettering the lives of animals and those people who have them. He's got the kind of charisma where people who don't have animals tune in to watch him."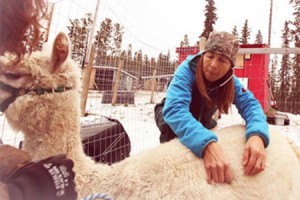 Another animal doctor (pictured, left) – Dr. Oakley, Yukon Vet – is also striking a chord with viewers, while Monster Fish is also a hit series, notes Han Vissering, as well as Destination Wild and "our Sunday night blue chip shows."
Even certain kinds of mammals are getting into the act as ratings-grabbers, with specific types – think big and nasty – almost guaranteeing a healthy Nat Geo Wild viewership.
"Hands down, big predatory animals," says Han Vissering. "Sharks bears, lions, tigers: they're always going to strike gold. But there is also a huge level of curiosity for those animals that I feel are the underdogs.
"We have a show called Ultimate Honey Badger, and I tell you, every time we put that show on, it does a great number. The other show we have, Killer Shrimp, it's about the Manta Shrimp. It puzzles me every time we put it on because it's about a shrimp, but that show has amazing legs.
"Hummingbird is another great, great show that we picked up as an acquisition. It was beautifully filmed. It's almost like you thought you were watching CGI, but the camera technology is so beautiful that it was able to capture hummingbirds in a way they've never been seen before," she adds.
"When we take animals and give information and footage that is really unique and really cool, I think people are interested and it gives them real great takeaway."
Han Vissering says innovative and economical technology has ramped up the quality of wildlife-driven television production, and helped give it a new spin. "There are so many types of cameras available now," she explains. "The costs have come down – you're now looking between $4,000 and $6,000 per camera – and they can now capture motion in ways that were nearly impossible five years ago.
"We can now shoot overhead to places we couldn't physically get to before, and with long lenses, you can capture animals from hundreds of feet away. The shutter speed of a camera can capture a cheetah running with every step that it's taking, whereas before you couldn't. It opens up a whole new world to those who want to know more about animals. And the technology just keeps getting better."
But there have been some missteps.
"When we've tried to become too people-oriented and not animal-focused, that seems – to us – not to work as well," Han Vissering notes, adding that it is particularly challenging to find hosts that fit the proper Nat Geo Wild mold.
"We look for people who are authentic stars, as their star quality reflects the fact that they've been doing this all their lives," she explains.  "These people are always looking at the positive role and the positive well-being of the animals. We don't hype them up and we don't make it up.  We want people who would be doing this even without the camera filming them.
"That's true of Dr. Pol, Urban Jungle's Boone Smith, Dr. Michelle Oakley, and some of our new stars who are coming up this season. It's about finding that unbelievable character, whose life is centered around animals in a positive manner."
Han Vissering says she is constantly on the lookout for new ideas, and producers who are interested in pitching their idea for a blue chip history special or Nat Geo Wild series should focus not only on it being animal-centric, but unusual.
"With all the shows we have on right now, like Monster Fish, you get a lot of takeaway about the animal. We don't stage things. We want the organic process, and to showcase the real story," she says.
"Know that we are getting pitched hundreds of hours of natural history and film," she adds. "Make yours special. What's the angle? What's your viewpoint and how is it relevant to the programs we have? Look at our scheduling– we have Big Cat Week. We have Sharkfest. We have Dr. Pol. Know our network and what may actually complement it."
One approach she suggests to avoid is submitting pitches online, even though the website does carry an address and a process through which to do so.
"To be honest with you, we get random ideas there," says Han Vissering. "A lot of people have got agents, especially on the series side, and even some of the blue chip filmmakers. Personal contact is so important in trying to trying make a mark: I would say 80% to 85% of what we do comes through personal contact."
Also keep in mind a timeline, although Han Vissering admits that when it comes to filming nature, time can be a fluid concept: lensing and producing a typical network program takes anywhere from 18 months to three years.
"In order to capture animal behavior or watch a family grow, you have to work with Mother Nature," she explains. "You're at her mercy, and you can't rush that. It's going to take a year or two or three to actually capture."
It also takes prudence to plan budgets. "Every show, when you deal with animals, is a gamble," she admits. "Some animals might not show up as planned, or there might be a drought. There are all these 'what ifs' and you have to deal with it.
"We work with a field of professionals that account for many of the 'what ifs,' with that in hand we can actually plan really well. In all the years I've been doing this, I've had very few shows that have completely gone away due to miscalculation. We always give room for a month or two slot here: you just have to when you're in the blue chip/natural history world.  You'd be really ill-informed if you didn't build in that cushion."
She also says that she is to pitches for foreign programming.
"Each of our territories outside the U.S. has the ability to produce local shows that might resonate specifically for that area," she explains. "One in particular that I actually worked on this spring was Cesar to the Rescue. We did four episodes of the series and came up with a new format that's only going to air in Asia. So it's 4 x 60 minutes.
"We shot two episodes in Singapore and two in Hong Kong. I'm excited because those shows are going to air totally internationally, but not in the U.S."
Upcoming Nat Geo Wild programming includes new episodes of Dr. Pol, and also introduces Dr. Kelleher - a new vet – into the mix. There is also a sophomore season of Cesar 911 and fresh episodes of Dr. Oakley, Yukon Vet and a new series called Pond Stars that Han Vissering says is about "every man's dream – do they want the pond or the water feature in their backyard?"
Pond Stars will feature a landscaping company named Aquascape "that has a staff biologist within the design team" due to the fact that it incorporates wildlife throughout its water features.
"It's definitely a unique angle and one of our first forays into the DIY or home renovation area," says Han Vissering. "We're excited because the core of the show is always about bringing nature to people."
And bringing nature to people is something Han Vissering loves to do.
"My job is always fun and really challenging," she states. "It's so positive – it sounds so corny, but honestly, I don't deal with bad shows. Getting excited to do a show about Yellowstone, which is one of my favourite places, and being able to match some of the best blue chip producers with a production company – that's so exciting to me, and just reinforces the positive nature of the subject matter that I have to deal with."