Shine America's senior VP of development Chris Culvenor talks to realscreen about the company's first foray into entertainment programming with the YouTube-inspired performance competition show Fake Off (pictured), which he insists needs to be seen to be believed. 
When it comes to pushing the boundaries of televised performance art, a show about faking it may be the real deal.
Part dance and part theater, with a helping of special effects, the Shine America-produced competition series Fake Off – which debuts on TruTV today (October 27) at 10 p.m. EST/PST – combines various art forms to re-imagine pop culture moments from film, music and current events.
The series sees 10 teams each given a theme – for example, the Olympics, horror movies or the moon landing – that must be re-imagined for a 90-second act that is scored by a panel of judges including Glee actor Harry Shum Jr., Rozonda "Chilli" Thomas of the pop group TLC, and visual and concept designer Michael Curry.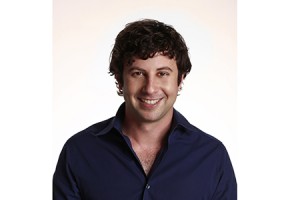 One team that was given the theme of "Titanic" used dance, a computer generated background and body-suspending wires to recreate a scene on the ship as it struck an iceberg, while another group recreating the Superbowl (shown in the exclusive clip below) used slow-motion dance and props to show a football fan enter his television and become part of the game.
For years, these pastiche performances have been relegated to YouTube – which is where Shine's Chris Culvenor (pictured above) first happened upon them – but after researching the concept, the former Shine Australia exec was convinced that "faking" could translate to television, and approached TruTV with the idea for the show.
"What we really wanted to do is blow it up and take it to the next level, and each of these acts could be its own Las Vegas production in its own right – they're really spectacular," Culvenor tells realscreen.
"You'll see the staging, costuming, and all the prop work that goes into just one of these 90-second routines," he added. "It's not as raw and rough as it was on YouTube, but the heart and effort of what was going on in those clips is definitely translating into what these people are doing."
The logistics behind coordinating such elaborate acts, however, come with its own set of challenges and involve hundreds of people with knowledge of both theater and technology.
"You'll see on the show that we have giant projection mapping acts, acts that use huge props and acts that have people flying in on vines, so the logistics were not something where you could just phone someone up and say, 'Hey you know how you did that show? We're doing something similar,'" explains Culvenor, adding that Fake Off was one of the most challenging shows the Restaurant Startup producer had ever worked on.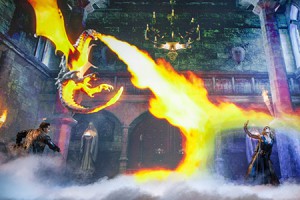 Fake Off is also reflective of Shine America's entry into entertainment programming. The production company, best known for culinary competition series such as MasterChef and MasterChef Junior (Fox), and most recently Restaurant Startup (CNBC), is now making a push into entertainment series, with a host of others in development.
"What we did for MasterChef five years ago was take the culinary theme and blow it up, and I think that's exactly what we're trying to do here: take something that was an undercurrent and blow it up again," says Culvenor.
"It wasn't like we sat down and desperately needed an entertainment show and how do we come up with something," he explains. "We just kind of said, 'We've done cooking, let's look at what performers are doing out there,' and this was probably the most contemporary take we could think of."
The show found an ideal platform with TruTV, which was going through an auspicious re-launch and open to taking the kinds of "creative risks" that Fake Off required, though it didn't mean that marketing the program was any easier.
"I think we become used to describing something as 'this show meets this show,' so it's definitely more difficult than some of the other derivative shows that are out there, because it is new and fresh and challenging to describe," says Culvenor. "But as soon as you see a video clip, we have a great reaction to it."
What was essential to the exec was steering clear of another "me too" competition show that wouldn't move the genre forward.
"Reality can tend to be derivative because people want to replicate success, but real success comes from taking creative risks and doing new things and that's really where I credit TruTV for making an evolved choice, and taking a chance on something really fresh and new," he says.
Check out an exclusive clip from Fake Off below: