"Dumbing down" vs. "relatable" content. Science programming for millennials. The relationship between science TV and social media. All of these topics and more were put forward by realscreen to a panel of science producers and programmers. Read on for a comprehensive look at the state of the science programming nation.
Science never went out of style, but in terms of factual programming, it's having something of a moment.
The 13-episode series Cosmos: A SpaceTime Odyssey became the most-watched series to date on National Geographic Channels International; UK indie Arrow Media produced a live special around the International Space Station as it orbited Earth (pictured above); and Showtime invested approximately US$20 million into its climate change series Years of Living Dangerously.
While a series on the universe's origins on a major U.S. broadcaster would have been unlikely 10 years ago, these tent-pole events are now a reality as a field that's always been relevant but slightly inaccessible is suddenly – critically – relatable.
Today, a host of scientific series are bolstering the field by applying principles to aspects of daily life and substantiating Internet-based, user-generated content (UGC) with underlying science: a trend that has laid the foundation for shows such as Science Channel's Outrageous Acts of Science and Discovery UK's You've Been Warned.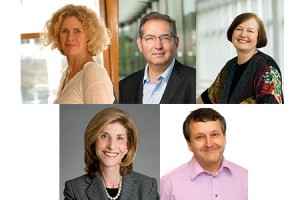 These series are the best of both worlds: entertaining because clips showcase extraordinary incidents that have happened to average people, but scientific thanks to experts explaining the mechanics behind a situation. This science programming doesn't just consider the YouTube generation: it uses that platform to bring programming to the next level.
But does catering to a wider audience and commissioning relatable content also signal a "dumbing down" of the field's high standards? Not necessarily, as realscreen learned during a roundtable discussion with a group of science producers and broadcasters. (Pictured above, clockwise: Kirstie McLure, Michael Rosenfeld, Rita Mullin, Tom Brisley, Paula Apsell)
THE THEORY OF RELATABILITY
"You make the science work on the level that the audiences expect," explains Tom Brisley, co-founder of Arrow Media, which produced National Geographic Channel's 90-minute special Live from Space in March. "We had astronauts doing cartwheels, but we also had them talking about their science lab where they're carrying out cutting-edge science. I don't think it's watering down at all: it's making it entertaining and accessible for viewers."
What has changed, explains Pioneer Productions' managing director Kirstie McLure, is that producers have realized there needs to be a shift in the way they present programming – one that recognizes the footprint of Internet channels such as AsapSCIENCE and Veritasium and the blog I f***ing love science.
"Relatability is critical for the market today, and I do think a lot of the second screen, Internet-based stuff that's going on plays into that and has brought back a slightly younger-skewing audience to enjoy science again," says McLure.
What's essential going forward, adds McLure, is bringing that second screen audience back to the first screen through the extra, deeper level that television has the resources to provide.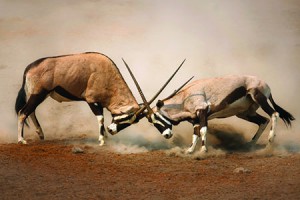 "That's really our challenge as programmers: to attract that younger audience that is used to shorter things [online] and figure out a way to give them those new insights that they're not going to get off the Internet," concurs Rita Mullin, the general manager of Science Channel.
Mullin provides the example of Outrageous Acts of Science, which she describes as one of the network's most popular shows because it capitalizes on people's interest in YouTube clips, but adds value "without sucking the life or the fun
out of it."
Similarly, Brisley admits that Arrow Media's Animal Fight Night series (pictured above) for Nat Geo Wild – which features everything from sparring koalas to enraged hippos – features footage that is hugely entertaining but relatively devoid of science, so the group adds computer generated imaging to deliver a worthwhile takeaway for viewers.
"For me, it's how you deliver science to a modern audience," explains Brisley. "The way people access science and their content is changing and I think it's the role of broadcasters to recognize that and create fresher ways of delivering science content."
While most broadcasters might agree that updated deliveries are key to maintaining relevance in today's market, Paula Apsell – a senior executive producer who has worked on PBS's iconic science strand 'Nova' since 1975 – is not convinced.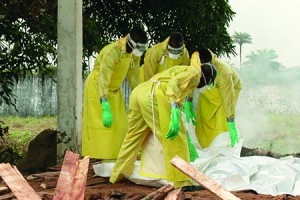 "As long as you follow the science, you do remain current because there's nothing that's more current than ongoing research," says Apsell.
"Of course, style has changed in television and so I think our greatest changes have been stylistic. The program is a lot more fast-paced than it used to be and more visual than it used to be. We have fewer talking heads than we used to have."
But Apsell is not keen on any theories of relatability.
The exec – who directs WGBH Boston's science unit, which produces 'Nova' – says her idea of relatable content is a well-done, quick turnaround program such as the strand's specials on the Ebola outbreak (pictured above), the disappearance of Malaysian Airlines Flight 17 and Hurricane Sandy.
"Our effort to make these quick turnarounds – which has been an innovation at 'Nova' over the past couple of years – is our way of making science more relevant to people," says Apsell. "But I'm not a big believer in science that you can use. I think our viewers are also interested in big ideas they can't necessarily 'use,' to help their health or any practical reason, but just like to think about."
SOCIAL SCIENCE
But even Apsell admits that the venerable PBS strand has had to innovate and become a cross-platform, digital enterprise that is "no longer just thinking about television."
The exec says 'Nova' produces online-only content for an "entirely different" web audience, operates its own YouTube channels, and maintains a strong social media presence. With 573,000 Facebook fans, Apsell says the strand has the largest Facebook following of any adult PBS series.
She isn't alone in recognizing social media's trajectory from add-on to an accepted part of the creative process.
"It used to be that you plant your broadcast show and then everything else followed," says Michael Rosenfeld, head of television and film at Your Inner Fish producer Tangled Bank Studios. "Now, if you're not thinking about the social media component, the web component and all those other ways to enrich the experience and get the word out at the earliest stages, you're missing a really big opportunity and it's very hard to catch up."
The exec oversaw the Tangled Bank-produced special Vaccines – Calling the Shots for 'Nova' in September and says he's noticed that a dedicated social media campaign has extended the show's life by keeping the community going and interested parties involved.
"Not only is there a high amount of streaming after the broadcast, but we're seeing continued involvement on the part of all kinds of demographics through Facebook and Twitter, so it can give your show a longer life and longer tail," says Rosenfeld.
One special that made ample use of second screen assets was Arrow's Live from Space, which allowed viewers to chat with astronauts and track the space station in real-time.
MAKING IT MUST-SEE
In addition to myriad options for social media, live events can strike the right balance between entertainment and education, and are shaping up to be the next frontier of science programming.
Mullin gives the example of Science Channel's Landing on a Comet: Rosetta Mission - a special on the Rosetta spacecraft's comet-landing that incorporated live footage and aired last week (November 12) – and McLure adds that Pioneer is developing two live projects of its own.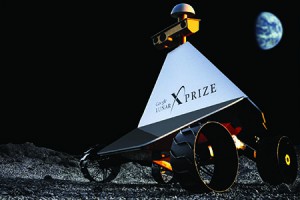 "In a sense, it ticked all the boxes of a science commission," says Brisley about Live from Space. "It was a fresh way of looking at the planet and delivering stories of astronauts in micro gravity, and how they got up there and how you eat and live up there. It's fascinating science, but it's user-friendly."
And most importantly, Brisley adds, it was relatable.
"The whole purpose of the show was to understand why the space station was up there and you can boil it down to one equation, which is the future of mankind might depend on it," says the producer, who is back at work in the live arena, developing another space-themed live event for Science Channel and Discovery Channel's coverage of the Google Lunar XPRIZE competition (pictured above), which challenges teams to land unmanned spacecrafts on the moon.
For today's science producers, even shooting into space is fair game as long as it
brings viewers down to Earth.
"We're all trying to remain relevant and find that way to bring value to people's experience so that it really is a must-see experience, and that we can do something on television that you can't get on the Internet or from a game," says Mullin.
The World Congress of Science and Factual Producers (WCSFP) kicks off today (November 18) in Hong Kong and runs until November 21.
This article first appeared in the current November/December 2014 issue of realscreen magazine. Not a subscriber? Click here for more information.