Realscreen talks to IDFA head Ally Derks about the docs she's keeping an eye out for, and why it's tough to compete with her 27-year-old Amsterdam event, which kicks off today (November 19) and runs until November 30. 
Ally Derks (pictured, left), the founder and head of the International Documentary Film Festival Amsterdam (IDFA), has the ideal problem on her hands. Now in its 27th year, the festival is operating at maximum capacity and has, perhaps, become a little too successful.
"We don't want to grow bigger," Derks tells realscreen. "Of course we love to have more audiences, but then we have to rent extra cinemas again. This is the maximum we can do."
She gives the example of Álex de la Iglesia's documentary about Argentinian football star Lionel Messi – "I liked the film but I had no idea who [Messi] was. He's like God," she says – explaining that all screenings of Messi sold out an hour after its selection to IDFA was announced on local television. By adding extra theaters, Derks hopes to meet similar demand and avoid brimming venues.
Such concerns illustrate the 66-year-old director's balancing act of catering to public audiences while maintaining IDFA's reputation as one of the world's preeminent documentary events, particularly for its three-day industry Forum.
This year, the centerpiece of the 12-day festival – which has been essential to the completion of documentaries such as Steve James's The Interrupters, Lauren Greenfield's The Queen of Versailles and Talal Derki's Return to Homs – remains unchanged, with 50 pitch presentations that will be attended by commissioning editors and broadcasters from around the world.
Meanwhile, when asked what films she will be following in the feature-length doc competition, Derks is quick to recommend Morgan Knibbe's Those Who Feel the Fire Burning (pictured above, right), on refugees who risk their lives to seek asylum in Europe.
"I've seen a lot of stories about this, and overall the films are not much more than reportage," says Derks. "They're not films where you really get involved or you feel it. And this film, I had goose bumps at the end. The way it's shot, the way it's told – it's amazing."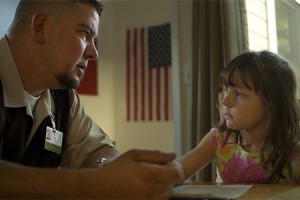 The film is the first feature for Knibbe, a graduate of the Netherlands Film Academy who was previously selected for the IDFA Student Competition for his doc short A Twist in the Fabric of Space, which went on to win the festival's VPRO Documentary Award in 2012.
Derks also recommends Laurent Bécue-Renard's post-traumatic stress disorder doc Of Men and War (pictured, left), which bowed at Cannes in May and was presented at last year's IDFA Forum.
The doc is among 17 films screening at the festival that were pitched at past Forums. And given the track records for those projects, it's likely these films will also screen across the festival circuit.
Though IDFA comes on the heels of Germany's DOK Leipzig and Copenhagen's CPH:DOX – not to mention this year's overlap with the World Congress of Science and Factual Producers in Hong Kong and DOC NYC in the Big Apple – Derks insists that few are in a position to compete with IDFA.
"The fact is that our festival is so big that there is, for us, not really a competition," she explains. "We compete more with Berlin and Sundance, which are also fiction festivals. And the good thing is that Sheffield and Toronto [International Film Festival] and Hot Docs are later in the year."
But ultimately, what differentiates IDFA from other European doc festivals is its appeal to public audiences and professionals alike.
"We are more of a festival where we expect from the audience a very active attitude, that they really discuss and debate with the filmmakers and ask questions afterwards," says Derks.
This year, IDFA is making a concerted effort to promote its thematic programs, which include its latest addition "The Female Gaze" – a host of curated documentaries from female directors that will include discussions on the present climate for women working in the field.
Asked about the impetus behind the program, Derks notes: "We noticed that only 35% of the films that have been sent in the last 10 years to IDFA have been made by women, and we were disappointed because 10 years ago it was 35% and it didn't change in the last 10 years."
IDFA will also continue its meditation on the blurred line between fiction and documentary. While in 2013 the festival's "Framing Reality" program showed narrative films and documentaries on the same topic, the concentration this year has shifted to real people playing themselves on-screen and will offer screenings of Joshua Oppenheimer's The Act of Killing, Robert Greene's Actress and Orson Welles' F for Fake.
Moreover, following 2013′s successful "Gay Night," IDFA has programmed an entire day of docs about gender and LGBTQ rights, which includes Nancy Kates's Regarding Susan Sontag and Jennifer Kroot's To Be Takei.
Derks also notes that over 40 extended Q&A sessions will follow select screenings. Laura Poitras, for example, will participate in a 30-minute discussion following a screening of Citizenfour, her documentary on NSA whistleblower Edward Snowden.
IDFA kicks off in Amsterdam today and runs until November 30.
The IDFA Forum takes place November 24-26. Stay tuned to realscreen.com for Forum coverage.