As fair use in documentary becomes increasingly prevalent, Michael Donaldson (pictured), founding partner of law firm Donaldson & Callif, warns realscreen readers of five common missteps frequently made by filmmakers.
As shown by research published by realscreen in September, fair use is increasingly becoming a vital tool for documentary filmmakers.
American University scholar Patricia Aufderheide's survey results suggested that a majority of documentarians not only understand but now also employ fair use – the exceptions to copyright law that allow for limited uses of protected content without having to pay a licensing fee.
But filmmakers still make mistakes when trying to use the law.
Here, Michael Donaldson – founding partner of law firm Donaldson & Callif, and an expert on the subject – lists five common missteps made by documentarians:
1. Not planning on fair use early enough. 
If you think your project is a candidate for using materials pursuant to fair use and that is what you want to do, you should think about it early. Read up on the subject. Clearance and Copyright has three different approaches for documentary filmmakers to consider. Take your pick as to which approach gives you the best guidance and which you understand the best and then use it.
If you still have questions, consult with experienced clearance counsel for further clarification with regard to your particular project. Any good lawyer will want to see clips before rendering a final opinion, but an early, initial conference can shed a lot of light on fair use as it applies to your particular project and save you a lot of headaches down the line. 
2. Proceeding with a festival license. 
Because festival licenses are low cost and sometimes free, it is tempting to just license something for the festival circuit. However, a well drafted festival license will foreclose the possibility of falling back on fair use later in the game. Think carefully and read the fine print before using a festival license if you any thought of accessing fair use later. Don't assume either way. Currently, such licenses – even by studios and major suppliers – are all over the place with regard to the extent of the restrictions on your use after the festival run is over.
3. Asking folks who you know would not be happy with your film.
If your film is critical of a major business or some individual, there is rarely a personal relationship that can overcome the resistance. It is better not to put yourself on their radar. If you criticize John Lennon, it makes no sense to contact Yoko Ono to use 15 seconds of Lennon singing Imagine in your documentary.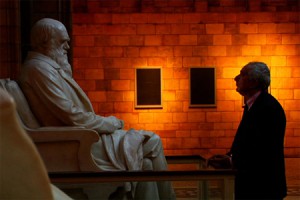 The makers of Expelled (pictured, right) held off in that circumstance and their film became the fifth highest-grossing documentary of that year, before Ono could file her lawsuit (which she lost).
4. Not being detailed enough on the clearance log
Distributors require you to have Errors and Omissions Insurance (E&O) that covers the fair use items in your film. The insurance companies require a lawyer's letter saying that he or she saw the film and the items in the film are used pursuant to fair use.
When you are ready to submit your film to an attorney for the formal opinion letter on fair use, you will be asked to prepare a log of everything in the film which is not licensed. You will save a lot of time and usually some attorney fees if you are very careful and complete when you fill out this log.
5.Ignoring the basic rules of fair use. 
The operative word in all of this is the word "fair." As a copyright holder yourself, always keep the basics in mind. If you are using someone else's material to grab attention at the beginning of the film or you are using it for its entertainment value, that is not fair use.
It is not fair use to use someone else's music as underscore. If you wholesale copy something without adding anything new to create something different from the original, that is not fair use. There is no need to push the envelope or trample over the rights of your fellow creators.
Be considerate. You will be surprised at the latitude you have when you want to legitimately access the fair use doctrine.
The 4th edition of Michael C. Donaldson and Lisa A. Callif's Clearance & Copyright: Everything You Need to Know for Film and Television is available to order from Amazon now.