It has been a banner year for California-based prodco Lighthearted Entertainment, which made headlines with its VH1 series Dating Naked (pictured below) and produced two seasons of Are You the One? for MTV. Realscreen caught up with the team to find out what's ahead in the new year. 
For a company that prides itself on "keeping it light," Burbank-based producer Lighthearted Entertainment is growing an impressive roster of heavy-hitters.
Just this year, the prodco asked couples to bare it all in the notorious social experiment Dating Naked for VH1, and played match-maker with 20 – mostly clothed – singles in Hawaii and Puerto Rico over two seasons of MTV's Are You the One? In November, the company sold twins-focused reality competition Twinning, again to VH1, and yesterday (December 9) it launched makeover series Bye Felicia! on the net.
Howard Schultz – the Extreme Makeover producer who formed the company in 1992 – chalks the watershed year to his relationships with VP of development Jeff Spangler, who joined Lighthearted in 2006, and executive VP, Rob LaPlante who came aboard in 2011: a trio that has been so effective creatively that Schultz is in the process of making the execs co-owners of the company alongside himself, he tells realscreen exclusively.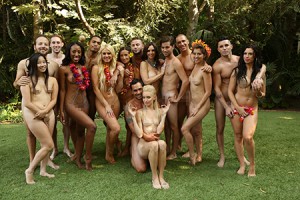 "Obviously everything that has happened from that relationship is sort of the secret sauce," says Schultz. "We all feel it, we all experience it happening. Why all of a sudden it's magically come together? I think a lot of it is I was finally willing to give the company away and let other people contribute in very powerful ways, which I had not done for a number of years."
The end result is what LaPlante, the most recent addition to Lighthearted, describes as "a polygamist marriage."
"There was already a husband, Howard, and there was already a first wife, Jeff, so the second wife was either going to be the tawdry pain in the butt for the first wife, or a great addition to the marriage," he explains with a laugh.
So far, there has been no trouble in paradise. After all, in February, when the reality world was debating a "creative crisis" due to a perceived lack of big, original ideas, Lighthearted took its greatest risk to date with a 10 x 60-minute series in which singles go on dates completed naked.
"We recognized from the outset that [Dating Naked] could easily fall into being tawdry and cheesy," says Schultz. "And we knew from the development conversation internally that we couldn't go that way and we wouldn't go that way because that would have had a real backlash. Instead, we decided to make it sweet and vulnerable and funny."
LaPlante says there was great hesitation around the show, until the team met with Susan Levison of VH1, who joined the net as executive VP of original programming and production in August 2013.
"A few other companies had pitched us 'naked' shows prior to Lighthearted, but those tended to use nudity just for shock value," says Levison. "When Lighthearted came in to pitch, the idea was so much more than just a title: it was a format that emphasized great storytelling and a real exploration of what it means to put yourself out there. The show was about something deeper and more real, so it was worth the risk and we knew these guys could pull it off."
Though Dating Naked ran into legal trouble this past summer, with cast member Jessie Nizewitz suing VH1 owner Viacom and producers Lighthearted and Firelight Entertainment for failing to blur her genitals during a scene, Schultz says the group has filed to dismiss the US$10 million lawsuit.
"We believe that all of the releases that people sign prevented this case from happening and obviously Jess decided to sue anyway," he says. "So we're dealing with it and we'll see how the court feels about it."
Going forward – with Dating Naked set to return for a second season and Are You the One? well into season two – the prodco's new year's resolution is to branch out of the relationship space.
"We aren't 'the dating guys,'" says LaPlante. "As much as everybody would like to say that about us right now, one of our priorities is we aren't the dating guys. A lot of production companies are unfairly categorized by their last couple of shows."
For this reason, the team was quick to board the makeover series Bye Felicia!, which is perhaps the greatest departure from the group's portfolio. In the show – the title is a street phrase for saying goodbye to someone you don't think highly of – Atlanta-based life coaches Deborah Hawkes (pictured below, right) and Missy Young (left) set out to help white women in LA get their lives on track.
"As soon as we found them, it was like, 'A show must be built around these two people,' and it kind of flowed from there to VH1," says LaPlante.
As for next year, when joint-ownership between Schultz, LaPlante and Spangler goes into full effect? It's back to basics, as per usual.
"It's rare in this industry to find people who are willing to stare at a blank page and not be afraid of coming up with something from scratch," says LaPlante. "All the shows we've come up with have been in that category and I'm proud of that fact."