Leftfield Pictures has boosted its development team by hiring Joe Weinstock (pictured, left) and Brenna Eckerson (right), and has promoted its exec VP of production Heath Banks.
Weinstock joins the Pawn Stars prodco as head of West Coast development, having formerly served as part of Discovery's West Coast development team, while Eckerson joins as senior director of development, having previously been the director of development at SundanceTV.
Banks, meanwhile, has been promoted to the role of chief operating officer for Leftfield Pictures, reporting to Chris Valentini, chief operating officer and general manager for parent company Leftfield Entertainment.
In the new role, Banks (pictured below) will oversee all aspects of production operations for Leftfield Pictures, including current series, specials, pilots and development.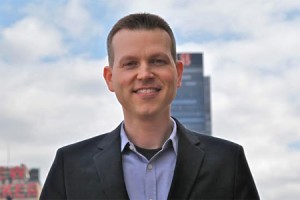 At Discovery, Weinstock worked on titles including Blue Grass Boys, Porter Ridge and Game of Stones. Before joining the network, he was the VP of production at Gurney Productions.
Eckerson's credits, meanwhile, include The Approval Matrix and The Writers' Room. Prior to SundanceTV, she worked at Trailblazer Studios, where she developed series for Spike, HGTV, DIY and History. Both Weinstock and Eckerson report to Leftfield Pictures' VP of development Will Nothacker.
"Since joining Leftfield in 2012, Heath has proven his exceptional ability to keep our ever-expanding production slate running smoothly, on time and on budget," said Valentini. "We're happy and gratified he'll continue to do so as COO."
David George, president of Leftfield Pictures, added of the new hires: "Joe brings with him a wealth of experience in Los Angeles-based development and production; his skills and relationships make him an ideal choice to lead our West Coast team.
"We're also delighted to welcome Brenna to the company; she is an experienced and talented development executive who we know will guide Leftfield's roster into exciting new territories."