Donor Unknown director Jerry Rothwell talks to realscreen about unpacking the mythos around environmental organization Greenpeace in his latest effort, How to Change the World - the opening night world documentary at the Sundance Film Festival, premiering tonight (January 22) in Park City. 
You won't find a call to action at the end of Jerry Rothwell's documentary on Greenpeace, How to Change the World.
Nor, at any point, will you encounter saccharine montages of endangered species or rallying cries for change from any of the organization's 40 member countries. Instead, you'll meet a ship full of flannel-wearing, chain-smoking, well-intentioned men who – for the most part – don't seem to agree on a whole lot.
It's what Rothwell – the director of documentaries such as Donor Unknown and Deep Water – always envisioned for his archive-heavy project, which is told through the writings of the late Canadian journalist and Greenpeace founder Bob Hunter, narrated by the actor Barry Pepper.
The film – an international copro between the UK's Met Film and Daniel Film as well as Canada's Insight Productions – follows the genesis of Greenpeace, from its roots as a ragtag group of volunteers and journalists protesting the nuclear testing ground of Alaska's Amchitka Island in 1971 to the development of a global campaigning organization.
There's a particular romanticism to such an undertaking that Rothwell doesn't scrimp on, but what drives his film is the group's calculated manipulation of the Greenpeace mythos.
"Hunter himself and Greenpeace at that time were sort of crafting stories that played in the media," Rothwell (pictured below) tells realscreen. "And that's kind of how we understand Greenpeace, is through those stories. So what I wanted to do is try and get a little bit beneath that and try and really sort of talk to those participants."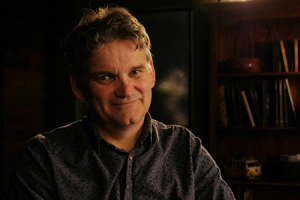 Rothwell says he started thinking about the idea in 2007, when he found himself in the archives of Greenpeace headquarters in Amsterdam, surrounded by 1,500 silver cans of 16 mm film used in campaigning materials throughout the 1970s.
"I kind of became aware really that once those films had been made, no one had really opened these cans," the director explains. "And obviously that's a great temptation: to have a huge amount of material and you don't really know what it is and it all comes from a specific time."
The doc was first pitched at Germany's DOK Leipzig festival in 2008, but it took almost six years for the necessary funding to come together. It wasn't until the beginning of 2014 when the team began filming interviews with the movement's key players, such as Rex Weyler, Patrick Moore and Paul Watson – the latter who, in the interim, had starred in his own documentary, Trish Dolman's Eco Pirate, as well as the reality series Whale Wars.
"It's a story that unfolds over a number of years and really the only way you can hold together a story like that is through the relationships of the people involved as opposed to the particular campaigns," explains Rothwell. "It's about what happens to the people within that arc."
As such, a steadfast focus on the internal turmoil midst Greenpeace's founding members separates How to Change the World from the more laudatory fare about the organization.
Those iconic moments of the Greenpeace narrative – Watson straddling a whale in the ocean, Hunter planting himself on thin ice in front of a whaling vessel – are all there, but so are the bitter arguments and disintegrating relationships in between: a darker, more nuanced reality that doesn't immediately lend itself to the story most people think they know.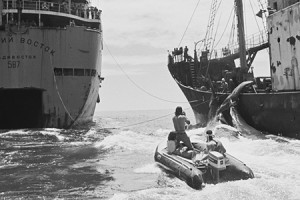 "There's a point in the film where Hunter says, 'This is a film moment' or something," says Rothwell. "I wanted to make it so conscious that some of those things were very deliberately thought of as images that would play in the media and which would get news headlines, and to just think about that and think about the truth around that."
Ultimately, rather than disillusion audiences about some of the most famous environmental activists in the world, Rothwell – who is now in production on the doc Sour Grapes for Netflix and ARTE, on wine fraudster Rudy Kurniawan – hopes his film provides a broader commentary on all kinds of activism and leadership.
If you're wondering how to change the world, the director reasons, you might want to change your modus operandi first.
"I'd be really interested in having this film be used by activist groups to kind of spark those conversations," says Rothwell. "Like, how can we be most effective? How do we run ourselves as a group? What kinds of structures do we need? I'd hope it would enable people to have conversations about things which maybe they weren't able to have, because you need a certain language to talk about that stuff."
How to Change the World is screening at Sundance tonight (January 22) at The Marc at 8:30 p.m. MST.
It will next screen in Park City on January 23, 24, 26, 29 and 30.