Ahead of their documentary's world premiere at the Tribeca Film Festival today (April 17), David Osit and Malika Zouhali-Worrall – directors of Thank You For Playing (pictured) – talk to realscreen about the aesthetic challenges of making a doc about a video game, and the trials of tackling cancer on screen. 
It isn't news to David Osit (pictured below, right) and Malika Zouhali-Worrall (left) that a film about cancer – specifically, a documentary on a video game about cancer – probably won't appeal to mass audiences. Most people don't want to "go there" in real life, let alone through a creative medium.
Their documentary Thank You For Playing centers on Colorado natives Ryan and Amy Green and their son Joel, who was diagnosed with terminal cancer at the age of one. In order to cope with the illness, indie game developer Ryan creates an interactive video game titled That Dragon, Cancer about the family's experience – a taxing and heart-rending process that Osit and Zouhali-Worrall sought to document after reading a blog post on the project two years ago.
"We know there are going to be plenty of people who are uninterested in seeing a film about cancer, or seeing a film about a child suffering from cancer, in the same way that there are plenty of people who wouldn't want to play Ryan's video game," Osit tells realscreen.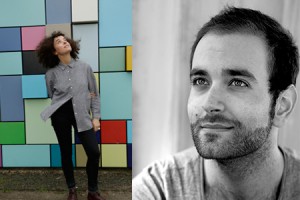 "But for the people who are interested in the experience of having this emotion shared in a way that is so profound that you can relate to it without even knowing the person that's making this experience shareable to you, that's a pretty novel thing, and it's a rare thing," he says.
The documentary – which was a Central Pitch project at November's IDFA Forum – follows Ryan, Amy and their creative partner Josh's development of the game, all while tending to Joel's worsening condition and balancing their time between both. The game is billed as a "poetic retelling" of Joel's four-year battle with the illness, and invites players to relive the couple's memories of their son and their life together.
Call Me Kuchu director Zouhali-Worrall and Building Babel filmmaker Osit – who first met several years ago at the True/False Film Festival in Columbus, Missouri – initially set out to make a short on the Greens, but after a scout shoot, suspected there was more to the story than what a video game documenting cancer looks like. The decision to move forward on the feature – which is coproduced with PBS funding arm Independent Television Service (ITVS) – came about after attending a video game conference, when That Dragon, Cancer was presented to the gaming community.
"It's really remarkable that in this video gaming space, full of loud noises and explosions, there's this room to discuss one of the most taboo subjects we have in our culture, which is death," says Osit. "And discussing it in an artful, meaningful way in the form of a video game was something we had never seen before and a lot of people at the conference had never seen before."
Zouhali-Worrall describes their experience at the conference as the "big moment" when the team – including the Greens – realized how profound That Dragon, Cancer really was.
"It was a moment of realizing that it went way beyond the initial novelty factor of how do you make a video game of real life, or how do you make a video game about a very difficult subject like a child with a terminal illness," she explains. "It went way beyond that to, 'Oh wow, he's making a video game that is actually enabling people to talk about things that they otherwise wouldn't talk about.'"
Ultimately, the challenge for the pair was the aesthetics of making a film about a visual medium, and avoiding "filming screens for 80 minutes." The prospect of technical experiments such as cutting between Ryan's real-life experience and his representation of it in the game was exciting, but how would they communicate how a player actually interacted with the game?
"How do you express how impactful this art is when you're just showing people playing a game?" asks Osit. "If you're just looking at people playing a game and you're not playing a game yourself, and all you see is images, how do you show how powerful this experience is?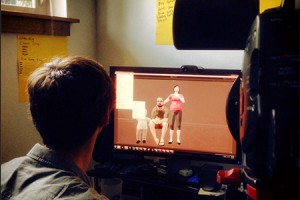 "What we ended up realizing was that as powerful as the experience of playing the game is to other people, ultimately when people make art – especially personal art for themselves – what we were able to capture was how much this game mattered for Ryan and his family to make for themselves," says the director.
As for whether he was prepared for the personal toll of documenting a child's struggle with cancer, Osit says he didn't anticipate how "emotionally taxing" an experience it would be, but says that that's the point  - no one really is.
"Amy and Ryan weren't prepared, and you can't be prepared," says Osit. "And the thing we kept observing time after time from them was how they maintained their grace and composure in the most impossible circumstance of caring for a dying child, and capturing that was our goal."
Going forward, the team aims to be realistic about finding its audience. Osit – who says the film will debut on PBS doc strand 'POV' in 2016, and that all other rights are still available – points out that some will choose to avoid it due to the topic, but hopes others will empathize with Ryan and Amy's journey.
"The reason grief in particular is difficult to represent in documentary is because grief is more than just thoughts or sadness or pain," says Osit. "Grief implies that there's a weight attached to those emotions, like loss. A massive weight that's pulling you down, deeper into the feeling of loss. And people don't want to go there, they don't want to go there unless they feel they need to go there and need to access it."
"But a number of people have said it helps us understand," adds Zouhali-Worrall. "It doesn't matter if it's sad; at the end of the film, we feel like we've gained something and we feel like we're coming away with a better understanding of a number of things, whether it's grief or creative expression or even beginning to come to the true concept of death."
Thank You For Playing screens at New York's Regal Cinemas Battery Park today at 5:45 p.m. EST/PST. Other screenings are slated for April 18, 21 and 23. Click here for more information.
Check out a trailer for the film below: