Director Crystal Moselle talks to realscreen about her Sundance Grand Jury Prize-winning documentary The Wolfpack, addressing questions about access to the Angulo family, her friendship with the boys and finding the heart of the film with the help of editor Enat Sidi. 
The first time director Crystal Moselle hung out with the six Angulo brothers, she had just finished showing them her cameras when they descended into the nearby park fountain and re-enacted a scene from the 1978 film The Deer Hunter. Though she had recently befriended the teenagers on a street corner in New York City's Lower East Side, she was still an outsider, and sat on the sidelines in the summer heat, happy to simply observe.
It would be a few years before Moselle was allowed a bit part as a passerby gunned down in their rendition of Reservoir Dogs, but by then she already had a starring role in the Angulos' lives.
"I was just excited to be around them and they were really interesting," she says. "They didn't feel jaded like a lot of New Yorkers that you come across. It was refreshing. And they were just so excited about life and open to everything – it was a very natural process."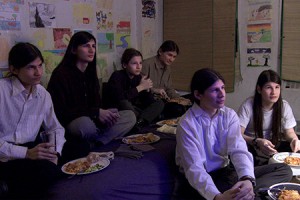 Nicknamed the Wolfpack, the group is the subject of Moselle's titular film, which in January won the Grand Jury Prize for U.S. Documentary at the Sundance Film Festival and was promptly picked up by Magnolia Pictures, which has a theatrical release set for June 12. The film chronicles the boys' upbringing in a small apartment in a Manhattan housing project, which they had rarely left their entire lives until around the time they met Moselle in 2010.
Using home video, interviews with the family and footage shot by the brothers – Bhagavan, Govinda, Jagadisa, Krsna, Mukunda and Narayana, all between the ages of 16 and 24 – Moselle paints a grim picture of a cloistered apartment far too small for the big dreams and unrelenting energy of six boys, living with their parents Susanne and Oscar and sister Visnu, who has Turner Syndrome and was not interviewed due to difficulties in communicating.
But if you ask the filmmaker if she had a particular commentary in mind – perhaps about social isolation, stunted adolescence or inequality in Manhattan? – she'll plainly say no. Despite dark undertones, The Wolfpack is a coming-of-age story that ultimately is as upbeat as it is forward-looking. For Moselle, it was a film made for and about her friends.
"I don't want to put a judgment on it, I don't want to put my strong authorship on it," she says, adding that she never set out to make a documentary. "I wanted people to just experience this incredible thing that happened."
Susanne had met Oscar – a devoted Hare Krishna – in Peru, and the couple moved to Los Angeles, where they had Mukunda, before relocating to New York. But in the Lower East Side, an entrenched fear of outside society compelled Oscar to keep the family in its small apartment, where the children were home-schooled by Susanne and allowed outside only for the rare appointment – sometimes several times a year, sometimes not at all.
To both entertain themselves and glean an understanding of the world outside their walls, the brothers ensconced themselves in cinema, idolizing such directors as Christopher Nolan and Quentin Tarantino and recreating their favorite scenes using everything from cardboard and tape to yoga mats for props.
As they grew older, however, the longing to venture outside swiftly became a necessity, prompting one of the brothers to escape and almost immediately get arrested due to an off-putting mask – inspired by the homicidal Michael Myers character in John Carpenter's Hallowe'en – worn for the occasion. The incident led to some counseling but also a relaxing of house rules by Oscar.
It was during this transitory period that the boys first encountered Moselle, though it would still be another six months until Oscar and Susanne officially met the filmmaker at Thanksgiving.
"I didn't really bring up the documentary for a good eight months after Thanksgiving," says Moselle, who also works as a commercial director. "It was a while. Because I didn't even know if there was one there. I just wanted to continue to hang out and help them and show them stuff."
Eventually, when the prospect was raised, it was met with enthusiasm from the Angulo brothers, but the pursuit of a film also evoked a difficult set of negotiations for Moselle, who considered the Wolfpack as friends, not subjects. The filmmaker says she struggled with locating the story until – with the help of Detropia editor Enat Sidi – she delved deeper into the boys' childhoods and realized it was more about a "family dynamic" rather than a group of quirky kids doing make-believe.
That dynamic, as the documentary details, largely stems from Oscar, who doesn't appear in the film until close to the half-way mark, and his strict – arguably ascetic – beliefs.
"I think there are times when I was feeling judgmental," she admits. "But I think that's just more that I would feel the pain that maybe they used to feel when they were young. I don't even think it made me angry – it made me sad. But generally, I really just tried to step back and be very neutral."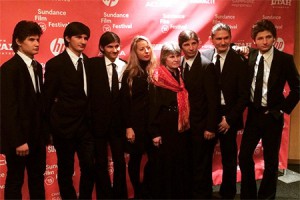 Moselle says Oscar was "surprisingly open" despite being asked several hard questions, and maintains the film isn't meant to condemn anyone. And while some reviewers have remarked that the film presents more questions about the Angulos than it answers, Moselle says the entire family except for Govinda and Narayana have seen The Wolfpack and "stand behind it," adding that she feels she answered all the questions for the story she set out to tell.
"There are all sorts of things that people can identify with, whether it's their love of film, or their own relationship at home with their own family," she says. "Or maybe it will inspire people to make something, and go out and make their own endeavors happen. I think there are a lot of things you can take away from the film: it's a matter of who you are."
In a sense, Moselle's friendship with the Angulos serves as a useful marker of when their lives really changed. All six brothers – one of whom has now moved out of the apartment – attended the world premiere at Sundance with Susanne (pictured above), and are increasingly recognized on the street in New York. The director reckons the exposure from the film may even kick-start their own directorial aspirations.
But as far as what's different for the director since meeting the Angulos? Not much, she says. When she's not at work developing a narrative film, Moselle is still out there, rolling with the Wolfpack.
"They shoot stuff, so I help them," she says. "We're just friends. We hang out."
The Wolfpack screens at Tribeca today (April 20) at Regal Cinemas Battery Park 11-9 at 4:30 p.m. EST/PST. It will also screen on April 22 at Bow Tie Cinemas Chelsea 6 at 6:30 p.m. EST/PST. Click here for more information.