Werner Herzog does not tweet, and he's not on Facebook. He promises that none of the roughly 35 Herzog imposters online are actually him. In fact, his cell phone hasn't been activated in about 52 weeks.
But the Cave of Forgotten Dreams director says he does use the Internet ("I wanted to know how cold it was going to be in Park City. Do I need Bermuda shorts or a parka?"), and it's a strong curiosity about the worldwide web that prompted him to partner with NetScout – a provider of application and network performance-management products – to make his latest documentary, Lo and Behold: Reveries of the Connected World.
"I do believe [the Internet] is of the same significance as abandoning nomadic life in exchange for a sedentary life, or introducing electricity into our lives," he told reporters at a press conference at the Sundance Film Festival on Monday (January 25). "This is one of those events of that magnitude, and we better pay attention to what's going on."
Lo and Behold, which bowed in Park City, Utah, on Saturday (January 23), examines various facets of the Internet age, from the extremities of sharing photos online and Internet addiction, to the illnesses associated with a growing number of electric fields created by wireless towers, as well as the digital pursuit of sending humans to Mars. Magnolia Pictures picked up the worldwide rights to the doc on Wednesday (January 27), with a theatrical release expected later this year.
Divided into 10 chapters, such as "Earthly Invaders" and "The Internet of Me," Herzog speaks with such academic researchers and experts as entrepreneur and inventor Elon Musk and astronomer Lucianne Walkowicz about the capabilities and limitations of the web.
Herzog was approached by Netscout with the project, and although chief marketing officer Jim McNiel – also present at the press conference – exec produced the doc, the director assures no one interfered with his vision for the film, which was conceived initially as a multi-part series of YouTube clips.
"It's not so much a question to scientists but to you, the audience, as well, and they start to think about it and think of the Net in a more conceptual way," says Herzog, who poses to his subjects such questions as whether the Internet dreams of itself. "It is not as much the question of what insights did I get – that doesn't really matter all that much. Sometimes the question you are asking is most important."
The 73-year-old director – who was last at Sundance in 2005 with his film Grizzly Man – has a number of projects on the go, including the volcano documentary Into the Inferno as well as a separate 3D IMAX film entitled Volcano. When asked by realscreen what he makes of the re-entry of National Geographic and Discovery Channel into the feature doc space, and if that might impact his volcano films in any way, Herzog appeared cautious.
"It's interesting you're mentioning them, because apparently there is a shift now and they are rethinking their position [on docs]," said the director, summing up his answer with, "Remains to be seen."
Herzog has previously worked with Discovery via its discovery Docs imprint for Grizzly Man, History Films on Cave of Forgotten Dreams, and Investigation Discovery for the four-part series On Death Row.
While at Sundance, Herzog – who insists his version of social media is a conversation at the kitchen table – also took part in an engaging 'TimesTalks' discussion with The Look of Silence director Joshua Oppenheimer (pictured, left), and moderator Kathleen Lingo of The New York Times' 'Op-Docs' division. The director, who appeared to have an almost paternal connection to the recent Oscar nominee, was asked to pick a clip from The Look of Silence while Oppenheimer chose an excerpt from Lo and Behold.
"You're always making up stories in your voice-overs, and it's a strategy you've used for a long time, and sometimes the stories are completely outlandish and sometimes they're completely fictional, but we have no doubt as a viewer that they're taking us to a hidden truth," Oppenheimer said of Herzog.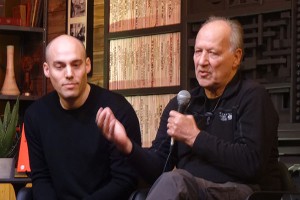 Lingo noted that both filmmakers' docs seem to be reflections on the current state of humanity and asked if there is any hope for the future.
"I find it odd that people are striving for happiness as though that was a primary goal in life – I find it silly," said a deadpan Herzog. "Happiness, who cares about that. You find these people stepping into the bus with a frozen rictus of a smile to show how happy they are. This is awful."
Oppenheimer took another angle: "It feels like the films are depicting another world but I would emphatically say 'no.' I think what they're trying to do is – and the reason why I'm drawn to [Werner's] work – is to make visible the fantasies and lies, delusions and self-deceptions that constitute a kind of immoral imagination that allows us to imagine everything is fine when it's really catastrophic."
When an audience member asked what the two directors hope their legacies will be, Oppenheimer said he hopes to make a life of exploring the most painful and complicated mysteries that make us human, and translating them into an experience of mystery and also truth.
Herzog, meanwhile, reckoned his documentaries are really all feature films in disguise, adding that the stories come to him like "burglars in the night," and he doesn't have much choice.
"I'm dealing with the one that comes wildly swinging at me first."
(With files from Barry Walsh)