In the first installment of its three-part report, realscreen provides in-depth coverage of the 17th edition of the Hot Docs Forum and the 19 Canadian and international projects presented.
This year's batch of docs was selected from 200 submissions, and represents 16 different countries. The group include 11 female directors and 26 female producers.
Projects discussed in this installment include David Alvarado and Jason Sussberg's much-anticipated doc on scientist Bill Nye; Lefteris Charitos' portrait of French free-diver Jacques Mayol, subject of the 1988 biopic Le Grand Bleu; Emil Langballe and Lukasz Konopa's The Accidental King, which straddles Denmark and Ghana; Alexandra Sollogoub's Dozdh, It's Raining on Moscow, an examination of an indie Russian news channel; and Thor Neureiter's Disaster Capitalism, inspired by the book of the same name.
This year's Forum also welcomes Brianna Little, a development executive with Amazon Studios, to the table, along with Discovery's Ryan Harrington, who joined the U.S. net late last year. Returning faces include representatives from the BBC, DR, PBS, the Sundance Institute, Tribeca Film Institute and The New York Times' 'Op-Docs' arm, among others.
Realscreen is covering both days of the Hot Docs Forum (May 3 and 4). Watch this space for the second and third parts of our report.
OBJECTIVE: CHANGE THE WORLD
Production Company: Structure Films (USA)
Directors: David Alvarado, Jason Sussberg
Production budget: $1,196,986 (Some financing secured from Kickstarter)
Still needed: $337,561
Logline: Bill Nye is on a journey to reinvent himself. Once the host of a popular children's show, he now advocates for the importance of science at a time when it's under attack.
Filmmakers David Alvarado and Jason Sussberg made Kickstarter history last summer when their doc on scientist Bill Nye broke funding records, raising $859,425 from 16,850 backers. Although that record has now been surpassed by Alex Winter's Who The F@*% is Frank Zappa?, which last month raised $1,126,036 from 8,688 backers, the team was at Hot Docs to find the remaining $337,561 needed to complete the film.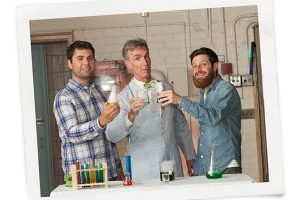 Presenting with producer Kate McLean, Alvarado and Sussberg told the Forum audience that all three grew up watching Nye, and became science storytellers because of his influence. The doc, they said, will detail elements of the TV presenter's personal life – "The man behind the bow tie" – that are as yet not revealed, including a family medical condition. A trailer of the film showed the 60-year-old Nye discussing his reasons for not getting married and frustrations with climate change deniers.
Production on the doc is 75% complete after 18 months of shooting, and the team is beginning the edit. McLean said Objective needs completion funding, and is also looking for "the best way to bring it into the world in 2017."
Discovery's Ryan Harrington – who is marking his first turn at the Hot Docs Forum representing the U.S. net – kicked off the feedback, noting that the doc will ideally be "looking forward rather than looking back." The commissioner and his doc team oversees Discovery Channel as well as Animal Planet, Science Channel and TLC.
Jane Jankovic, executive producer for documentaries at Canada's TVO – which broadcast Nye's iconic program Bill Nye The Science Guy – agreed with Harrington. "I'm more interested in what's driving him to continue to be the Science Guy and what's meaningful to him in terms of science, instead of looking back." Elsewhere, Bruce Cowley of Canada's documentary channel added that he wanted to see more of Nye's motivations, and the personal stakes involved.
Someone who "respectfully disagreed" was Marie Nelson, PBS VP of news and public affairs, who said the U.S. pubcaster's viewers would be fascinated by the backstory. "How do you become this dogged defender of science, and dedicate your professional and personal life to this endeavor?"
Meanwhile, Brianna Little from Amazon Studios said the platform was "most interested in docs that can sustain meaningful theatrical release." She said their doc initiative fits into Amazon's larger creative mandate which is "prestigious films, Academy Award caliber." While Little liked the Objective promo, she felt other platforms with built-in audiences might be intuitively more appropriate.
On the international tip, Nick Fraser, series editor for BBC's 'Storyville' doc strand, said he didn't find Nye's motivations as important, but advised that if the film goes overseas, it "needs lots about how pissed off he is" and a spotlight on his interactions with climate change deniers. Bilaal Hossein, head of film acquisitions for the Qatar-based Al Jazeera English said the film won't work for their audiences, adding that, "If his original show didn't reach our audiences before, it's difficult to make a connection."
DOLPHIN MAN
Production Companies: Anemon Productions, Storyline Entertainment, Les Films du Balibari (Greece, Canada, France)
Director: Lefteris Charitos
Production budget: $644,355 (Some financing secured from ARTE, Media Development Grant/European Union, CNC, Greek Film Centre, federal and provincial tax credits, ERT)
Still needed: $336,753
Logline: The extraordinary legacy and complex life story of Jacques Mayol, the first free-diver to reach 100 metres below the sea.
Dolphin Man, a commission by ARTE, tells the story of free-diver Jacques Mayol, who was first introduced to the world in Luc Besson's 1988 film Le Grand Bleu. He was born in Shanghai to French parents and taught to dive by Japanese fishermen. A passion for the sea developed in the 1950s until Mayol took up free-diving at 40. The doc tracks the diver's career but also examines the inner conflicts that led to his passing in 2001. Mayol is quoted as telling Besson: "The difficult part in free-diving is not going down but finding a good reason to return to the surface."
Director Lefteris Charitos said he is fascinated by Mayol's larger-than-life personality, and especially because he was the first person to combine Western science with Eastern zen yoga and Buddhist philosophy to support a theory that humans have aquatic origins.
Ed Barreveld, Storyline co-founder and this year's recipient of the Don Haig Award, said 60% of the film has been shot, and the team will be editing the film in Toronto with delivery expected in 2017.
Harrington once again started the round of feedback, asking how overt the environmental message in the film is, and questioning the takeaway for the audience. "You really need a specific message for audiences to take action," he said.
Meanwhile, Takahiro Hamano, a senior producer with the programming department at Japan's NHK, said Mayol was so popular in Japan that the broadcaster did a special program on him after his death. "I'd need to know why we need to do it now and what is the environmental message now."
Meanwhile, Kathleen Lingo, series producer and curator of The New York Times' 'Op-Docs' arm, said the outlet last month published its first virtual reality film, The Click Effect, which centers on free-diving researchers. "The issue is definitely in the zeitgeist right now," said Lingo, adding that perhaps a doc short could be crafted on one of Mayol's dives.
Elsewhere, Guy Lavie, channel manager for Israel's yesDocu, asked how prominent Mayol's dark side would be, while Amy Hobby, VP of artist programs for the Tribeca Film Institute, wondered about the direction of the doc, and what kind of audience the team hoped to reach.
THE ACCIDENTAL KING
Production Company: Made in Copenhagen (Denmark)
Directors: Emil Langballe, Lukasz Konopa
Production budget: $435,000 (Some funding secured from DR, CPH:DOX LAB, Danish Film Directors Union, FAF)
Still needed: $395,000
Logline: Is it better to be a king in Ghana or a worker in Denmark? A look into a Ghanaian immigrant's journey from living humbly in Denmark to inheriting a kingdom.
The Accidental King, which gave the Forum one of its most spirited discussions, follows Eddugle as he moves from his home of five years in Copenhagen, Denmark, back to Ghana, where he becomes the new king following the death of his father, the ruler of 14 rural villages. Eddugle brings his Danish friend-turned-adviser Jon for the journey, and the doc – billed as the story of a man torn between two worlds – captures the pair trying to merge their plans to "revolutionize village life" with the local traditions.
Shooting began in November 2015 and is ongoing. The team will return to Ghana this October to film Eddugle's coronation, and will then follow him for a year. The Danish Film Institute has boarded the film, and 25% of the budget has been secured. A delivery is slated for summer of 2018.
The feedback kicked off with the BBC's Nick Fraser remarking that he immediately wanted to see the rest of the film, and Tribeca's Amy Hobby saying the doc was "right up [her] alley" and felt like a narrative film, before encouraging the team to apply for the TFI Documentary Fund.
Bruni Burres, a senior consultant with the Sundance Institute's Documentary Film Program, noted the doc told a small story that could be extrapolated, but added that she expected the film to be a long-term project, with the bulk of the story taking place well after Eddugle's coronation.
The New York Times' Lingo suggested, then, that the team could produce a short in the meantime, to get the story out there.
The conversation then shifted to issues around representation in the doc, with Noland Walker – senior content director and 'Independent Lens' co-curator, for ITVS – saying he liked the humor but to be careful about the film's point-of-view.
"Even if you were with your Ghanaian king, it still feels very 'outside in,' and you need to figure out a way to tell it 'inside out,'" he said. "He's a stronger [character] in Denmark but not when he's in Ghana. The film's gaze doesn't shift and that's a cautionary piece."
PBS' Marie Nelson agreed, saying, "Make sure he's inside the joke and not outside the joke. As you explore these cultural phenomena, it's not that the film needs to be earnest, but it needs to be authentic. These people own that authentic reality and I felt at times that they were the subject of the joke."
Al Jazeera English's Bilaal Hossein added, "When you're looking at cultural nuances you have to deal with it respectfully."
DOZHD, IT'S RAINING ON MOSCOW
Production Company: Petit à Petit Production (France)
Director: Alexandra Sollogoub
Production budget: $301,789 (Some financing secured from ARTE France, Petit à Petit Production, CNC)
Still needed: $107,490
Logline: In Putin's Russia, following the life of leading independent news channel Dozhd, this film questions how it is possible to resist and disseminate alternative information in an authoritarian state.
Director Alexandra Sollogoub told the Forum audience that her family was strongly linked to those who worked at Russian indie news channel Dozhd, which strives to report the truth on Vladimir Putin's increasingly authoritarian regime.  The film follows three characters who work at Dozhd, including Natalia Sindeeva, who runs the channel, and a couple of editorial staff.
"The path of my three characters is as complex as the situation in the country," she said. "How do you do your job with so many pressures? If you stay, how do you survive? I'll be there, in and out of the newsroom following the professional and personal choices and sharing with them what it means to live under an authoritarian regime."
The film – which has a 52-minute runtime – is currently in production. Two shoots have been completed, with three more coming up. Editing is to take place in October and delivery is expected by the end of April 2017. ARTE France and ARTE Distribution are both "deeply involved," but the team is still looking for funds, pre-sales and coproduction opportunities.
The BBC's Nick Fraser immediately asked the team why the film isn't longer. "There's a way you can tell what's happening in Russia through the journalistic medium, but it will take longer than 52 minutes," he said, later noting, "You have to put quite a lot in the film on how the Putin media system works. The characters and footage are great but you need an underpinning."
Meanwhile, Justine Nagan, head of American Documentary for PBS, said context becomes really important in a film such as this. "How do every-day Russians feel about this net? What is its value and what is its audience? The fact that it's character-based for us makes it a really possibility."
The Sundance Institute's Bruni Burres agreed that the film could be longer than 52 minutes, and should also have multiple layers so it doesn't become another piece of journalism about opposition journalism. Dozdh could also travel well overseas, she said.
Bruce Cowley, from CBC digital channel documentary, was perhaps the most enthusiastic of all. "Here's a thought: let's talk. I'm in," he beamed.
Similarly, Arno Becker, commissioner for Germany's RTL Television, said the project has the right ingredients, combining such important topics as the circumstances in Russia today, and censorship. Chris Hastings, commissioner for WGBH's Boston-based World Channel, also said the doc could work for them as an acquisition.
"I try to bring in stories from other countries that give Americans some insight into what our contemporaries are dealing with every day and political systems that are different than ours," he said.
DISASTER CAPITALISM
Production Company: Media Stockade Pty Ltd (Australia)
Director: Thor Neureiter
Production budget: $350,000 (Some financing secured from Bertha Foundation, Kickstarter, Screen Australia Producer Equity Program Grant)
Still needed: $226,000
Logline: When aid and politics meets business, who really gains from the global giving industry?
In a documentary inspired by journalist Antony Loewenstein's titular book, the writer teams with director Thor Neureiter to question the ways in which "aid and the corporate dollar collide" and the challenges in changing this relationship in Haiti, Afghanistan and Papua New Guinea. "Who is getting the money? How connected are international aid groups with the people they're claiming to help? This is topical and controversial, far removed from the comforting story of Western benevolence that viewers see on the nightly news," reads a synopsis of Disaster Capitalism. Filmed over five years, the doc aims to reveal how globalized development and aid are "shaping" these countries, and whether locals are benefiting.
The Bertha Foundation has supported the project since 2014, and the filmmaker is at work on a rough cut of the feature-length doc. About 95% of principal photography is complete, and final filming will take place in Washington DC next week. They are looking for broadcast pre-sales.
Naomi Boxer, programmer for docs at TVO, said the film could be a "great fit" for the Canadian broadcaster because of its current affairs focus.
"One thing is you're covering a very broad, complex subject matter, from war to multiple players with agendas, so I'm curious how you will disentangle the complexities," she said. "I'm looking for a possible articulate or dissenting, critical voice to add some depth to your passionate [point-of-view]."
Mark Edwards, commissioner for ARTE France, said he'd be more interested in the individual story from Afghanistan. He also had some issues with how much screen-time Loewenstein has in the film, and how much on-screen dialogue there is. The journalist responded that he's not in every shot, and that the team is open to breaking up the doc for a broadcaster.
Elsewhere, Mette Hoffmann Meyer, head of docs and copros for Denmark's DR, thought it was "misleading" to call aid 'disaster capitalism,' while ITVS' Nolan Walker said the doc felt very compressed and questioned what the common denominator was. "This could benefit from someone to push on your [point-of-view]," he said, adding that the topic might be difficult to digest for audiences who are new to the underlying concepts behind 'disaster capitalism.'