When Toronto-based filmmaker, curator and activist Michelle Latimer received a phone call from Vice's chief creative officer Eddy Moretti nearly two years ago to helm a project chronicling the oppression of indigenous communities across North America and their fight back against the exploitation of their lands, she couldn't believe her fortune.
"To be honest it's kind of a dream project to be able to make eight films about indigenous resistance," Latimer, showrunner and director of Rise, told realscreen from Vice's Toronto offices in between cutting the final handful of episodes.
Rise (8 x 60 minutes), produced in partnership with Vice Studio Canada and APTN, explores the front lines of indigenous resistance and serves as a "condemnation of colonialism and a celebration of Indigenous people worldwide."
Through the lens of Latimer, of Métis and Algonquin descent, and the voice of series host Sarain Carson-Fox (pictured, below), of Anishinabe lineage, the docuseries examines the social, economic and political factors that threaten indigenous liberation in the 21st century.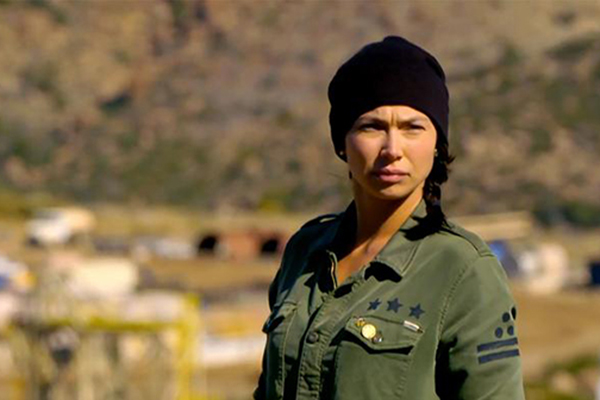 Episodes in the docuseries include "Apache Stronghold," in which Apache from Arizona's San Carlos Reservation are refusing to allow mining companies to dig up sacred ground; "Sacred Water," documenting the Standing Rock Sioux Reservation's resistance to the Dakota Access Pipeline; "Red Power," which delves into past indigenous resistance and the evolution of the Red Power Movement; and "Savage Family," chronicling militant indigenous hip hop collective Savage Family in their mission of decolonization through anti-censorship. 
Previously announced in March 2016, the original series for fledgling 24/7 linear channel Viceland is scheduled to broadcast on Jan. 27 at 9 p.m. ET/PT, with the first three episodes enjoying their world premiere in Sundance's environmental awareness program "The New Climate" on Jan. 21.
Executive producers on the series include Tania Natscheff, Bernardo Loyola, Heather Rae, Jordan Roberts, Michael Kronish, Patrick McGuire, Spike Jonze, Eddy Moretti and Shane Smith.
Latimer currently programs for Hot Docs and the Dawson City International Short Film Festival, and has served as the senior programmer for the ImagineNATIVE Film & Media Arts Festival in Toronto. She is also currently directing a documentary short for Laura Poitras's documentary unit Field Of Vision.
This interview has been edited and condensed for clarity and length.
Canada's indigenous communities have always been welcome at Sundance but this year's selections seem to have a new sense of urgency. Why do you think that is?
I think why it's really interesting and why it's in peoples consciousness is that as we see these corporations profiting from things that should be for everyone – nobody owns water, nobody owns land. It engages everyone not just indigenous people. It just so happens that indigenous people are leading that [protest], but it's going to take all of us to get behind that to make any significant real change.
What was the criteria you focused on when determining which stories to cover for Rise? 
I think the thing that's exciting working at Vice is there's a real push to have the youth voice included in the storytelling. The cool thing about telling indigenous stories is we're the fastest growing population in both [U.S. and Canada] from what I understand, a huge amount of our people are under the age of 30 and are very active in social activism and the community, so that was definitely a criteria.
The other thing is telling stories that we maybe haven't heard [through] an unusual way in – often for me that's finding the right character or spokesperson to follow and to go deeper than a news story so we can learn about them, learn about their lives, learn about the challenges they're facing so it personalizes their story.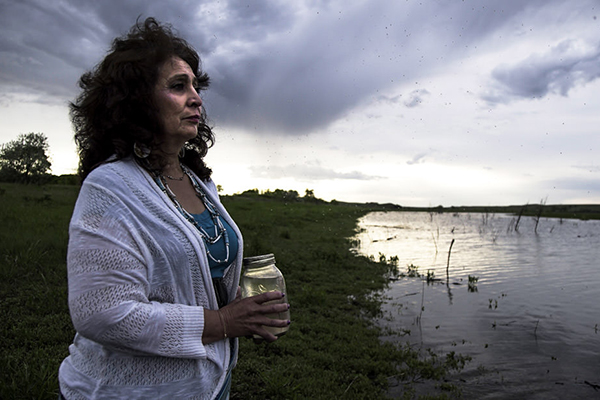 Can you tell me about how you went about finding the archive material for this series? 
One of the things when you look for archives is knowing specifically what you're looking for. To be quite honest, one of the greatest revelations of making this series was my surprise that this hasn't been made yet because there's amazing archival that exists that documents the movement and the genesis of the civil rights movement for Native people – a lot of it I'd never seen before.
What were some of the production challenges you encountered throughout the project?
To tell indigenous stories from an authentic perspective requires a different kind of approach than just going quick into a community, grabbing a story and coming out. To tell it right and honor the communities, there are protocols that need to be followed, permissions, consultation with elders and leaders, and it was really important that we respected those cultural protocols.We put a lot of time and energy in trying to do that, so sometimes it means taking more time in how you shoot, building those connections in a deeper way and engaging in ceremony with elders – that's not something we often talk about, or maybe it's not even thought about, but it part of the process for building Rise in order to carry those stories for a collective community.
How do your curatorial experiences with ImagineNATIVE and Hot Docs inform your work with a project like Rise?
When you're a programmer you have to watch 600 films sometimes in the span of two or three months, so you inevitably watch things you're interested in. But it's in the films you're not interested in that you learn the most because you learn from other filmmakers mistakes, from their victories – you see different ways to do things. It loops you in to not only craft, but also a larger understanding of storytelling and what's engaging the public consciousness at this time, and that's really interesting.
When we program stuff, we have to advocate why we like a film or why we don't, or why it works or doesn't. When you learn to articulate why – it's not enough to just say I don't like it – that as a director [was] really helpful, because when I'm sitting there with an editor or cinematographer and I'm trying to describe my vision for something or have a discussion creatively, you actually have the tools to communicate on that level.
Rise holds its world premiere on Jan. 21 at 9 p.m. MT at the Yarrow Hotel Theatre in Park City, Utah.
The docuseries will then debut across Viceland on Jan. 27 at 9 p.m. ET/PT.