CANNES – Strolling up and down the Croisette at the 2017 MIPTV market, it's become increasingly difficult to miss the steady murmur surrounding the drama genre, led by top non-scripted networks like National Geographic recently having announced their arrival into the scripted market.
But 11 months since incorporating NBCUniversal's Television Alternative division, executives Paul Telegdy, president of the Alternative and Reality Group, and Meredith Ahr (pictured, above), president of Universal Television Alternative Studios, set upon the Palais des Festivals' Grand Auditorium to discuss the network and studio's forthcoming non-scripted programming slate and the methods used to drive a successful business model in an age of fragmented viewing habits.
"We love great drama and I think that we hold ourselves to a standard of the best storytelling; we focus on characters and relationships," Ahr told the room of delegates.
"There's a standard we've set within our own group. The shows that came after [America's Got Talent], there was a sense of pride and being in good company," she added. "The creators and producers that came afterward understand that they have to meet or exceed that standard."
As such, all unscripted programs airing across NBC's primetime line-up uphold three of the network's foremost pillars: they are fundamentally positive, human first and "all exhibit their own inherent ingenuity."
That thought process is one that trickles down from the top, with the mantra of Comcast CEO Brian Roberts and NBCU CEO Steve Burke, according to Telegdy, being able to think as long term as possible: "Think like owners, not like renters."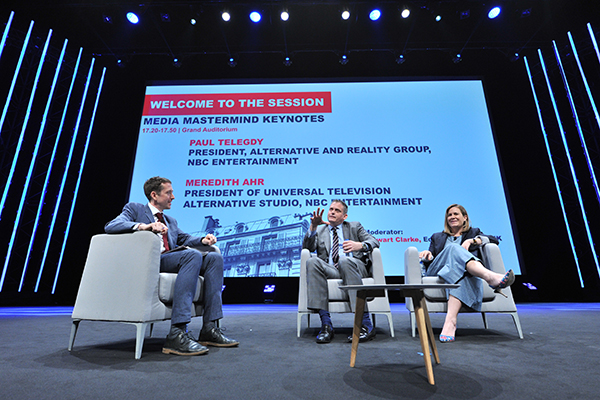 By repositioning the American broadcaster in the value chain and applying some of what Telegdy and Ahr had learned along the way, the pair – who took on elevated roles last summer – managed to once again stake their claim financially and creatively into the alternative genre, with such acclaimed series as the Chris Hardwick-hosted game show The Wall, which was recently commissioned for 20 additional episodes; Better Late Than Never, starring Henry Winkler and William Shatner; futuristic tech series The Awesome Show; and forthcoming series dance competition World of Dance.
One of first things Ahr looked at when starting the Alternative unit, she said, was what were the most successful formats of all time – which have traveled the globe the most? Which have made the most money? Inevitably, what she found kept pointing to the same answer: game shows.
"We were very lucky we had a property in The Wall and knew it wasn't just any old game show," she explained. "It reminded me of the day Deal or No Deal was pitched at NBC – it felt like an event. We knew we would have to turn it into a sporting event to give it that kind of field and it was very unique."
The second order of business for Telegdy and Ahr was to take another crack into the dance competition arena. Following a short period of trial and error, the unscripted arm developed World of Dance, executive produced by Jennifer Lopez.
"There are some real distinct qualities of the people we creatively work with," Ahr said. "They're not just sticking their name on the project; they're rolling their sleeves up and creatively getting involved to help us crack these formats.
"With Jennifer Lopez, anyone that takes this format in their market and makes their localized version, they're going to have the benefit that she helped us with this scoring system."
NBCUniversal's Television Alternative division also oversees such longstanding hits as The Voice, America's Got Talent, American Ninja Warrior, Little Big Shots and Running Wild with Bear Grylls.
Launching a new unscripted division is not without its challenges, however.
"There were three key areas we wanted to focus on," Ahr explained, "and the first was we wanted to establish ourselves as a place where great original content and formats can come from, so we doubled down on development, and we wanted to establish ourselves as a premiere partner for production so that we could pull off shows across all genres of programming. The third was to really attract and develop top-tier talent, whether it's behind or in front of the camera."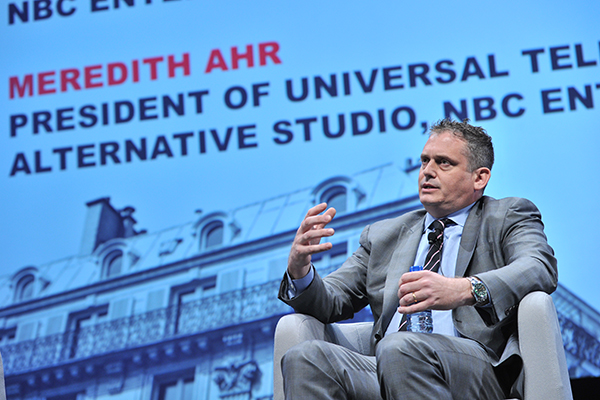 NBCUniversal's Television Alternative division is actively engaged in conversation with other broadcasters across the U.S. and abroad to determine where the best place would be to launch a pilot or new series – if that so happens to be a territory outside of the U.S., so be it.
"Our bosses really count one major metric and they count money as that performance metric," said Telegdy, who was named Television Trailblazer at last June's Realscreen Awards at Realscreen West in Santa Monica. "Businesses that create money are exciting to them and if Meredith is in the process of building a business that makes an exciting amount of money, they won't mind if it's a hit on another network.
"It's inevitable that very soon that Meredith is going to be selling to other networks by virtue of good ideas needing the right homes."
Creating content that feels familiar but has the ability to delight the audience in new and exciting ways takes time – typically 18 months to two years – and involves a variety of nuances and tender, love and care, Ahr noted. But what really strikes a chord with the veteran executive is hearing from individuals who haven't previously been associated with the unscripted space, like Amy Poehler and her recently greenlit artisan competition series The Handmade Project, cohosted with fellow Parks and Recreation star Nick Offerman.
"What I'm most proud of over the last 11 months is we're co-developing with the top-tier talents from around the world – with Arthur Smith, Stephen Lambert, Mark Burnett – but we're also giving shots to people who have never developed for networks before, sometimes showrunning for a network the first time, and that process has been equally thrilling and hopefully well get some really original ideas out of that," said Ahr.
Photos courtesy of Reed Midem