In unscripted television, originality and creativity still make a difference when it comes to cutting through the clutter.
During the "Big Ideas and Breakthroughs" panel on Wednesday (June 7), moderated by Naked Entertainment's founder & CEO Simon Andreae, leading industry execs detailed the development and greenlight processes for several of the most original and creative programs to air over the past year, while sharing how they found the twist that made each show the success it is.
Dan Cesareo's Big Fish Entertainment launched one of the brightest spots on television this past year when it began focusing live cameras at one of the most pressing issues facing America today — policing and, more pointedly, the perceived lack of transparency among the country's police forces.
Live PD pulls in approximately 30 live feeds from more than six cities across the country in a bid to offer an unfiltered look into a typical Friday, and now Saturday, night for men and women in blue. Those feeds are then be transmitted via 4G technology to a New York-based studio where ABC News chief legal analyst Dan Abrams provides audiences with insight into what they're viewing in real time, while offering an inside take on each live incident.
In the six months since debuting on A&E, Big Fish has pushed out 126-hours of Live PD programming since Oct. 28, doubling its output for the series.
"It is Cops but it's Cops for 21st century. What our development team did was we ostensibly took probably the best format on American cable and reinvented it," explained Cesareo. "We're not trying to hit singles and doubles – were trying to hit home runs."
"We're a very brave network and that's the only way you cut through. These are big, ballsy shows," said Elaine Frontain Bryant, EVP and head of programming at A&E, of Live PD and further noting the successes of 60 Days In, Born This Way and Leah Remini: Scientology and the Aftermath. 
"We rarely hit a subject head on. We hide the broccoli. This is entertainment but for me this is the transparency of what's happening in America," she added.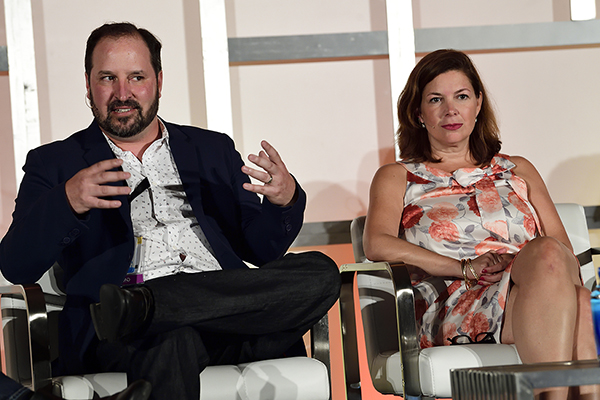 Big Fish's Dan Cesareo and A&E's Elaine Frontain Bryant
Across the pond, Twofour Group hit on a global format success with This Time Next Year, a format that is now in production across 18 countries and has only aired in the UK.
"People were choosing to watch the beginning and end of a series and were skipping the middle," Twofour Group chief executive Melanie Leach explained. "The thought [with This Time Next Year]was maybe we show the beginning and the end before we show you the middle section and slightly mess up the order for a more surprising watch."
Though the project serves as a really travelable format, This Time Next Year is nearly impossible to pilot as it takes approximately 18 months to develop and a "hugely brave" commissioner to take it on.
So what can these leading industry execs tell us that will increase the likelihood of creating next year's biggest global hit? For Robert Smith, EVP and head of unscripted television at Endemol Shine North America, it's not so much building up an idea from the ground up, but rather adding something new and engaging in the cultural conversation.
"If you look at all these [formats], these are not brand new ideas," he stated. "These are all things that were out there and you made this tweak, you made this one tweak and you're blowing it up to 'X' level or asking yourself, 'What can I add to it to bring it out to cultural conversation?' All of these programs have that."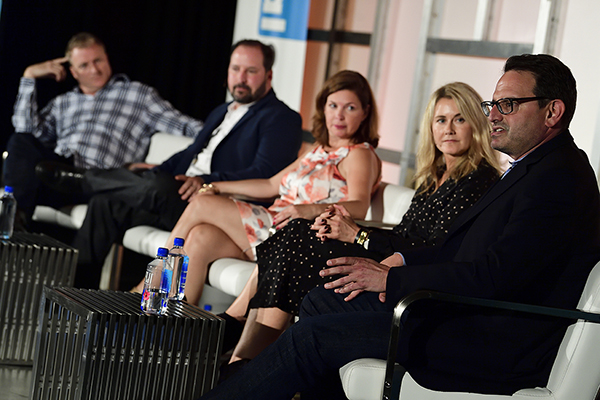 "We're not frightened to say that's not a good idea. The adage that there's no such thing as a bad idea is probably wrong – I have really shit ideas most of the time," added Leach. "You've got to be brave enough to kill of the stuff you don't really believe in and brave enough to back what you really love.
"It's absolutely crucial that you believe in [your idea] and love it."
For A&E's Frontain Bryant, finding success in a series comes not from finding the next idea, but rather in discipline and knowing not to spend time on the ideas you don't love.
"The very nature of that is that you're spending your time on the things that will get big and the programs you'll want to pour the gas on," she said.