China, which arose as one of the earliest civilizations, has forced itself atop the world stage as an emerging superpower, with the hopes of attaining global influence rivaling that of the U.S. But how much do we really know of the East Asian nation's history and culture?
As part of its 'Summer of Adventure' lineup, American pubcaster PBS has planned to chronicle historian and presenter Michael Wood as he travels across China to explore the superpower's landscapes, people, stories and cultures from the Xia Dynasty – its first dynasty in the in the 21st century B.C. – through to the Mao years and the present day.
Produced by Maya Vision International for PBS and BBC2, The Story of China (6 x 60 minutes) explores the history of the world's oldest continuous state by taking audiences deep into China's backcountry to find the people and stories that have helped define the country's distinct character and genius for more than 4,000 years.
Filmed over the course of two-plus years, the six-part series ventures through the deserts of the Silk Road, the ancient cities of Louyang and Kaifeng, and to the modern metropolises of Beijing and Shanghai.
The Story of China premieres Tuesday (June 20) at 8 p.m. ET/PT on PBS.
Realscreen spoke with Maya Vision's Wood (pictured, below) and series producer and director Rebecca Dobbs about the history series ahead of its North American premiere.

What was the genesis for The Story of China? How did it come to be?
Rebecca Dobbs: We had done The Story of India for PBS and it had done rather well. The folks at PBS were very kind and asked us what we wanted to do next, and almost everybody was in agreement that China, as the other emerging power, would be fantastically useful to know about. Of course, Michael's approach to these things is if you want to know about something in the present, it's very good to understand their history and how they got to be who they are.
How did you go about choosing these specific moments in China's history?
Michael Wood: It's chronologically divided, and the main episodes take one dynasty, one crucial period of Chinese history. You've got 4,000 years of recorded history, so… if you're going to do it for the general PBS audience and make it entertaining and give it an arch of narrative, one of the big issues is how you select [stories] – you have to make pretty ruthless selections. The first episode is about the roots and origins, the second is about the Tang Dynasty, which is when China goes out to the world on the Silk Road, and the last episode takes you through from the end of the empire to the Communists today.  It's a chronological narrative but focusing in the six hours on the really important periods of creativity and great change.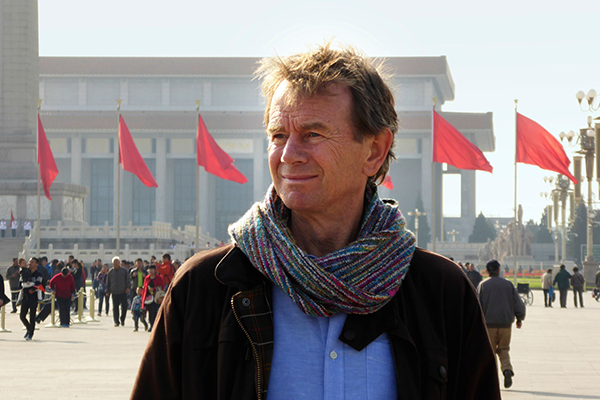 RB: The reason Michael is fantastic to work with is because you have to have a historian and filmmaker who can decide what are the key turning points in the narrative history that will explain to you how China is in the present. Obviously we weren't going to truck through every dynasty, so what he did for a year was think about how you tell that history so that it informs people who want to understand China today. Of course, all of our filming is in the present so we're going with Chinese people in the present to places that are in the present, so you're getting a fantastic inside understanding of places in China that you've never seen on TV before.
Why do you think there's an appetite for this series?
MW: There's a big appetite for history on TV. We still get a lot of letters from PBS viewers about our older series, so people like history. In terms of China, everybody is now aware that it's the rising power of the 21st century and everybody wants to know more about China. This kind of series is a great way of letting the audience have a journey to China and see the landscape and culture, and yet have it structured in a way that allows them to understand and learn a bit more about China. Judging by the response to The Story of India, there is a big appetite for that kind of thing.
Can you tell me about how this show fits the Maya Vision brand and why it's such an importance title in your production stable?
RB: Maya Vision does a lot of history, travel and arts programs, and we do a lot with Michael. One of the staples of what we do have been these big challenge fund shows since In the Footsteps of Alexander the Great, Conquistadors, In Search of Myths and Heroes. They're really big endeavors for quite a small company – they're always made with the PBS and the BBC – and I suppose they are part of the identity of what we do. They've created that sense of who we are and what we do, and that's actually opened a lot of doors for us around the world because people have seen our shows. That's meant that we've got a lot of good will from around the world with people being prepared to help us because they know we're not making a fly-by-night documentary – we'll really think about it.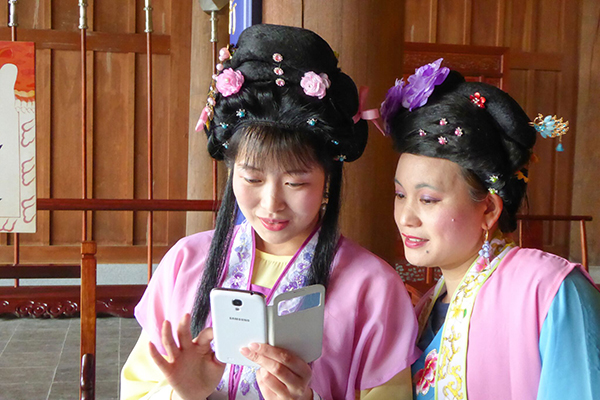 What audience do you think this appeals to?
RB: In terms of PBS, these programs absolutely attract the core PBS audience in as much as they're 'a place to think' – it's a place where people who are interested go to enlarge their knowledge of both history and the world. I also think there's a huge interest from younger generations because a lot of teachers and a lot of school kids are now getting in touch with us through social media asking us to talk to their classrooms on Skype. Whether they're studying Shakespeare or the conquests of the new world, they're using our films in their classrooms and that's absolutely wonderful for us.
MW: In a broad sweep, I hope this series is informative on Chinese history for the audience, but I hope they really enjoy the colourful stuff in it – the social history and the landscapes. I hope also that they enjoy being with the Chinese people on the road.
This interview has been condensed and edited for clarity.