Al Berman hopes the premiere of National Geographic's Earth Live special doesn't go as planned.
It may seem like an odd wish for the award-winning producer, whose credits include Survivor, The Apprentice and Live from Space, but it's this unpredictability that he thinks will make the nature special appealing for viewers.
This Sunday (July 9), National Geographic is bringing together wildlife filmmakers and photographers for an event spanning six continents, starring animals around the world filmed in real time. Over the two-hour special, 51 cameras will be shooting simultaneously in 25 different locations across 15 countries, all anchored in a New York control room and studio where co-hosts Jane Lynch and Phil Keoghan will be based.
Lynch, perhaps best-known for her character of Sue Sylvester on Glee and current host of Hollywood Game Night, says she's excited by the spontaneity and excitement of the special.
"Keoghan is the explorer and adventurer, and he will have a lot to add when it comes to his own expertise," she says. "I'm not an adventurer, or an explorer, but I'm excited as heck about this and I'll be engaged as hell because I'm sure I'll be standing there with mouth agape a lot of the time."
Earlier this week, cinematographers, filmmakers and photographers were parachuted down to a set of designated locations where they will be based during the special. Award-winning cinematographer Bob Poole, for example, will be in Ethiopia getting up close and personal with a hyena clan. Elsewhere, wildlife filmmaker Sophie Darlington will be camped out in the Maasai Mara of Kenya to watch lions.
Throughout the two hours, cameras will be primed to cut between feeds at any moment, shifting between live footage taken by these on-the-ground experts, Lynch and Keoghan in the studio, and additional footage captured beforehand.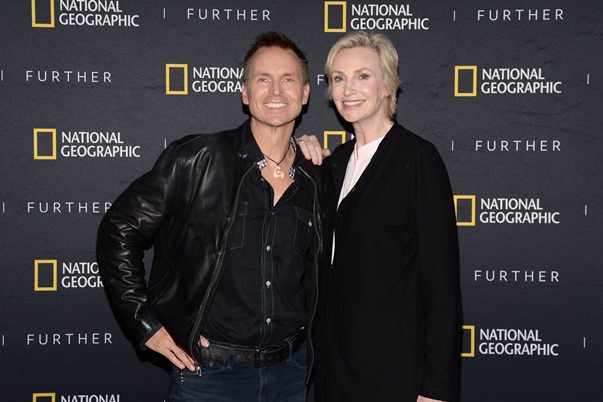 "It's a very well-coordinated, seemingly mad scramble," says Berman of the broadcast.
And if you ask Michael J. Miller, executive producer with Nat Geo, Earth Live is more on brand than anything else that has been presented by the network.
"National Geographic is all about science, exploration and adventure, and celebrating the natural world," he says. "And if you think about it, everything that this show celebrates is right in line with what National Geographic stood for, even when the first (magazine) issue was released in 1888.
Two years ago, Nat Geo underwent an overhaul when the network's head of marketing, Courtney Monroe, was upped to CEO and Tim Pastore was named president, original programming and production for National Geographic Channels.
"If you look at what the network is doing since the management team of Courtney and Tim took over, the ambition of television we're making right now is stunning," says Miller.
The scripted/unscripted hybrid series Mars from executive producers Ron Howard and Brian Grazer, for example, received both critical acclaim and high viewership, leading it to be picked up for a second season. Nat Geo also dove into new waters with the premiere of its first scripted series, Genius, which has also been renewed for a second season.
"This is a very different network than the Nat Geo from a few years ago," says Miller. "We're doing fewer shows and better shows, and the network is spending an impressive amount of time and attention making sure that we have the best people in front and behind the camera."
Earth Live was no exception, with care being taken in everything from the equipment used, to the air date, to the production team and hosts.
For the first time, viewers will be able to watch live wildlife lit only by the moon, in full color, via new low-light camera technology from Canon. And under the 24-hour sun in Alaska, a drone camera called a "snot bot" will be used to capture footage of humpback whales and simultaneously collecting DNA for scientific research.
The July 9 air date was decided on after a team determined that it promised the maximum amount of daylight and the maximum amount of light at night. "We sent out 30 technicians and producers with cameras one year ago to all the locations we were considering," says Berman. "We shot video and figured out where the cameras should be and where the wildlife would be at night."
This past week was rehearsal time, when producers and cameramen had some dry run-throughs in an effort to predict what could go wrong. And while Lynch points out that that "the things we can control, we'll control within an inch of its life," Berman is quick to point out that a lot can go wrong.
Aside from the technical glitches that could happen between the cameras in studio, in the field, and the satellites in the air, the real unknown is whether there will actually be animals on the screen.
"Will the wildlife behave the way we're hoping? Probably not," says Berman. To combat that, filmmakers are recording activity prior to the show to that the hosts can throw to in the event of a lull.
Berman isn't nervous, though. With a background in television news, he's been in the control room for breaking stories and is comfortable in situations where he and his team need to be on high alert and ready to react.
"I liken what Al will be doing to performance art," says Miller. "They will be making lightning-fast decisions, then working in tandem with the talent on the floor to deliver the best show possible."
The end result, hopes Miller, is a visual spectacle that will entrance television audiences at home.
"Let's face it — the old style of wildlife documentaries on television are quiet…they're polite. They're, of course, beautiful and beautifully presented, and there's no question that they're stunning to watch, but this show is going to be adventurous and exciting. We want to take the classic wildlife documentary and reinvent it for a new viewer."
Earth Live is produced by Bunim-Murray Productions, Berman Productions and Plimsoll Productions for National Geographic. Al Berman, Gil Goldschein, Andrew Jackson and Martha Holmes are executive producers. For National Geographic, Michael J. Miller is the executive producer; Kevin Mohs is vice president, production and development; and Tim Pastore is president of original programming and production.
Earth Live airs Sunday July 9 at 8/7 C.