Justice Ruth Bader Ginsburg has dedicated her career to the legal profession. She has been at the forefront of some of legal decisions that have shaped women's rights over the past five decades.
However, it took a Tumblr and meme of Ginsburg to turn the 84-year-old associate justice of the U.S. Supreme Court into a pop culture icon. Following Ginsberg's dissent in the 2014 Shelby County v. Holder case, which struck down part of the 1965 Voting Rights Act, an image of Ginsberg was stylized with the tag "Notorious RBG"— a play on the iconic 90s rapper Notorious B.I.G.
Ginsburg's life and work has been brought to the screen by directors Julie Cohen (The Sturgeon Queens, The Great American Veteran) and Betsy West (producer, MAKERS: Women Who Make America Video Archive) in RBG, a 97-min doc that premiered at the 2018 Sundance Film Festival on Jan. 21 (Sunday).
Cohen says many younger generations may not be aware of Ginsburg's story. She thought it was the right time for her and West to spotlight the woman holding the "Notorious RBG" title.
The team spent about a year and a half on the project. They followed Ginsburg at various events, interviewing close family and friends, including famed feminist Gloria Steinem and former president Bill Clinton, and examined the impact of her rulings.
A copro by Storyville Films and CNN Films, RBG uses vérité scenes, archival news footage documenting Ginsberg's career, family photographs and exclusive home movies to paint a portrait of a woman committed to furthering gender equality and safeguarding democratic institutions.
Cohen (pictured, right) and West (pictured, left) spoke to realscreen about their latest project ahead of its Sundance premiere.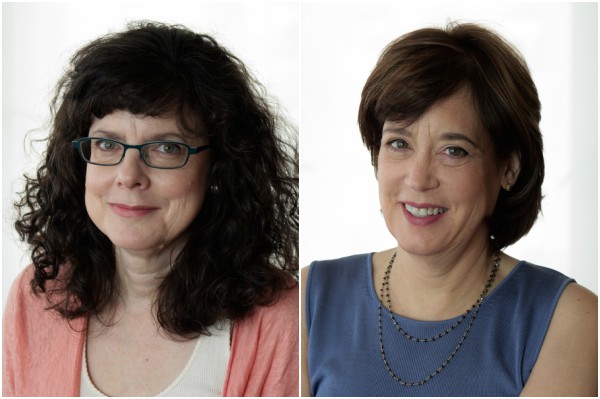 This interview has been condensed for clarity and length.
What was the genesis of RBG?
West: We approached the justice about the film about three years ago, and her initial reaction was, "not quite yet" but she didn't reject the idea altogether.
We then reapproached her about two years ago. At that point, she said "Yes, you can talk to my family and friends. Also, here are some the events that I will be speaking at in the next year. You can film there and I will give you an interview in the summer of 2017."
At the time, that seemed like a long way away, but the year went quickly. We started filming at these various events and doing a lot of interviews and eventually we were able to gain access to the more personal moments in the film. We think it [adds] a new dimension to the justice's work and life.
I imagine Ginsburg has a busy schedule. How did you overcome that challenge?
Cohen: She is unbelievably busy with her job as a justice and, on top of that, the amount of travelling she does to give talks in various law schools, bar associations, opera lovers groups etc. She has an unbelievable schedule, so sandwiching the additional imposition of us filming in places was a challenge. Fortunately, she allowed us to be in a lot of places where she was.
How did you go about sourcing archival material for this project?
West: The justice has been on the scene for a while, so we were able to gather a lot of material from the usual sources (e.g. news footage). But we had an extraordinary moment when one day a packaged arrived in the mail. We opened it and inside was a DVD. It was from the justice's biographers [Mary Hartnett and Wendy Williams] with film from her family. There was footage of her graduating from Cornell [University] with her boyfriend and then husband Marty and on their honeymoon. A lot of photos in the film have not been seen before, some were shared by Justice Ginsburg and some by her friends and family.
You have various high profile people like Gloria Steinem involved in this doc. What was it like getting all the interviews? 
Cohen: Certainly it was a challenge because of the number of high-profile people that are in the film. That was actually one area where it was great that there was two of us. Basically, we divided the list of people. Some of them, like Gloria Steinem – that's an important person – you don't just send one email and they say "come on over." There is going to be a lot of back and forth and strategizing. Almost everyone we approached about this project wanted to participate. Sometimes not on our first go-round, but ultimately we were excited about the number of people who agreed to talk to us.
How did the #metoo campaign and a greater awareness of gender inequality in the zeitgeist factor into this film?
Cohen: The truth is the #metoo stuff emerged after we were done filming. But we think that Justice Ginsburg's whole life story, and her whole approach to fighting sexism in a very strategic, very reasoned, one step at a time, was often unexpectedly successful. We think that speaks to what is going on in the current day and maybe inspirational about how one builds a campaign to push back injustice
West: The film provides incredible context to what we are going through right now. Certainly, Justice Ginsburg's story in fighting discrimination – I think a lot of people don't understand – was so deep in our society. Her success is an inspiration.
RBG premieres Jan. 21 at 5:30 p.m., The MARC Theater in Park City, Utah
 Photos courtesy of CNN Films. Photos of Cohen and West by Grace Mendenhall