Reboots in the television industry are all the rage, with the unscripted genre claiming a big one in the revival for TLC's Trading Spaces, the preeminent home renovation series that kickstarted the genre.
At a Realscreen West special case study titled "Returning Champions: Trading Spaces" on Wednesday (June 6), Howard Lee, president & GM of TLC & Discovery Life; Lauren Lexton, co-founder & CEO at Authentic Entertainment; and Trading Spaces stars Ty Pennington and Sabrina Soto, provided behind-the-scenes insight into the strategy, and anxieties, that revolved around updating the much-beloved reality juggernaut.
Here are four takeaways from the session, moderated by Michael O'Connell, senior writer at The Hollywood Reporter:
There were concerns of marring a legacy
The decision to resurrect Trading Spaces at TLC wasn't taken lightly by Burbank, California's Authentic Entertainment or Howard Lee and his executive team at the Discovery, Inc.-owned lifestyle network.
The net, for one, did a lot of research by reaching out to the show's fan base to determine what audiences liked and didn't like in the original series and which presenters they wanted to see once more.
"We were intimidated by bringing back something so beloved. It's easier to do a brand new show from scratch, because you can make the dream you want it to be," noted Lee. "But when it's something that's recognizable and everyone has an opinion, you've got a lot of things to honor. My hat is off to Queer Eye that they wanted to take it to another direction, but we didn't do it blindly."
"Our reputations were on the line," added Lexton. "What was refreshing was the thought that went into it – it wasn't about getting eyeballs for viewership, but about keeping the spirit of the original show alive."
Good neighbors are hard to find
When asked about the biggest challenges facing Trading Spaces past and present, Authentic's Lexton stated, without hesitation, that casting the show's homeowners is by and large the most difficult task producers face.
"When we were doing 100 shows per season, you had to cast really quickly. But now, we had the luxury of only doing eight [episodes], so we made sure that the casting was right," she said. "It was the most important thing – outside of the team doing the renovations – that the neighbors were really neighbors and they actually knew each other. That's hard to find."
Added Pennington: "When you cast these neighbors, sometimes you're pleasantly surprised and others you're horribly surprised by the worst thing you can imagine. But that's TV, and it's part of the fun because you don't really know what you're walking into. But they don't know what they're getting into either."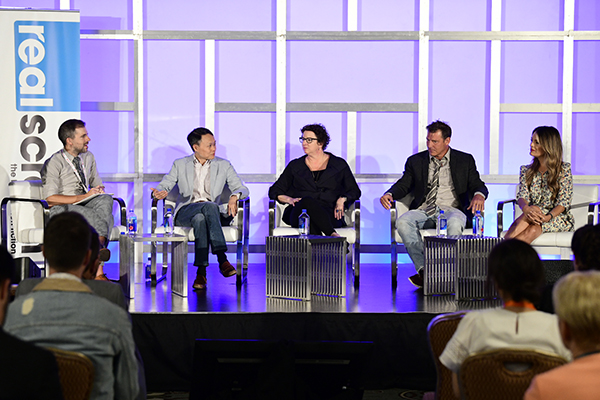 Casting was crucial
When TLC initially announced the series' rebirth during Discovery's TCA press tour presentation in January, the network did not have firm ideas about who the cast would be.
"We didn't know who was around, where they were in their stages of life, or who was interested in coming back, but we made a calculated strategy to announce it," said Lee.
"We had extensive discussions internally," he added. "This wasn't something we took in a trivial manner. There's so much at stake with something that's so well known, and it made it so much harder. We had to make sure we were giving it justice and doing right by it."
Extreme Makeover: Home Edition 2.0? 
Asked about whether there could be a potential revival for the ABC hit Extreme Makeover: Home Edition, Ty Pennington teased that TLC had the budget and wherewithal to bring back the home reno series for a reboot. Joking aside, Pennington said that he would definitely consider the possibility.
"I don't know if its humanly possible to do that show again; the stars aligned and had some amazing people on it, but the process you go through to pull that off is incredible," Pennington said. "It was like the Egyptians building the pyramids in seven days. I don't know if we could do it again but I would love to."
(Photos by Rahoul Ghose)