With global streaming services and premium pay-TV networks gaining buzz with hard-hitting docuseries, cable nets that previously featured high rating docusoaps are stacking more of their schedules with "premium" unscripted. What does this docuseries "arms race" mean for lighter reality fare?
Not since the early 1980s, when cable television challenged America's major broadcast networks for media supremacy, has the U.S. television industry seen such a dizzying explosion in programming.
There was a 7% increase in the number of scripted series on television throughout the U.S. in 2017, up from 455 in 2016 to a record-setting 487, according to an annual study of scripted TV programming conducted by FX Networks Research.
Still, as is often the case, it's unscripted programming — often produced at a fraction of the cost to its scripted counterpart — that can be the ratings backbone for a network.
That is true for A+E Networks' flagship brand A&E, which, as of this writing, was sitting eighth in cable rankings for A25-54 as measured by Nielsen, and bolstered by 12 consecutive months of growth.
The triumph comes a year after the New York-headquartered cable net recalibrated its programming strategy by withdrawing from the scripted arena to double down on disruptive reality and premium docuseries.
Ratings winners such as Leah Remini: Scientology and the Aftermath, recently renewed for a third season, and Live PD, the latter expanding its 25-54 ratings by 171% since launching in fall 2016, now lead the net.
"In the world of the DVR and trying to be Netflix-and-streamer-proof, it's the subjects that people haven't seen before that feel the hottest," says Elaine Frontain Bryant, EVP and head of programming at A&E. "Because of that, docusoaps are a little bit harder to compete [with]."
A&E, which has four current series touting Emmy wins — Intervention, Born This Way, Scientology and the Aftermath and Biography — has shifted dramatically from the lighter fare of Duck Dynasty days and instead waded further into premium non-fiction.
In March, the company greenlit four additional series, three of which have a definite docureality slant: Many Sides of Jane (6 x 60 min; Renegade 83), about a single mother battling Dissociative Identity Disorder; Lost for Life (8 x 60 min; The Intellectual Property Corporation), in which imprisoned juveniles have their cases re-evaluated; The Accused (8 x 60 min; Brinkworth Films), about what happens when someone's accused of a crime they believe they didn't commit; and Employable Me (8 x 60 min; Optomen Productions), which follows adults with disabilities in search of their dream jobs.
"Audiences have now come to know us for programming that feels very authentic, high quality and premium," Frontain Bryant tells realscreen. "It's a very competitive time and it's very important to innovate. That's what we try to do every day."
Further solidifying A+E Networks' push into premium is the recently launched non-fiction content development division A+E Originals. The newly minted subsidiary will develop long-form series, specials and documentaries in all genres for distribution across the A+E portfolio and third-party entities.
A+E Originals has plans to commission more than 50 hours of original non-fiction content in its first year and has already inked first-look overall deals with the likes of Remini, Gretchen Carlson and Elizabeth Vargas.
History, which last year ranked as A+E Network's most-watched brand with 1,326,000 total viewers, has also been laser-focused on super-serving its audience as the destination for historical non-fiction programming on TV. The best way to do that, says Eli Lehrer, History's EVP of programming, is to spend more time and energy on "programming great stories from history" via high-end documentary and 'mega docs,' which are six- or eight-hour deep dives into single topics.
Earlier this year, the network announced 'History 100′, its premium doc strand comprised of 100 films from acclaimed documentary directors that focus on some of the most compelling historical events of the last century.
"When I came to History, we had committed a significant amount of resources to doing specials and documentary programming," Lehrer explains of the inception for 'History 100′. "If I'm being honest, it was a fairly disparate collection of projects and it was challenging to schedule them because there just wasn't any connective tissue."
With the new strand, however, the network is heavily leaning on the name recognition of acclaimed and award-winning doc directors to propel it to ESPN's '30 for 30′ levels.
As such, History will look to launch between 15 and 20 high-caliber films each year for the next few years. The initiative kicks off with 10 projects whittled down from an estimated 400 pitches, including Werner Herzog's Meeting Gorbachev (pictured, below), Barbara Kopple's Desert One, Jane Root's Rocket Women and Charles Ferguson's Watergate.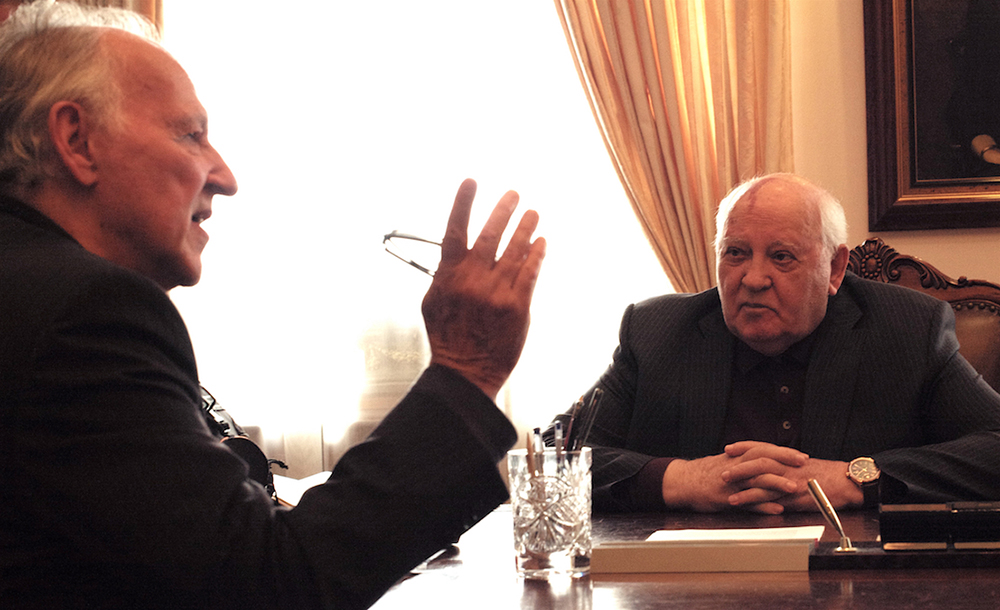 "There's an incredible degree of competition right now because everyone is getting into this [premium docuseries] space," Lehrer notes, "and there's a relatively limited number of producers and documentarians who can execute at a high level. It's a bit of an arms race."
It's not just within the A+E Networks brand where premium docuseries have taken on new luster. Industry-wide, television executives have taken notice as digital streaming giants continue directing resources into the medium in search of the next binge-worthy story.
Over at Discovery, Inc., the media conglomerate's flagship channel Discovery is programming with an eye toward balance, through a combination of core, long-running reality series, cast alongside documentaries that can satisfy a viewer's curiosity in a way that might open up their world to something previously foreign to them.
"People are hungry for stories that they relate to, that feel real and authentic," notes Nancy Daniels, recently appointed chief brand officer for Discovery and factual at Discovery, Inc., of docu-reality's rise.
"People want to know they're going to be okay, and when you watch the news, you don't necessarily feel that way.
"So when viewers come to Discovery and see people who are… living their dream in a very real and tangible way, that's a really strong antidote to some of the tough stuff that you see happening in the world around you.
"You should be able to watch our shows and just want to discover more."
As such, the company is leveraging the profile of Academy Award-winning directors Steven Spielberg (Amblin Entertainment) and Alex Gibney (Jigsaw Productions) to produce the six-part docuseries Why We Hate. Directed by Geeta Gandbhir and Sam Pollard, the project draws on research in psychology, neuroscience, sociology and history to examine hatred's evolutionary basis.
"This has been in progress for many years here, but it just feels more and more relevant everyday," says Daniels of the series expected to bow in 2019. "It's really going to try to understand what is behind these actions. They want to look at it on a more granular basis — what can make you hate your neighbor?"
But at a time when some major cable networks are attempting to shift the unscripted landscape — and brand perception — by bringing in more high-grade docuseries, other nets, such as MTV and WE tv, are still chock full of lighter reality programming.
SallyAnn Salsano and her 495 Productions have successfully pushed harder into docusoap with the revival of MTV's flagship series, Jersey Shore.
The franchise reboot, under the moniker Jersey Shore Family Vacation, managed to shine for the Viacom-owned youth network in its April debut. The premiere episode became the highest-rated new show in six years and more than doubled the rating of the original 2009 Jersey Shore debut when it drew an average of 2.5 million total viewers over the two-hour block.
"It's relatable," Salsano says of the television audience's affinity for lighter fare. "With our country feeling a little bit disjointed at this time, pulled in every direction, I think there is something grounding in watching something that feels comforting and safe."
Bucking the trend towards topical docuseries fare, Salsano's 495 Productions and its shows have managed to carve out solid ratings in the midst of what seems to be a notable shift in programming strategy for unscripted.
And while certain segments of the industry are attempting to deliver higher-end content — typically, networks that began with more of a non-fiction bent but moved towards reality series in the unscripted boom of a decade ago — Salsano believes that the majority of series returning to nets are lighter reality. The thing about the genre, she says, is that every topic imaginable has already been done — it's just a matter of developing similar programs in a different way and figuring out how to give the final product the spin or twist that will make it more interesting.
"Don't count out reality," Salsano stresses. "It's funny because everyone was feeling down for a little bit, but right now the industry is actually reenergized, whether it's premium or not.
"I'll tell you what's 'premium': ratings," she summarizes. "That's fucking premium, bottom line."
This story first appeared in the May/June 2018 issue of realscreen magazine, which is out now. Not a subscriber? Click here for more information.