NEW ORLEANS — With the unscripted industry in a seemingly constant flux of mega-mergers, new buyers, and expanding powers of the streaming giants, how can a mid-level producer thrive in this space?
A panel of industry experts weighed in on the query raised by moderator Barry Walsh, Realscreen's content director and editor, during a panel discussion Monday afternoon entitled, "What Now? What Next?" (pictured) at the 2019 Realscreen Summit  in balmy New Orleans, Louisiana. Joining Walsh on the panel discussion was Thomas Day, president and founder of ACF Investment Bank; Jayson Dinsmore, president of alternative programming & development at Fremantle; Gena McCarthy, EVP, head of unscripted programming for Lifetime and head of programming at FYI; Jane Turton, CEO of All3Media; and John Ford, general manager at NPACT.
In an era where mega SVODs have such powerful sway in content, Dinsmore said some companies are more receptive to new talent than others. For some companies, it's all about name recognition, while for others, it's about the quality of the storytelling. Ford agreed with Dinsmore's assertion of the streaming giants – like Netflix – who, in his opinion, are more willing to work with mid-level producers that "weren't born famous".
With various companies like Disney and Warner eyeing a rollout of their own streaming services, some might fear how this will impact the industry. In the opinion of Day, who has seen the changes in the industry over the past two decades, there's always bee moments of constriction – and currently, the industry is at a crux where globalization is meeting a changing technology. He said global changes, like Brexit in the UK and U.S. President Donald Trump, have led to an increasing sense of uncertainty.
All3Media's Turton said the lack of clarity around Brexit is crippling business and may lead to some companies to move their headquarters and transmission activities offshore. But in terms of media production, producers are protected under legislation that predates their involvement with the European Union.
Turton explained that the UK has worked out the critical issue of rights and retention right for producers. She said the reason British prodco's are so investable is due to them retaining rights.
Day added that within the ever-changing industry, interest in format, genre and even distribution tends to flow in waves. "You constantly get that tone of the dial where things go on and off with interest levels," he said.
Turton said the role of the distributor is more important than it has ever been for smaller producers. The distributor, she explained, is the best partner for most smaller producers as they understand risk, they understand talent, they have a portfolio type approach as they know not everything wins – but when it does they help drive value.
Digital content: experts weigh in on its portability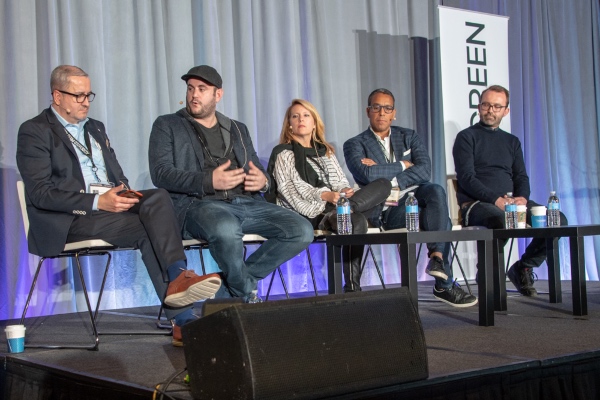 Social media has provided a space for a new crop of "influencers" and digital content creators to shape culture, but their power doesn't always translate to other platforms, noted producers during a panel Tuesday (Jan. 29) at the 2019 Realscreen Summit in the Big Easy.
Leading a discussion about thriving as a producer in an industry and embracing new business models was Pierre Brogan, head of the unscripted department at Paradigm Agency; who was joined by Sam Barcroft, CEO of Barcroft Studios; Sean Cohan, president at Wheelhouse Entertainment; Jenny Daly, president of Critical Content; and Jonathan Skogmo, CEO of Jukin Media.
Digital content doesn't always translate to linear – just as influencers can't always make that jump and find success on the other side. Translating what digital content creators do successfully into another space, like linear, might not equate success in the same way as a linear audience differs from those found on other platforms.
"It's immediate and what they want to consume now – those audiences are so bifurcated," said Daly.
Cohan added that he was surprised to learn that influencers aren't always portable. He added that this reality is a reflection that linear audiences are different, and that audience expectations coming to those platforms may be different.
"Influencers tend to customize their content to the platform they are on," Skogmo pointed out. In his opinion, influencers move to the world of linear only works when the program is content first.
On the flip side of platforms, Barcroft said some linear programs are adjusting its format to accommodate short-form content.
Daly explained that as a production company you are always looking for content and evidence of who has done something successful. Digital platforms show those who are entrepreneurial, create their own content, and put it up online.
"You seek it, you find it, it is a great platform to build of off," said Daly.
While digital platforms are an excellent resource for casting and talent, Barcroft remains skeptical about the ability to turn digital content into broadcast ready projects.
"Whether you can make compelling, long-running, returnable series for television at the top level, it's a really difficult thing to do," said Barcroft.