NEW ORLEANS – True crime content is having a moment. Whether you trace it back to NPR's groundbreaking Serial podcast or Netflix's Making a Murderer, there's a huge appetite for true crime content, and the market is saturated with projects.
So how do you make your true crime pitches count? How do you make your projects stand out? That was the central question in the second-last panel of the 2019 Realscreen Summit in New Orleans.
"Crime TV: How To Stand Out In The (Police) Line-up" was moderated by Ari Mark (pictured, left), co-founder of Ample Entertainment, a production company dedicated to hands-on, handcrafted and filmmaker-led premium content.
Panelists were Kate Harrison (second from left), president of Cream Productions; Jane Latman (center), GM of Destination America and Travel Channel, EVP of development and research for Investigation Discovery and AHC; Stephanie Steele (second from right), SVP of production and development at Oxygen Media; and Kathryn Vaughan (right), president of Good Caper Content.
In short, the panelists agreed that there is no secret sauce to making true crime content work and attract an audience or a broadcaster.
But there are certainly common themes and strengths across successful projects.
Access is key, as is relatability. If producers can't get anyone to talk, or audiences can't relate on any level to those who do, then your project is a non-starter.
Beyond that, many different approaches can lead to success, and with the true crime space as saturated as it is, it can really pay off to have a fresh concept. Vaughan mentioned "crime-adjacent" projects that can tap into the desire for true crime content while offering a more hybrid approach.
Questions around format also don't have a one-size-fits-all answer. "We let the material dictate the format," said Latman. "In terms of pitching, we're open and flexible. Let's talk about the idea. Let's talk about, is it a series that has a different topic every week, or is it a six-part arc series?"
And the nature of the crime doesn't have to tick off any specific boxes, either. A project on the BTK Killer or Son of Sam has a certain appeal as a known property, but a smaller story about everyday people, likely unknown to most viewers, can be a huge hit too, as long as the access is there and the story has heart.
The panel's common refrain was that the story can come from anywhere, and it will dictate the proper way forward. Jumping on a bandwagon or forcing a square peg into a round hole just won't work.
(By Frederick Blichert)
Youth and celebrities are a boon to the documentary industry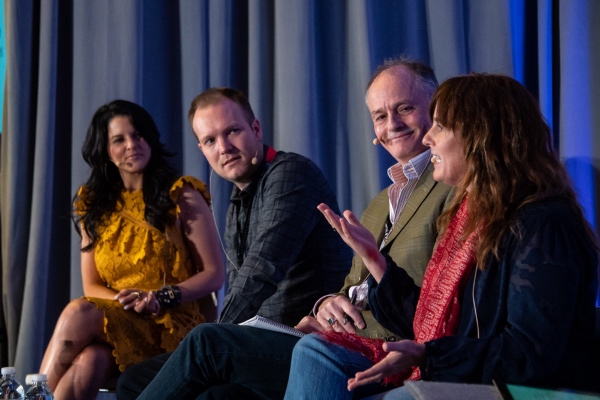 A growing number of Gen Z doc enthusiasts and non-fiction friendly celebrities are helping to keep the documentary genre thriving, said a group of producers and network executives discussing the resurgence of documentary on Wednesday (Jan. 31) during the last day of the Realscreen Summit.
Helming the doc boom discussion was Barry Walsh, content director and editor for Realscreen; who was joined by Rachel Brill (pictured, left), SVP and head of unscripted programming at Epix; Adam Hawkins (second from left), U.S. creative director for Raw TV; Richard Klein (second from right), head of documentaries at Plimsoll Productions; and Amanda Spain (right), documentary director/producer at Giving Voice Films.
When celebrities are trying to make a move into the documentary world, it's important for them to have meaningful participation and an authentic tie as to the project. "There needs to be that emotive connectivity to that project for it to make sense," said Brill.
Having a celebrity attached to a project can help open doors where people are willing to "write checks", Spain said, suggesting that it's an unfortunate situation, as the project is still the same project, even without a famous name on board.
Network exec Brill noted that famous people also bring accessibility to other talents, as was the case on Epix's upcoming docuseries project Punk. When designer John Varvatos boarded the project as an executive producer, he was able to get many of the artists featured in the series to participate, as they were his friends.
On another note, Klein said having a celebrity name attached to a project can be a massive boon as it will instantly help cut through the glut of content made available to the public and help draw in viewers.
While celebrity might help draw audiences to the screen, it's the Gen Z cohort looking for complex and insightful stories that is also fueling the doc boom.
Klein said he's noticed with his daughter and her friends, that they are looking for content that offers the bigger picture and not just short-form stories.
There is a hunger among young people for that type of content that "they are not getting when they watch Love Island or other reality shows," he said.
Hawkins said the recent documentaries on both Hulu and Netflix about the failed 2017 Fyre Festival have drawn an engaged Gen Z audience that will be looking for more content that speaks to them about their stories.
"I think they've [the Fyre documentaries] changed the landscape almost overnight," the creative director stated.
Thus, network programmers looking for zeitgeist-grabbing doc content should take notes from a younger audience that no longer perceives the genre as something akin to "eating spinach."
"If we can tell stories in entertaining ways and actually engage with young people, we are in for a good time," Hawkins said.
(By Selina Chignall)