American broadcast network Fox aired the season finale of its shiny floor celebrity competition series The Masked Singer last night (Feb. 27), bringing an end to a whirlwind season one that has produced the highest-rated unscripted debut on any network in more than seven years.
The Masked Singer, which was renewed by Fox in January, served as this season's No. 1 new series and No. 1 unscripted series, drawing a 3.0 rating among adults 18-49 and 9.360 million viewers overall for its debut episode (Jan. 2). With multi-platform viewers included, the episode pulled in a total audience of 17.6 million.
Produced by Endemol Shine North America, the 10-part studio-based entertainment format features celebrity contestants – from actors to musicians to comedians – donning elaborate masks and costumes to conceal their identity as they face off in head-to-head singing battles. Each week, one singer is eliminated, revealing their identity. Ken Jeong, Jenny McCarthy, Nicole Scherzinger and Robin Thicke served on the season one panel, playing detective alongside series host Nick Cannon.
The special two-hour season one finale on Wednesday scored new series highs, recording a 3.6 rating, attracting 11.4 million viewers and improving double-digits over last week's semifinals which posted a 2.6 rating and 8.2 million viewers overall.
The Monster, which was revealed to be rapper T-Pain, was feted as the winner of the Golden Mask trophy in the finale. The Grammy Award-winning artist beat out the likes of singer and dancer Donny Osmund (Peacock) and "Empress of Soul" Gladys Knight (Bee).
The Masked Singer was developed for the U.S. and is executive produced by showrunner Craig Plestis (pictured below) of Smart Dog Media and Izzie Pick Ibarra. Alex Rudzinski directs. Nick Cannon serves as co-executive producer.
The series was adapted from the South Korean format Mystery Music Show: King of Mask Singer, which was originally created by Mun Hwa Broadcasting Corp and greenlit by Fox in November 2017.
Realscreen caught up with Smart Dog's Plestis to chat about adapting the format to American audiences and his plans for season two.
This interview has been edited and condensed for clarity and length.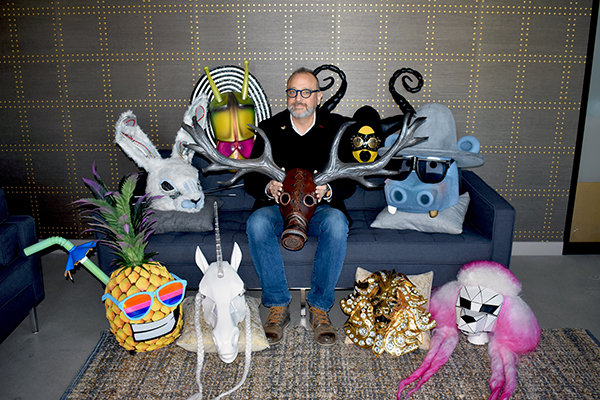 What can you tell us about adapting the format for the U.S. market from the South Korean version?
Our goal was always to make a version that was different for the U.S. market. We wanted bigger stage performances, bigger costumes that would get everyone's attention alongside bizarre video packages to help give the clues to the American audience so they could play along at home.
Are you surprised at how consistently well The Masked Singer has performed amongst U.S. audiences?
We knew it would work, but we are still amazed how it has captured viewer's attention week after week. Who knew a Peacock, a Bee and a Monster would capture America's heart.
We wanted to make a family-friendly show for all of America to watch and enjoy and we're thrilled that we were successful. It's not an easy challenge, but having a life- sized Hippo and Unicorn sure made the job easier.
I'd heard that the format's rights had been kicking around at other broadcasters for a bit, so how did The Masked Singer arrive at FOX?
After I saw the Thai version of the show, I tracked down the rights and they were available. I'm not sure who had the rights before me, but it's always a timing issue on selling anything. Luckily for me it was the right time with the right network.
Secrecy seems to be one of the biggest priorities to producing The Masked Singer. How have you been able to keep their identities a secret from not only the media and the public, but also from the majority of the production team?
We were lucky to film this season in secret before we were on anyone's radar. Season 2 we won't be as lucky, so we will have to be even more security-conscious and protective of who our masked singers are.
What types of production challenges did you encounter with this project?
We actually had many challenges that a typical performance show doesn't have, from keeping the secret of our masked singers to building costumes that our celebrities could sing LIVE in. And for a couple of the unique challenges, we had to actually invent the process and then overcome them.
Congratulations are in order for The Masked Singer's season two renewal earlier this month. But, do you have any thoughts on season two that you could share with our readers?
Thank you. Just two words: More Bizarre
Will you be making any slight tweaks to the format in the future?
We are looking at season two now and seeing what worked and what didn't. Overall the format clearly worked and America loved it, so if it's not broken, no need to fix it entirely.