International streaming giant Netflix is hoping to spark meaningful dialog by diving into the prestige natural history space with Our Planet, streaming globally on April 5.
The eight-part docuseries, narrated by celebrity naturalist Sir David Attenborough, was made over four years, with more than 600 crew members, in 50 countries, across all continents. It focuses on the diversity of habitats around the world, while also pointing to global environmental challenges and their possible solutions.
Our Planet is produced by Netflix with Bristol-based Silverback Films, producers of Planet Earth and Blue Planet for BBC. Series producers are Alastair Fothergill and Keith Scholey (pictured below, right).
Netflix is betting big on Our Planet, having bought what it says was the first ever nature series TV spot during the Super Bowl earlier this year. The series also comes with a tie-in website and book published by Transworld, both made in partnership with the World Wildlife Fund (WWF).
Realscreen caught up with and Scholey and Adam Chapman (left), who serves as director and producer of two episodes, to talk about how Our Planet seeks to differentiate itself from other similar docuseries and why Netflix was the best launching pad for a necessary, global conversation.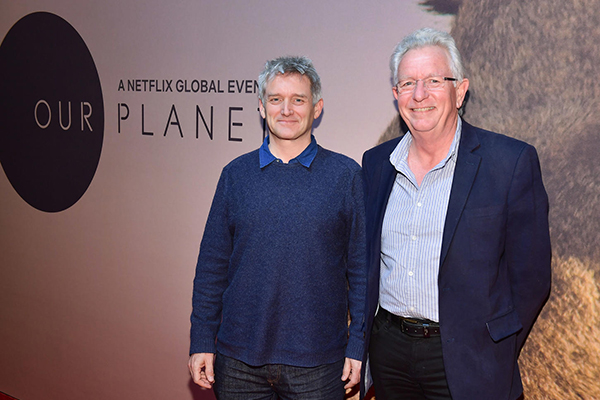 Entertaining audiences and motivating them to action can be a tricky balance, but it's one Scholey and Chapman are confident they've achieved with Our Planet. They approached the series from the perspective that major blue chip series like Planet Earth and Blue Planet, while gorgeous and informative, weren't necessarily calls to action.
"We wanted to make another big series about the world, set in the context of what's actually happening to it," Scholey tells Realscreen. "Really, the ambition of the series was to try and move the dial, and change the debate, the discussion around the future of the natural world, which is now hitting a very crucial moment."
That crucial moment requires action, if life on earth is to sustain itself in the face of resource depletion and climate change. "If we do nothing, if we carry on this trajectory for the next 20 years, most of it's gone. We're the lucky generation. We have the choice of saving life on earth," says Scholey.
"We're still focusing on showing people how great nature is," he adds. And that's where Our Planet's stunning imagery comes in. "You can't change the world with small audiences. You have to draw people in."
Chapman adds that, "What we tried to achieve was for every sequence to be the very best natural history sequence you could hope to see on that subject matter, but to make that moment emblematic of a much bigger point."
Those top drawer images were achieved through technological innovation, in part. The series is shot in high-dynamic-range and used top-of-the-line stabilized camera systems to track caribou migrations in northern Canada, follow cheetah as they hunted wildebeest, and more, alongside the use of drones and time-lapse photography.
In one opening shot, the Our Planet team captured the Milky Way. "The cameras were heavily adapted for astral photography," says Chapman. "It was three cameras stitched together to create an astonishing natural view of the milky way."
High-quality production wasn't alone in the effort to draw in audiences. The choice to shoot Our Planet for Netflix was made strategically. "The whole platform design of Netflix was perfect," says Scholey.
"The ambition was to reach as many people as possible, as quickly as possible, as effectively as possible. There's a huge problem with conventional TV. It's there for a very short amount of time, and then it's gone. And if you want to start a conversation with a global audience, you need to have a platform where the show's there all the time."
Using Netflix's reach, along with the WWF's ability to substantiate the science presented throughout, Our Planet aims to stand out as a unique call to action, generating ongoing, simultaneous discussions across the globe, all based in fact and up-to-date research on the state of the planet.
And as part of the push for more engagement internationally, the series will feature local narrators in 10 languages, including Penélope Cruz and Salma Hayek narrating in Spanish for the Spanish and Latin American markets, respectively.
Watch an extended trailer for Our Planet below:
(Photo by George Pimentel/Getty Images for Netflix)