Heralded as one of the most majestic nature sanctuaries in North America, Yellowstone National Park comes by this reputation for good reason. Stretching across three states (Wyoming, Montana and Idaho) and more than 2,200,000 acres of land, the park is home to nearly 300 species of birds, 16 species of fish, five species of amphibians, six species of reptiles, and 67 species of mammals as well as awe-inspiring natural vistas.
This week, it will also be home base for up to 170 production crew members, as UK- headquartered Plimsoll Productions and Los Angeles-based Berman Productions return to the park for a second edition of the live event miniseries Yellowstone Live for National Geographic. The four-night event, which premiered Sunday night (June 23) and runs to Wednesday (June 26), once again brings scores of cameras and state of the art production technology to Yellowstone, in an attempt to capture the myriad examples of wildlife in their natural habitat, during a particularly active period – early summer.
The first run of Yellowstone Live in 2018 proved to be one of Nat Geo's more successful programs for the year, with 13 million total viewers (Live +3) tuning in, according to the network. Here, Plimsoll executive producer and head of its Wales office, James Smith (pictured below, right), and fellow EP and president of Plimsoll Productions, Andrew Jackson (left), weigh in on the hopes for this year's series while at base camp in the park.
This interview has been edited for clarity and length.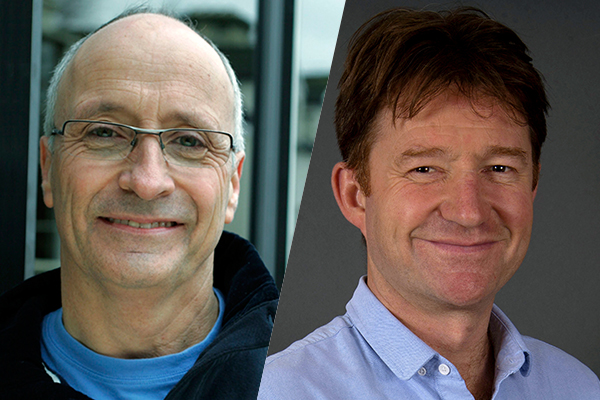 Let's look at how this edition will differ from the first. What new developments can you tell us about for this year, and how did you arrive at them?
Smith: A new camera we're really excited about is a long range thermal camera which can film wildlife up to two miles away in pitch darkness. This is the first time this camera has been used in Yellowstone, and it will allow us to find out what's happening in the park after dark. We're also going to have live cameras inside a beaver lodge which will allow us to follow a beaver family 24/7
What do you hope to capture in terms of the wildlife in the environment this year, and how will it be different from last year?
Smith: Late June is the best time of year to film wildlife in Yellowstone. There's a baby boom underway.
We're hoping to follow some particular families and their young such as a wolf pack and their pups, a grizzly mom and her cubs and young beaver kits and their parents. The weather is also wild in June – thunderstorms and heavy rain mean the rivers can flood, which can be challenging for wildlife. It's a really dramatic time of year.
What tech challenges might have emerged last year that you learned from and how will you address them this year? Is there any new production kit being employed this time around and if so, what is it? How many people from your team will be on the ground?
Smith: Weather throws up lots of technical challenges out here. This year we've ensured our home base – a 100-year old barn – is lightning-proof so we can keep broadcasting even in the most intense thunderstorm.
We have a team of 30 wildlife filmmakers and support crew from the UK, but we'll peak at 170 people on site when we go live on Sunday. It's quite an operation, out in the greater Yellowstone ecosystem.
Were you surprised by how well the last series did, and what are the expectations for this edition? Why do you think it was so successful?
Jackson: We hope to build on last year's runaway success. The first Yellowstone Live event was right up there as one of Nat Geo's most watched series of the year. This time, with more animals, more live action and more locations we're planning on making the shows even more compelling from this incredible location.
Yellowstone is probably America's most well-known and best loved National Park. It's filled with iconic and much loved animals – bears, bison, wolves, cougar, to name just a few. And all within a magnificent back drop of geysers and landscape that's second to none. It's little wonder therefore, that when Nat Geo decided to make a massive TV event out of being there live, people wanted to come with us. We gave them a ringside seat to one of the world's most amazing spectacles, and I'm really hoping they'll want to come again this year.
Let's talk about the talent involved such as cinematographers Bob Poole and Susan Gibson. Why was it important to have them come back, and how do they enjoy working within the "live" environment?
Jackson: Bob and Sue provided us with great content last year and were well received by the viewers, so it's great that they're joining us again on Yellowstone Live. They are both world-class cinematographers who work on some of the most high-profile wildlife series which often take years to make, but they also enjoy the fast pace and adrenaline of live TV.
Live specialist factual is on an upswing. What are the inherent challenges involved in producing live specialist factual, and why is it in demand from audiences and commissioners alike?
Jackson: There's a magic to live, event programming that no other TV can match – you don't know what's going to happen. And that magical element is at its most enthralling when we're watching animals – we really don't know what's going to happen. Will they show up? What will they do? Will we see something never seen before, live? It's an unmissable combination of being on a live safari, with the best possible wildlife camera teams taking you there.
Of course that element of surprise is also our biggest challenge as producers. Personally, I love it. I've been making live wildlife shows for more than 10 years now. Nothing beats it for adrenaline and the excitement of thinking out of the box. We're at the mercy of the weather, the animals and the terrain. We never know what's going to show up or what's going to happen. That's where having the best, forward thinking and problem solving teams in the world supporting us to make these shows, is essential. Experience is key – from the scientists who know their animals to the engineers and camera crews who know how to work with almost every eventuality. A small army comes together to make these shows and every one of them is at the top of their game – they have to be, as there are few places harder to make a live show from, than Yellowstone.