Early in our conversation, Amy Introcaso-Davis delicately shares how she lost her mother to cancer when she was 13 years old. "I remember when my mom told me the cancer came back and I said, 'Why?'" she recalls. "And she just burst into tears. It was terrible, and as you get older you realize how terrible it is. I don't think the pain ever goes away."
It's an extraordinarily brave admission and a calm quiet overtakes the room. I can see the memories of her mom dancing in Amy's eyes and for a bittersweet moment, they are back together.
"I was the middle child; my older sister was in college and my brother was a senior in high school," she continues. "I remember not really being that responsible of a kid, but suddenly I was the one filling the void after my mom passed. I had help but I cooked dinner and ran the household. Part of my childhood was taken away. If you are becoming the parent at home at 13, you are having to think differently."
Amy grew up in Deal Park, New Jersey, along the Jersey Shore, as one of five children in a politically minded, well-educated and complicated family. She describes herself as an old soul from a very young age. "I loved sitting with the old ladies on the beach and our family time centered around the TV," she says.
Her mom was a homemaker and her father was a lawyer, blessed with academic brilliance and overwhelmed by the loss of his wife. "My dad did his best to get us through when my mom died," she explains. "He didn't end up in one piece. He remarried fairly quickly to a woman I grew to love and I'm close with to this day. It was a very different relationship than I had with my mom, we were more like friends. It's interesting what something like this does to a family."
And so began Amy's journey as an unlikely protector of souls. Life taught her quickly about caring for and caring about the people who need you most.
She admits all this wasn't always in her nature: "I can be a bit short tempered and somewhat self-involved," she admits. Those traits caused her to butt heads with her mom and later her oldest son. But her honesty and willingness to show vulnerability is probably what made her such a sought-after casting director in the early days of her career.
"I went to Drew University in New Jersey and studied theater arts," she says. "I landed an internship at the Off-Broadway theater, Playwrights Horizons, and three years later became the casting director there. I love musicals and back then there was no YouTube so you had to actually go see someone perform. We were at the theater four nights a week, we knew everything going on and everyone coming up. You really had to be the eyes and ears for directors and producers. They relied on us so much and it was the greatest education."
As an in-demand casting director, Amy helped ignite the budding careers of so many actors who went on to great success on the stage, in television and film. However, she is not impressed by her association with bold faced names. Except for one — Amy's greatest find, a young director she met while working at Playwrights Horizons.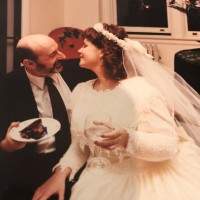 "I always say that when I met John, it was an affair that got way out of hand," she says. "We dated for six months and then he moved to LA. We broke up and said we were going to see other people but that never happened. I knew I loved him. I had this great job in New York, I was scared of leaving but I followed my heart and followed John to LA. Thirty years and three children later, the affair is still going strong."
After a time in LA, an opportunity took Amy and John back to New York City. "I said that if I'm moving again, it is time for us to get married," she recalls. "So we did. I got a short term, six-month job as the head of casting for CBS. It lasted six years and I loved it. I had an amazing office on the 33rd floor, and I was young and learning every day."
With all the grace and strength of a real-life Mary Tyler Moore, Amy charted a path of her own making, running toward what she felt was right and not what was easy. It was her work in the theater and television that would eventually shake the foundation of her relationship with Catholicism. "I was very religious when I was younger, but as I grew older I had so many gay friends and I saw how poorly they were treated by the church [at that time] and it really got to me."
Amy was an early and vocal advocate for LGBTQ programming. "Having come of age in the '80s I had so many friends pass away it was devastating," she confides. "When you stand so close to death so often, how can it not affect you?"
"After CBS I went to Fox where I was the head of New York casting and I also developed shows like House of Buggin' with John Leguizamo. At the time, I had a drag show in development and I was trying to develop the first gay scripted show before Ellen came out."
During all this, Amy and John made a family of their own. They had twins — Bonnie, now 25, an agent's assistant at Bret Adams in New York City, and Christopher, who works at a think tank in Washington, DC. Her oldest son Sean, 28, is an editor and sketch comic living in New York City.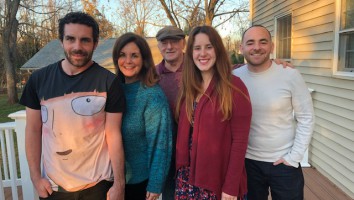 "I love being a mom but I think I would have been a terrible stay at home mom," she admits. "I would have wanted to control their lives too much if I didn't have work to do."
It was this relentless drive that helped Amy develop commercial and critical successes wherever she went. At Lifetime, she executive produced and oversaw production on over 150 episodes of Intimate Portraits and developed the network's first scripted series, the long-running Any Day Now with Annie Potts.
Still, she knew there was a void that had to be filled on television and voices that deserved to be heard. When she moved into development and production at Bravo, she developed Queer Eye for the Straight Guy. "I heard from every single gay man in my life when that show aired," she says. "It was so personally healing and I didn't realize I had to be healed. We had to fight with sales to keep the title because they didn't understand that in this context 'queer' was not a pejorative but a good word."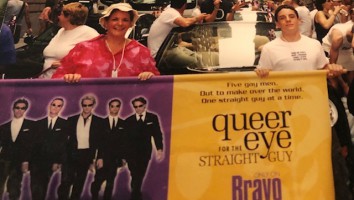 Besides Queer Eye, at Bravo Amy oversaw development of the Housewives franchise, Flippin' Out, Millionaire Matchmaker and other hits. Later at Oxygen she shepherded the mega hit Snapped, The Glee Project and Tori and Dean: Home Sweet Hollywood. From there, as the head of programming at GSN she developed hit shows such as The Chase and Skin Wars.
For the past two years, Amy has been the EVP of development and production at E! She is steering the network through a period of reinvention, finding fresh voices and series such as Very Cavallari and Lady Gang (based on a popular podcast series) while bringing back defining series that made the network famous such as E! True Hollywood Story. As the creative chief of a pop culture brand, Amy is acutely aware that the audience is very savvy.
"People know how reality TV is made," she offers. "We pull back the curtain constantly; people demand that raw authenticity."
Of course, authenticity is exactly what you get when you spend a little time with Amy. "With me there are no hidden agendas. I am who I am. I still watch General Hospital on the weekends, it's my guilty pleasure. My love of docusoaps started with soap operas."
Amy is one of those people who has always been in search of a good story. As a child, she had to write her own. As a young casting director, she helped bring them out of others. As one of the most influential cable development and programming executives of the past couple of decades she's found it repeatedly by mining the mood and the DNA of our nation. If you look a little closer, there's often a rubric to her work that resembles her own soul: accessible, warm and somewhat surprisingly, just a little naughty.
Joe Livecchi is founder and CEO of the prodco Noble Savages. Through these monthly profiles, you'll learn more about top executives through an unprecedented glimpse into their personal lives — as Livecchi says, "who they are and what made them that way." For more profiles, keep an eye on realscreen.com and also check the Noble Savages site.