Not only has the year come to a close, but we are also waving goodbye to an entire decade. Realscreen reached out to myriad members of the non-fiction screen content community — from festival programmers and commissioners to producers and directors — and gave them the not-so-simple task of picking their favorite documentary and factual projects of the past 10 years. Our latest correspondent: Wendy Lidell, SVP of theatrical distribution and acquisitions at Kino Lorber, who spotlights her favorite docs of the past decade.
The Arbor (Clio Barnard; 2010)
A milestone in non-fiction storytelling that seamlessly interweaves multiple levels of reality and artifice to construct an invigorating and profound understanding of a playwright and the world she lived in.
Faces Places (Agnès Varda, JR; 2017)
A celebration of the ability of art to raise the human spirit, and an essential act of generational continuity as Agnes Varda passes her torch to JR.
For Sama (Waad Al Kateab, Edward Watts; 2019)
Waad al-Kateab's staggering courage and force of character makes us look at the ground level effect of the war in Syria, and most importantly puts a human face on the suffering. We find it hard to look, but we cannot look away (pictured below).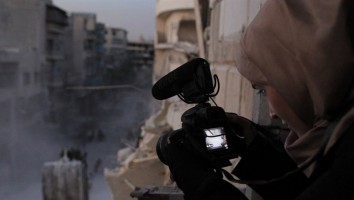 The Gatekeepers (Dror Moreh; 2013)
Comprised almost entirely of six talking heads, the experience, stories and insights they have to tell make for riveting viewing, an invaluable historical record, and an exceptionally insightful unpacking of the Israeli-Arab conundrum.
I Am Not Your Negro (Raoul Peck; 2017)
By analyzing the historical, cultural and literary building blocks of racism in America, IANYN gives us the tools and the permission to acknowledge it, deconstruct it, and aspire to transcend it.
Jiro Dreams of Sushi (David Gelb; 2012)
Rarely does a documentary tell its story in such a single forward-moving breath. Pure poetry. Not to mention the exquisite food-porn (pictured below).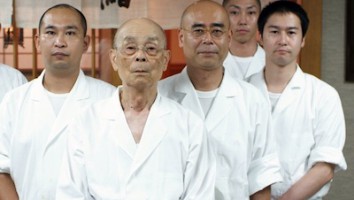 Particle Fever (Mark Levinson; 2014)
On the one hand, it makes complex scientific concepts fascinating to non-scientists, while on the other hand it plays out with the suspense of a thriller. Who knew physics could be so exciting!
Rolling Thunder Review: A Bob Dylan Story by Martin Scorsese (Martin Scorsese; 2019)
Dylan has long constructed his own public persona, so what better way to make a film about him than to construct a documentary "truth" out of fictions that are more truthful than truth.
Won't You Be My Neighbor (Morgan Neville; 2018)
This moving and emotional portrait of perhaps the kindest and most compassionate public figure of our time is told in same the way Mr. Rogers spoke to children: engaged, honest, caring (main photo).
I will use my 10th slot to shout out 10 documentaries that may have made my list would doing so not smack of shameless self-promotion; they were released by Kino Lorber, our partners at Zeitgeist, or my own previous company, International Film Circuit. Also in alphabetical order.
5 Broken Cameras (pictured below; Emad Burnat, Guy Davidi; 2012)
Dawson City: Frozen Time (Bill Morrison; 2017)
Fire at Sea (Gianfranco Rosi; 2016)
Homeland: Iraq Year Zero (Abbas Fahdel; 2015)
Into Eternity (Michael Madsen; 2010)
Last Train Home (Lixin Fan; 2010)
Makala (Emmanuel Gras; 2017)
Of Fathers and Sons (Talal Derki; 2018)
She's Beautiful When She's Angry (Mary Dore; 2014)
The Waiting Room (Peter Nicks; 2012)