A few years ago, the Internet melted down when a picture of a dress set off a global debate. No one could agree if it was black and blue or white and gold. How can so many people see the same thing so clearly and distinctly in two totally different ways? That's what I'm trying to figure out about the self-described extrovert/introvert Jen O'Connell, as I sit down to discuss her road to becoming the executive vice president of non-fiction and kids programming at HBO Max.
"In this job you have to be an extrovert. It's all-day meetings, taking pitches, it's social and I like it," she tells me. "On the weekends, I sort of shut down. I have to take a break."
O'Connell grew up in East Hartford, Connecticut, the daughter of a strict Irish Catholic father and an Italian mother with Sicilian roots. Her parents were real estate appraisers and they gave her love, structure and clear expectations of what it meant to be an O'Connell. Work hard and do your part for the family that will never stop doing for you. (Pictured above: O'Connell with her son and parents.)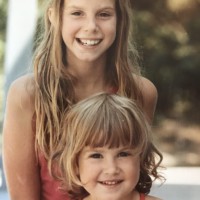 They spent their summers going to Cape Cod, Massachusetts, where family time set against the tranquility of the beach would become a grounding element for Jen. "I am the oldest of four children, so I was a mini-mom to my siblings, baby-sitting them, bossing them around and helping care for them. I was already in management before I had a high school degree," O'Connell says. (Pictured, left: O'Connell as a tween with little sister Kat, at Cape Cod.)
As a child, O'Connell was painfully shy, but she still had the fortitude to challenge her parents. "They wanted me to go to Catholic School and when the teacher handed me the test to apply, I got up and just walked out the door. The nuns were mad — they said to my parents, 'You need to get your child under control.'"
At five years old, the extrovert and introvert inside O'Connell were both fighting for dominance. "My dad wouldn't let me watch MTV if he felt the music videos were too risqué. He wasn't having me wearing mini-skirts to church," she recalls. "I was a people pleaser and concerned about making my dad proud of my choices. I thought, maybe I will be a real estate appraiser like him, but my dad wanted me to find my own way and do my own thing."
In her teen years, she grew more social, more confident and self-assured. "I was always hustling to save money with a lot of part-time jobs," she offers. "At 15, I was a cashier at a grocery store, and I remember it made me feel very grown-up. When I was a senior in high school, I wanted to go to Emerson College and when I got in, I was so excited. My freshman year of college was tough, but I found my community and my place there."
Early in her career, O'Connell was working at the Disney Channel on kids movies when a mentor made a lasting impact on her. "I remember talking to my boss Michael Healy about my future career opportunities and he looked at me and said with confidence, 'Jen, you are going to be able to work anywhere you want.' It was the sweetest thing; I was a 25-year-old kid and it pumped up my ego."
Her time at the Disney Channel had an even greater impact on her personal life. "I met my husband there," she explains. "I was married at 29 and pregnant at 30. Being a mom has helped me with my priorities. When your kid is sick that might be a catastrophe. When someone loses footage from a shoot that's not a catastrophe, that's totally manageable. Kids help put everything into perspective."
O'Connell admits being a little bit more of a lenient parent, not tracking her kids' every move. Still, she is wise to the ruses young people pull today.
"I heard about these kids who will meet at a movie theater, throw their phones in a bag so their parents can't track them, hide it and then come back for them later." She can't help but smile just a little at the simple ingenuity of it all. "I mean, that's pretty lo-fi, it's not a complicated plot but very effective and also terrifying!"
O'Connell is both a producer and a programmer, a cheerleader and boss and someone who feels very comfortable coming in and out of these roles. Her credits include hits such as The Biggest Loser, Who Do You Think You Are?, The Real Housewives of New York City, and the Emmy Award-winning The Matthew Shepard Story. More recently, she oversaw Chasing the Cure, Selling Sunset, Kevin Hart: What the Fit and others.
"It's a cool time starting from scratch on the originals side," she says of her current post. "I feel very supported here and I know my fingerprints are on these shows. My boss, Sarah Aubrey, has a joy for the business, and the way she brings the teams together is great. We are not siloed here and it's a safe place for unconventional ideas. I like things that are a little weird, offbeat and quirky."
O'Connell understands that in an industry filled with so much second-guessing, this type of creative freedom is not always the norm. It has emboldened her to define the HBO Max non-fiction brand without chasing trends and relying on safe bets.
"The joy of my job is bringing something to life. In the office, a lot of my job is strategy, looking ahead and meetings, and that's where you see the extrovert in me. The introvert in me loves putting on a pair of jeans and going to a set to actually make something. I need that balance of being in the thick of it and truly being part of the creative process."
O'Connell is trying to shake up the kids' space with competition shows such as Craftopia, featuring the best child crafters in America. She is putting talent before "TV appeal" when casting contestants. "I'm not looking for picture-perfect children," she maintains. "I want the best kid crafters who are going to truly inspire people."
O'Connell puts that same passion into every idea she develops. "We are doing a floral arranging competition series called Full Bloom that is super creative," she beams.
Some might see a floral show as a risky proposition, but Jen was drawn to the extreme artistry, the unprecedented scale, the colorful world and the endless challenge possibilities for the show.
Then there are two dating series: an original idea called The 12 Dates of Christmas, which takes on all of the holiday rom-com tropes and applies them to the dating format with a big wink. Also, there's the charming UK hit format First Dates Hotel, where multiple generations of singles go to an Italian villa together as they are paired up with their respective matches on first dates.
O'Connell is hoping to break new ground with the competition series Legendary. Voguing teams (called "houses") compete for a cash prize in dazzling fashion and dance challenges. Each episode is grounded in a magnificent themed ball, shattering the expectation of a typical shiny floor competition show.
"I am having fun experimenting and also choosing to do shows that challenge the contestants in a productive way, not ones that promote interpersonal fighting."
O'Connell is also passionate about having the staff who make the shows equally balanced and inclusive. "In addition to being reflective and relevant in front of the camera, we have to make sure that everyone has a seat at the decision-making table behind the scenes as well. It's not OK to just say you want an inclusive production team; you have to follow through to make sure it is actually happening."
O'Connell is doing her part as a mentor to a young woman through a partnership with The Hollywood Reporter — helping guide her from junior year through applying to college and beyond. "I exposed her to a professional office and production setting while helping her through hardcore college prep. She wound up getting an LMU scholarship and that is one of the proudest moments I've been lucky enough to experience. We still text each other regularly to keep up and it's nice to know I played a small part at such an important time in her life."
When I ask O'Connell what she wants the world to know about her, she strikes a long pause and comes back to the place where she feels most comfortable.
"I am at my happiest when I am wearing the rattiest sweatpants and binge-watching great shows with my family while eating a bowl of pasta and drinking a big glass of old-world red wine. If someone said, 'Hey let's hop on a plane and go to Paris,' that sounds fun, but I would choose the ratty sweatpants every time."
If you are curious, as for how O'Connell sees "the dress" I mentioned earlier, it's striped. How you see her is all about perspective.
Joe Livecchi is founder and CEO of the prodco Noble Savages. Through these monthly profiles, you'll learn more about top executives through an unprecedented glimpse into their personal lives — as Livecchi says, "who they are and what made them that way." For more profiles, keep an eye on realscreen.com and also check the Noble Savages site.