Amazon Prime Video has set a January premiere date for its previously-announced five-part docuseries Ted Bundy: Falling for a Killer from Amazon Studios and Blue Ant Studios-owned Saloon Media.
The series seeks to uncover the ways in which Bundy's hatred of women collided with the culture wars and feminist movement of the 1970s.
After more than 20 years of silence, Bundy's long-term girlfriend Elizabeth Kendall and her daughter, Molly, share their experiences along with a "chorus of female voices," including survivors of Bundy's attacks.
The docuseries, written and directed by Trish Wood for Saloon Media, reframes Bundy's story through a gender-focused lens.
"Elizabeth's decision to step out of the shadows was a bold move and once she was in, we also began talking about her republishing her book with new and updated material. When Molly decided to come forward it just added even more credibility to the series. She has an intense and heartbreaking story of her own and she tells it with enormous dignity and grace," Wood tells Realscreen. "Elizabeth and Molly are the spine of the series but it broadens out to include many other women with important stories at various places in the concentric circles that stretch out from the murders."
Ted Bundy: Falling for a Killer premieres Jan. 31 on Amazon Prime Video.
Realscreen caught up with Wood (pictured below, right) and Michael Kot (left), managing director of Saloon Media and executive producer of the series, to chat about the Ted Bundy: Falling for a Killer ahead of its premiere.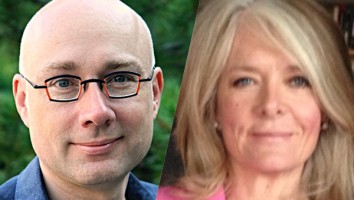 This interview has been edited for brevity and clarity.
What was the genesis of the series, and what prompted Elizabeth to work on the documentary?
Trish Wood: We wanted very much to tell this story through the lens of gender. Why has the story almost always been told by men?
Beyond all the other descriptions of him, Bundy was first and foremost a woman-hater, an extreme misogynist who debased and then obliterated women.
Pulling the lens back to expose the culture and the times was also key. His killing rampage took off right at the moment in the mid 1970s when women were gaining power and traction… To really understand a crime, like the OJ: Made in America series and film showed us, you need to know its cultural underpinnings. In that story, it was race in America and in ours, it is the gender wars.
Elizabeth had been living under the radar, declining all interviews for nearly 40 years and was the ultimate true crime interview. She has always said no to the people who find her. We got her number from a talented producer we were working with. When she finally called me, it was pretty exciting… I was shocked when I first met her and she showed me her photo album. Many, many photos of Elizabeth, Ted and Molly in what looked like an authentic love story. It was like a punch in the gut. They took dozens of photos that might not have seen the light of day if she hadn't agreed to step forward.
What were some of the production challenges crews encountered?
TW: We wanted this to be the purest form of storytelling, meaning without any visual artifice. This posed challenges but ended up being one of our greatest strengths. We leaned into the idea of focusing as much as possible on still photos and home movies from the time and our team spent months on the hunt. Every time a new batch came in we would run to see what we had.
How did the production team work to tell survivors' stories respectfully and compassionately?
TW: Many of the key female voices in the series were not literally survivors of Bundy but rather women who encountered him in other ways and had their lives changed.
The interviews come down to empathy and asking questions that might make the subject think about her experience in a new way. Most people want to tell their stories and are comfortable with being asked difficult questions in the right context. The field team were people who'd had experience with stories like this and were hugely kind and respectful.
How does the series fit into Saloon Media's slate?
Michael Kot: Our focus is on premium programs with international appeal. But beyond that, we look for stories relevant to the world we live in and inform the world we want to live in. We do a lot of history and crime programming and spend a great deal of time in research and the Bundy case was always on our radar. The integrity of the research and journalism opens access to amazing people and places.
How does the series provide new insight into Ted Bundy?
TW: The goal was actually the opposite. It was to invert the current Bundy narrative. Everyone knows him but few people can name a single victim. We wanted to offer insight into the culture and the times that produced Ted Bundy… Why has the story always been about him and not about the women affected either directly or generationally?
Anything else you'd like to add?
TW: As a woman of a certain age, I'm grateful to Saloon Media, Blue Ant Media and Amazon for embracing a project about a woman over the age of 60. It is almost unheard of.
Women our age tend to be somewhat rare in documentaries, both behind and in front of the lens, so props to the producers… This was a great experience and the executives were super supportive and hugely aware we were all onto something really special — not despite the age of the subjects – but because of it.