Filmmaker Mayye Zayed's debut feature documentary, Lift Like A Girl, will have its world premiere at the 45th Toronto International Film Festival tomorrow (Sept. 12).
The 92-minute observational film follows 14-year-old Zebiba (Arabic for "raisin"), who has been training under famed weightlifting coach Captain Ramadan since she was nine.
At his roof-less, vacant training lot surrounded by chain-link fencing on a busy street corner in Alexandria, Egypt, Ramadan has coached female weightlifting champions for more than two decades – four Olympic, nine World and 17 Pan African champions.
Now, Zebiba follows in the footsteps of some of Egypt's most famous athletes  – including the first Arab female, two-time Olympic medalist weightlifter, Abeer Abdel Rahman, and World Champion and Olympic athlete Nahla Ramadan, the Captain's daughter.
TIFF artistic director and co-head Cameron Bailey called Lift Like A Girl one of his "must see" films of the festival in blogTO. In an interview with Realscreen, TIFF documentary programmer Thom Powers said Zayed was among the emerging filmmakers he's excited to introduce to audiences at this year's digital-physical event.
A coproduction between Egypt, Germany and Denmark, Lift Like A Girl is produced by Zayed's Cléo Media, based in Alexandria, Egypt, in association with Germany's Jyoti Film and Zayed's Rufy's Films.
Anke Petersen and Anna Bolster are coproducers for Jyoti Film.
Lift Like A Girl is coproduced with ZDF Das kleine Fernsehspiel, with the support of The Arab Fund For Arts & Culture, Hot Docs Blue Ice Docs Fund, International Media Support, the Danish Egyptian Dialogue Institute and the Getty Images Array grant.
Other funders include Goethe Institute in Cairo, British Council in Egypt, Awesome Without Borders and Prince Claus Mobility Fund.
Realscreen talked with Zayed (pictured below) about the film, navigating COVID-19 and securing funding and distribution.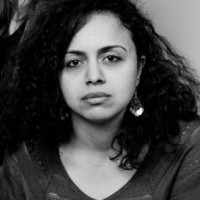 This interview has been edited for clarity and brevity.
When did you start making the film, and what was the timeline?
The first time we started filming, or when we met Captain Ramadan, was in April 2014, and then we kept on filming until November 2018. Of course, after the first year, starting from 2015, we started to really [begin] production.
We didn't have any money in the first two years of production. The first funding we received came in late 2016. I had to make this decision that I make the film no matter what, whether we receive funding or not. So we spent the first two years just going there, the DP (director of photography) and I… Sometimes we would have a second unit director and a second unit camera that I would be filming on.
I was also recording sound, so we were very minimal crew and that helped us in building a very close relationship with Zebiba, Captain Ramadan and the girls training. It lasted until November 2018, but we continued shooting after we started editing because, starting from 2016, we started to edit some of the scenes that we filmed just in order to apply to funds or grants… Then editing officially started in April 2018.
Has your journey in making this film been impacted in any way by COVID-19?
The sound design and sound mix is actually a collaboration between an Egyptian sound designer and a Danish sound designer. In October or November, the Danish sound designer came to Egypt to work with us on the film, and then the Egyptian sound designer and I traveled to Copenhagen in December to continue working. We decided to schedule another trip in March where we do the final mix… We had everything scheduled. I was even in Germany at that time, when Denmark closed the borders. That was just a day before we started the final mix.
Everything happened so fast… So all of a sudden I found myself in Germany realizing that Europe is closing the borders and I have to just go home. The trip to Denmark was canceled, and then I was lucky to be back on the last airplane, flying from Berlin to Cairo. I came back and I was in lockdown.
We had to work on the sound mix remotely. The same happened with color grading, which took place in Zurich, Switzerland. This was the first time for me to work remotely on the sound mix and the color grading but I'm happy that we did it and it was quite an experience.
Outside of that, what were some of the biggest challenges for you in making this film?
For me, the biggest challenge [was] the lack of funding at the beginning. But, after two years of really trying and knocking all the doors, we managed to have great partners on board. Each fund that we received really helped us a lot… We had to secure bits and pieces of it along the way.
It wasn't easy navigating through all the funding opportunities in the documentary world because, at the end of the day, Egypt doesn't have any funding for documentaries and the funding for documentaries in the Arab world is not that much. So that was the biggest challenge.
Other than that, of course, working on the film itself and developing the story was somehow challenging, because I didn't know from where I should start. I started the experience with an open mind. I was really exploring how life will treat Zebiba.
You have directed and produced a doc short, Black Out, and worked on a feature documentary film, I Have A Picture, in addition to feature films and experimental projects. How has your previous work informed Lift like a Girl?
I basically kind of did everything because I really enjoy every aspect of filmmaking.
For me, in my previous short, which is really a project that lies between fiction and documentary and even experimental, I explored this way of storytelling and I felt that it is something that I really liked because I also don't like films to be put in boxes — this is documentary, this is fiction. I like to explore the different aspects altogether. That affected the way I made Lift Like A Girl because it's pure documentary. I didn't influence any of those scenes in any way, it's just observational. But I wanted to try to shoot the scenes and edit them the way a fiction film would be edited and shot.
The fact that I've worked as an editor and I worked as a cinematographer… I was always thinking how we can help the editor edit what we're filming.
As a director, I believe you have to know about every aspect of film, because at the end of the day, it's your vision.
What are your goals for the film following its premiere at TIFF? What are your distribution goals?
I think TIFF is such a great start, it's such a great festival… I really want to take the film to as many people as possible, especially teenagers, because I think the story can inspire them to pursue their unconventional dreams, no matter what.
Also I think the film can open a discussion about gender equality, about stereotypes, about women and about gender bias in language, because it is something that you see in the film.
I've been working on an impact campaign for the last year with Good Pitch. In this campaign, we really want to take the film to schools, to youth centers, to gyms and take it to the audiences that don't go to festivals, that don't go to movie theaters, that cannot afford paying a ticket to watch a film in a movie theater, especially in Egypt or across the Arab region.
These are my hopes. I don't know which one of them will come true, but I'll do my best to do that.