Amy Winter grew up against the backdrop of Midwestern farmland and a Norman Rockwellesque upbringing in the small town of Batavia, Illinois. It was a working-class canvas of Americana, where fun came wrapped in life's simple pleasures and traditional family values were baked into the scenery.
"It was the era of 'Go outside and don't come home until the streetlights turn on,'" Winter recalls with a laugh. "We lived in the middle of corn fields and I remember riding skateboards, catching lightning bugs in a jar and just taking our bikes everywhere. I was one of four children; I have two younger sisters and an older brother [pictured, top]. I've always been really close with my siblings, but I think part of the reason my nose isn't completely straight is because of my brother and all the roughhousing. His pillow was like a rock."
She continues: "My dad was a pilot for Delta and my mom taught English at the all-girls Catholic high school I attended. She sometimes knew about my grades before I did or if I mouthed off in class which wasn't always fun for me. Still, one of my biggest regrets now was never having her as a teacher. I had a good group of friends; we got into the right amount of mischief. I remember my dad would be home for three days, then gone for three days flying. If I got in really big trouble and dad wasn't home, you knew you were going to get in trouble twice."
Winter's parents had tremendous influence on her life in very different ways.
"My mom did shape me, she taught me the importance of empathy," she says. "'How would that make you feel?' is a powerful question she drilled into me. Because of that, I have always felt comfortable getting in the audience's shoes and considering their experience and how they are perceiving things. I think we can all use a little more empathy these days."
Her father's biggest impact on her would come many years later. It was the kind of influence you don't think about growing up, but it would be the thing Winter reached for time and time again at some of the biggest moments of her career.
Winter continued her Catholic school education at Notre Dame as a communications major. She was never afraid of diving head first into the unknown. "In sophomore year I took a job on campus handling film ticket sales and they said eventually I'd be the projectionist," she recounts. "They showed me how to splice the reels together and do the sound loop, but I didn't really pay attention because I was months away from having to do it. The first weekend that I was selling the tickets, they said, 'There is no one to put the film together, you need to go do it.' So, I'm splicing the film, the audio is playing at half speed, I don't have my glasses and the image is blurry but somehow, I got the audio right and the security guys helped make sure the film was in focus."
This was an uncharacteristic moment of unpreparedness for Winter. "I'm a bit of a planner; sometimes I can be a little controlling. My family calls me 'Pants.' Anytime anyone else would try to make family plans they would say, 'let's see what Pants has to say about all this.'"
Winter didn't know it, but this "baptism by hire" scenario would be the first of several throughout her career. The responsibilities left Winter with one foot in the working world and one in the comfort of the college bubble.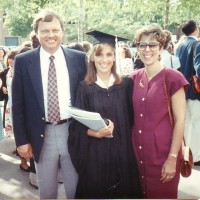 "In my junior and senior year, I had a production job on the late local news and I was rotating through teleprompter, camera and chyron positions. After the newscast, I would always show up to the campus parties late. The keg would be dry, everyone would be drunk, and I remember thinking, 'This isn't that much fun.' I think I grew up a little faster during that time."
Winter's first job after college was at WAGA/Channel 5 in Atlanta where she was hired the same week her family moved to town. "I was new to Atlanta and immediately filled a position doing chyron for the local news and sports. My start coincided with the Braves' first real post-season success which meant we went live from the dugout every night of a game. As a transplant Cubs/Cards fan, I didn't know these players on sight. When the reporters would pull over a player in the dugout for an interview, people in the control room would start screaming toward me, 'Terry Pendleton! Terry Pendleton!' And I'd type as fast as I could. I learned the team and their positions very quickly. The rhythm of that job was panic mode, then nothing. Panic mode, then nothing.
"I remember one day there was a huge chicken factory fire and we were going live, but then realized we were broadcasting a soap opera wedding, so we had to wait for the show to end before breaking in live. You never interrupt a soap opera wedding. The news chopper was circling the factory and when we finally broke in, the fire was out which was a good thing, but the producer was so mad we missed it. The absurdity of that moment stays with me. It was just the never-ending madness of local news."
Winter's career took a turn toward advertising and promotion when she moved to a post house and began to work with clients such as Coke, AT&T and Turner. She was teamed with an editor named David Winter and they would edit everything together. "We were a good pair. He has amazing creative focus while I like to have multiple projects going at the same time. With as much time as we spent together, we got to know each other very well and pretty soon figured out we were meant to be together." They started dating and 20 years and three kids later, they are still together today, raising a family in Atlanta. Side benefit — when you marry an editor, you end up with epic family videos.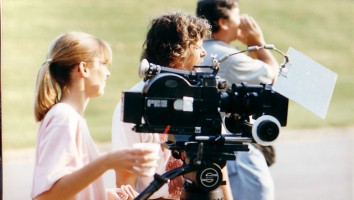 While still a young promo producer, Winter was recruited by TBS to go in house. She cut her storytelling teeth 30 seconds at a time, learning how to synthesize and sell the hook of a show. A few years later, Winter was again recruited for another job, this time by TLC.
"They contracted me for four months to help out as creative director in the promo department," she recalls. "A month later they wanted to hire me for the job above the one I was subbing in for. Derek Koenig was my boss and the head of marketing at the time. He is one of the big mentors of my career. From him I learned the job is not only about the work, it's about the teams you bring together and the rewarding connections you'll make that will last long past the job at hand. I remember we were experiencing some nice success launching shows like Miami Ink and Little People, Big World along with some brand work that is still amongst my favorite projects I've ever worked on. Derek had recognized that when I started at TLC, I came in with a bit of a bruised ego from a previous job. He helped me realize not to take certain parts of the job personally. I've carried that lesson forward and I realize how much of an impact a person's job can have on their personal life."
Winter quickly became a rising star within the Discovery family. Eileen O'Neill, one of her other great mentors, would eventually ask her to take the role of GM at TLC.
"I was really scared and felt like, 'Wow, this is a big pivot for me,'" she admits. "I lived in Atlanta and was coming up to DC every week. This job was on a whole other level. I spent a lot of time talking to my family and reflecting on it. I remember my brother-in-law, who was a recruiter, told me, 'What you decide here is going to change the trajectory of your entire career moving forward.'"
Winter took the job, with the full support of her family. I don't think it's a coincidence that Winter found the strength to take on such a big challenge that involved getting on a plane as a routine part of her commute. Throughout her childhood, her father had modeled for her how to do it and keep the family close. Winter didn't know it at the time, but that modeling would help shape how she raised her own family.
In her first months as GM of TLC, Winter oversaw 21 hours of live television and specials covering the Royal Wedding between Princess Diana and Prince Charles. This was at a time when cable entertainment channels didn't do much live programming outside of sports and news. It was a huge swing that delivered big ratings. Winter was also ahead of the curve when she greenlit the first unscripted U.S. show featuring an all Muslim cast with All American Muslim. Today, programmers are scrambling to add more diversity to their programming. Back then, this was a huge risk.
Once again, Winter finds herself taking on a new challenge as the executive vice president and head of programming for Lifetime.
"I was so excited when I first heard this job might be a possibility for me," she says. "Through the years at TBS, TLC and UPTV we were competitive for female viewers, so I always had my eye on what Lifetime was doing. It's one of the biggest brands in entertainment, and I think they are already on the path to having a great future, and I get to help shape and hone it and focus the efforts of a really amazing team. Of course, I started in March right as COVID hit, so it's been triage mode alongside long range planning. We acquired Married at First Sight Australia which was a great suggestion from Meredith Gold in our scheduling department. We paired it with a fresh spin-off Married at First Sight Couples Cam and also lit up another Married at First Sight extension, Unmatchables. We have a lot of new shows and development in the works and we are all about winning this upcoming Christmas season.
"That's one thing about me that people sometimes forget," she adds. "I think I have a reputation for being nice and transparent and a team leader, but I am super competitive. I am in the game to win. But I think you can be kind in the process and keep asking, 'How would that make you feel?'"
Joe Livecchi is founder and CEO of the prodco Noble Savages. Through these monthly profiles, you'll learn more about top executives through an unprecedented glimpse into their personal lives — as Livecchi says, "who they are and what made them that way." For more profiles, keep an eye on realscreen.com and also check the Noble Savages site.