Late January of last year, before much of the world would come to know the virus that had just sent the city of Wuhan into lockdown, Nanfu Wang and her One Child Nation producer Jialing Zhang, sharing feelings of helplessness at the Chinese government's handling of the outbreak, decided to partner again on a new film.
A year later, In the Same Breath – a deeply personal documentary charting the origin of COVID-19 from the earliest days of the outbreak to its spread across the U.S. — is having its premiere at the 2021 Sundance Film Festival.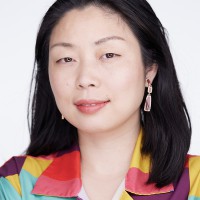 "It wasn't a plan to say the least. My son was in China when the outbreak started. I was very concerned about my family, and was debating whether we had to go back to China to pick up our son. That was the start of it. I was reading the social media posts every minute I had. I discovered that a lot of the posts were deleted, almost in real time. I would share something and then 10 minutes later, it will be gone," Wang  (Hooligan Sparrow, I Am Another You) tells Realscreen. "I started archiving them."
Wang (pictured above), who was born in China and now lives in the U.S., weaves first-hand accounts — including interviews with healthcare workers and those impacted by the virus — and on-the-ground footage.
Blending archival footage and other materials — even surveillance footage — the film examines the eerily similar campaigns of misinformation waged by leadership in both countries, and the consequences for citizens.
"It's looking at the map of the story — where did it begin and where does it end? How do we get from point A to point B? Seeing the footage — the archival part and the civilian part — I love them a lot, because it feels like archaeologists going back and digging," Wang says.
Because state censorship of the virus was so tight in China, Wang studied the information the government had been spreading to its citizens.
"Now, a year later, a lot of people, even the people who live in Wuhan, who live in China, their memory became this propaganda version the government has allowed them to remember," Wang says. "The film is not only for people who are living through the pandemic to make sense of it. But also, I'm hoping for the future generations of people who try to look back and understand what had happened to see the version that wasn't allowed to be documented in China."
After Zhang had signed on to produce in January, Wang asked other One Child Nation producers Julie Gordman, Chris Celements and Carolyn Hepburn – all based in the U.S. — to board the project.
To capture footage of the outbreak's devastation in Wuhan, Wang and her team set out to find remote camera people and field producers, as well as subjects to interview. Permission to film was limited to those vetted by the government, and frontline workers — such as healthcare workers and funeral home workers — were warned against doing interviews, according to Wang.
The intensity of the state's suppression, Wang says, was nothing like she'd encountered before, though she and the team drew from their experience making One Child Nation, a film about the history of China's one-child policy.
"This time we were really careful. We set up new accounts for the communication — encrypted messages, encrypted accounts, and even programmed a forum to just upload the footage every day after they shot. Still, we had three people that were contacted by the security agents and part of their stuff was taken away by the authorities. Then those three people had to stop working on this…. [For one of them,] it was so intimidating, she had to rethink her career choice, whether to work on documentaries in the future or not because of the intimidation from the government.
"For most of the filming in China, we were able to film in private homes, private spaces where we know that it will be secure. For the hospital filming, some of the doctors and some of the people who talked to us eventually, we obscured their identities to keep them anonymous."
In the end, Wang and her producers assembled a team of 10 camera people filming in China and 10 in the U.S., in addition to dozens of other researchers, field producers and other crew.
When the virus reached the U.S., where the outbreak quickly (and unexpectedly, for Wang) spiraled out of control, she and her team decided to expand the scope of the story. They sent camera people across the U.S. to capture the impact of COVID-19 in cities such as New York, where the virus had been wreaking the most havoc.
"All the interviews were done on FaceTime, Zoom or a video chat. And that was true with both subjects in the U.S. and in China. In the U.S., we did interviews with healthcare workers," she says. "There were a few that were harder to get access to for different reasons. In China, they didn't want to go on camera at the beginning. Some because it was too painful for them to talk about the stories of their loved ones who died of COVID, and some others were concerned about security. So, depending on what their concerns were, we would take different approaches. Those who were traumatized by the loss of their family members, I just waited and waited and waited — sometimes it would take a month for them to feel comfortable to speak… We offered people to stay anonymous, to obscure their voice, their face… and then there were a couple more people who just would rather give the information and help off the record, and we respected that too."
In the Same Breath, a Motto Pictures, Little Horse Crossing The River and Little Lantern Company production, premieres on HBO and HBO Max later this year.
For HBO, Sara Rodriguez is senior producer with Nancy Abraham and Lisa Heller executive producing.
The 2021 Sundance Film Festivals runs virtually Jan. 28 to Feb. 3.
In the Same Breath premiered Thursday (Jan. 28) and next screens tomorrow (Jan. 30) at 10 a.m. MT.