ESPN is set to look back at iconic moments in sports through the lens of photographer Walter Iooss with the three-part docuseries GOATS: The Greatest of All Time, directed by Kevin Kaufman.
Set to premiere Sunday (March 7) on the Disney-owned sports channel, GOATS celebrates athletes through the photographer's work, from the age of 17 shooting Roger Maris's 61st home run to his photographing every Super Bowl – including this year's 55th and counting.
The series features interviews with athletes including the late Kobe Bryant, Joe Montana, Derek Jeter, Tiger Woods, Joe Namath, Chris Evert, Ken Griffey, Jr., Jack Nicklaus, Caroline Wozniacki and Kelly Slater.
GOATS is produced by Kaufman Films in association with Transform Films and Royal Ventures Studios.
Kaufman — whose credits include Investigation Discovery's The Perfect Murder and A&E's Gotti: Godfather and Son — also serves as EP with  Beth Fraikorn for Transform Films and Joseph DiMuro for Royal Ventures Studios.
The series will also air on Disney-owned network ABC on March 14 from 2 p.m. to 5 p.m. ET/PT.
Realscreen caught up with Kaufman (pictured below with Bryant) to discuss the series, working through COVID-19 and Kaufman Films' expansion into premium factual.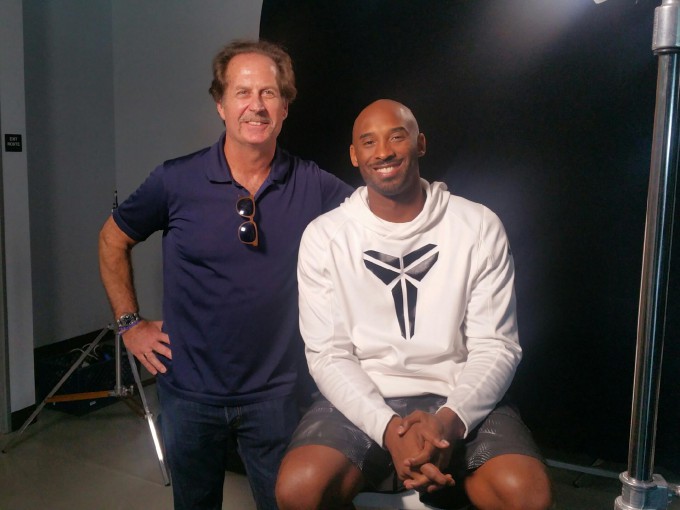 How did GOATS come to be? How did the project get started and when did ESPN and ABC get on board?
When Walter Iooss approached Michael Jordan about doing a photo book documenting Michael's life in 1994, they had no contract, no publisher, they just shook hands, and started working on it. That was the spirit in which Walter and I began the film — we just started working it, for two years, then ESPN jumped aboard five months ago, and it was a race to finish. Since Rare Air became a New York Time's number one bestseller, I'm hoping some of Walter's luck rubs off on GOATS.
Were you working on the series through COVID-19, and if so, what challenges did you encounter and how did you adapt?
I was amazed that my editing team was able to work remotely through COVID, assessing all the immense footage and Walter's photos from the COVID bubbles we were in scattered across America. Viva Splashtop and Terrablock! Even though our legendary post supervisor, John Topol, had moved to Florida, he was able to oversee it all.
Could you talk a bit about Kaufman Films' beyond true crime programming into premium factual — what are some of the key driving forces behind that decision? 
Even though our last decade has been almost exclusively true crime, before that, Kaufman Films did an award-winning doc titled The Palladium: Where Mambo Was King and a ratings juggernaut series titled The 100 Scariest Movie Moments that featured the Who's Who of horror. So we've come full circle in the doc world, but are aiming higher now.
Jumping off that, what opportunities do you see emerging as a producer in the premium factual space? Do you see an increasing appetite for sports programming among buyers and audiences?
The hunger for sports programming is high, but the hurdle called "access" is formidable.  How do you get to these world-class athletes, when the whole world is clamoring for their time? The demands put on these GOATS is insane. I don't kid myself — if we didn't have a reservoir of good will and love for Walter to leverage, which opened all doors, this series would never have happened.
Anything else you'd like to add?
I met Walter in the 1980′s, when he was Sports Illustrated's star photographer and I was the in-house producer making behind-the-scenes shorts, mostly about photographers. We became close friends. I actually talked him into leaving SI's staff job and starting a new business called Iooss/Kaufman. Our letterhead wasn't even dry when he got the offer of a lifetime: take off a year photographing Olympic athletes leading up to the LA Olympics. He had a dilemma: either struggle with me or build his dream house on the cliffs of Montauk. The opening credits to GOATS provide the answer to what happened.
Watch an exclusive clip for GOATS: The Greatest of All Time below: