If you put together all the lovely things about the Brits, add a dash of overworked American executive, and a sprinkling of altruism, you get a picture of the DNA that makes up Toby Faulkner. Growing up in the small English seaside town of Clacton, as an only child to working-class parents, Toby was curious, self-reliant, and, some could say, extra British. Even though Essex is known as the Jersey Shore of the U.K., somehow, Toby missed the gym-tan-laundry memo.
"I remember riding my bike with my friends and watching a lot of TV growing up," Faulkner recalls. "I would be crouching down hiding next to my dad on Tuesday nights watching Miami Vice when I should have been in bed. I grew up with The A-Team, Knight Rider — those kinds of '80s action shows."
"I started working when I was 14 washing dishes," he continues. "I realized from an early age that I was responsible for my happiness and my path in life. Maybe that's an only child thing. You only get one life, and the world is a vast place. I'm always looking for new experiences."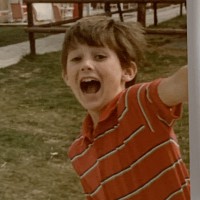 While he was an only child, there was always plenty of family around. "My dad comes from a big East End family — he has loads of cousins, and I have three uncles on my mum's side. My nan, who I was very close to, was over our house a lot and would stay for weeks at a time.
"I think the family I grew up around helped me learn how to communicate with people," he offers. "One of my first TV managers told me that one of my greatest strengths was being able to talk to a lord or someone on the street. Generally, in my family, people stay in a small town, they have babies, their babies have babies, and no one leaves. We grew up in a great environment, but I always wanted to know what else was out there. I was the first to go to university, and I thought I should do something practical, so I studied broadcast journalism — TV and radio news. I wanted to know how to use the equipment, tell stories and create something.
"When I was home from uni, I continued working in the local pub alongside my radio shifts at BBC Essex," he recounts. "My news editor knocked my accent out of me. He would say, 'Toby, pronounce your consonants; there are Ts in butter!'"
And so, just like that, "extra British" Toby Faulkner was created.
"After getting my start on The Big Breakfast and with regional current affairs, I was ready for a new creative challenge and I got a job at LWT Factual [now ITV London]," Faulkner says. "From the top down, we were all one big team and encouraged to grow our skill sets by working on lots of different genres of shows.
"One minute I would be doing a live political special on Tony Blair, next, a crime reconstruction series, then Ibiza Uncovered (which became front-page news in the U.K). This was at the dawn of the docusoap. It was so seminal, a true portrait of that 'lad' and 'ladette' culture in the U.K., the way our youth went on holiday. I had a car, a phone, and was sent out to find stories for the directors."
Toby would go on to work on other iconic U.K. shows such as I'm A Celebrity… Get Me Out of Here! before eventually coming to the U.S., where he worked on originals and formats such as Wife Swap, Dancing with the Stars, What Not to Wear, Airline, and others.
Faulkner clings to simple values; humility, respect, and gratitude, which he has woven into his personal and professional interactions.
"As a reporter, you are dealing with contributors," he offers. "They reveal things they haven't told their parents or their kids. Sometimes you have to allow some of that to be a private exchange that never gets repeated. There are a lot of people in the world who are not asked, 'How are you?' Or they don't have someone who actually cares. I do care, and I am a very loyal person to my friends, family, team, and managers; we're all in it together.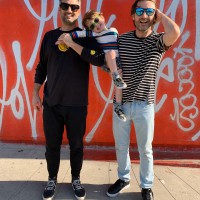 "I came up with family being very important, and I try to balance work and personal life," he adds. "I want to be present when I am with someone; I don't ever want them to feel they don't have my attention. I want them to know they are important. Growing up, my parents and I were a tight-knit family of three, and it's the same with my son and my partner of 10 years now. My partner and I had a successful surrogacy journey. I remember doing an ad sales presentation in the Midwest when I got the call our son was being born early and racing to the airport. Rufus is four now, and I think we have our family."
As someone who is always curious about what life has to offer, new beginnings are part of Toby's life script. He transitioned from showrunner to television executive back in 2012 when he joined the team at A+E's Lifetime. Soon after, Faulkner joined Jana Bennet and Gena McCarthy as they were starting up FYI.
"I liked the idea of working for a start-up and Jana and Gena had a great vision for the channel," he recalls. "I was the first EP on board there. FYI was about trying to capture movements, like the Tiny House Nation series I co-developed."
Toby would find another start-up opportunity, this time on a larger stage, helping define and launch the unscripted content for Facebook. Every month, more than 1.25 billion people consume content on Facebook Watch. Some of the notable hit Originals shows include: Red Table Talk (with the Smith family and the Estefan franchise spin-off), Steve on Watch, Peace of Mind with Taraji, 9 Months with Courteney Cox, plus Post Malone's Celebrity Pong League and Cardi Tries ____ for Messenger. For this writer, Jada Pinkett Smith's Red Table Talk is one of the best talk shows around — a masterclass in intimacy and honesty.
"Red Table Talk was our first huge hit, helping to define our program strategy," says Faulkner, who crafts that strategy as Facebook's head of unscripted. "How do we have meaningful conversations and create community? We have to engage audiences in the first 15 seconds, the first five seconds, the very first second.
"For us, engaging an audience on social is about having authentic, emotionally sticky conversations. You are showing a different side to celebrities that feel very intimate and vulnerable. Facebook reduces the gap between talent and their fans. There also has to be cultural relevancy to everything we create, like the year-end special Peace Out 2020 hosted by David Dobrik and Keke Palmer. For 2021, we have some impactful content planned for Earth Day and Pride Month later this year."
There is a lot more to Toby Faulkner than meets the eye. He is an accomplished storyteller who thrives on originality, new forms of connection, and taking risks that will include the inevitable stumbles. He doesn't talk about failures or successes. There is much more focus on process, discovery and integrity. Toby doesn't need to be reassured or apologize when something doesn't work. Maybe it all comes back to that small seaside town in Essex, where an only child from working-class parents came to understand the meaning and joys of life would come into focus once he put in the time to define them.