Brent Montgomery's Wheelhouse is growing its production and creative services capabilities with a trio of hires, including the appointment of former All3Media America production EVP Wally Parks.
Parks (pictured right) joins Wheelhouse Entertainment as EVP of production alongside Chelsey Trowbridge (left) as SVP of post-production and Janell Coles-English as SVP of business and legal affairs.
The in-house team will drive and execute physical production across Wheelhouse Entertainment (WHE)-produced series and projects for linear and streaming platforms.
Parks comes to Wheelhouse with more than 20 years of experience managing all aspects of production for scripted, unscripted and live programs across all formats and genres.
At All3Media America, Parks oversaw production, post, operations, casting and music, shepherding a number of Emmy-nominated shows. Prior to All3Media, he was EVP of production at Lambert and Tijuana Entertainment.
Before Wheelhouse, Trowbridge was VP of post-production at Truly Original, overseeing all post work for more than 40 series, encompassing scheduling, budgets and the post team for non-scripted series.
Prior to that, Trowbridge served as VP of production at Original Media, managing post facility operations and the post-production teams for series including Storm Chasers, Ink Master and Swamp People .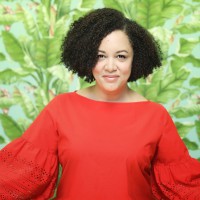 Coles-English (left), meanwhile, transitions to Wheelhouse from Discovery Studios where she serves as VP of business and legal affairs, heading business and legal for Discovery's in-house studio.
She also managed Discovery's New York- and London-based business and legal affairs teams. Previously, she spearheaded Animal Planet's business and legal affairs teams for global network operations in London, New York and Washington, DC.
Eric Wattenberg, Wheelhouse's chief creative officer and president of Wheelhouse Entertainment, said in a statement: "While Wheelhouse Entertainment began with specific focus on our original content slate and partnerships with top talent, it has always been our intent to scale and produce the majority of our own projects. We're thrilled to welcome Wally, Janell and Chelsey, a collective force and the perfect team to lead production at Wheelhouse."
Montgomery launched Wheelhouse in 2018 in partnership with Jimmy Kimmel. WHE encompasses Kimmelot, Spoke Studios, Campfire, Portal A and a number of media partnerships with talent and company including Kevin Hart's LOL, Adam Levine's 222 Production and influencers David Dobrik and Nikita Dragun.
The group consists of content and production enterprise Wheelhouse Entertainment (WHE); in-house brand marketing and creative innovation division Wheelhouse Labs; recently-launched digital media division Wheelhouse DNA; and investment arm Wheelhouse Partners.