For new talent in the unscripted and non-fiction production community, knowledge is power. In 'Realscreen U,' we present a series of op-eds offering the next generation of creatives and decision-makers access to insider advice from executives as the industry looks to the future of film, TV and streaming. Below, we hear from Aurelia Belfield, music supervisor and executive producer for Raleigh-based Trailblazer Studios.
So, it happened. You're in fine cut for your doc or docuseries and there's this one song — it's perfect, flawless, the story can't go on without it. What do you do?
Let's rewind a bit. Ideally, when you are parsing out the budget for your project, you should be taking this possibility into consideration. Music can make or break a story, and that should be a discussion very early in the pre-production process to avoid disappointment down the line.
It's easy to assume that music is something that will just take care of itself – it just magically ends up in your favorite films and television shows and works just right. It's effortless, isn't it?
Music curation and licensing can be a complex and tedious mountain to climb if you are ill prepared. It can be months of unanswered emails, looming deadlines, and questions that can feel like the riddle of the sphinx. But, it doesn't have to be. Having the right tools can ensure things run as smoothly as possible, or at least as smoothly as the minute or so of Splash Mountain at Disneyland. Quick and exciting!
FINDING A MUSIC SUPERVISOR
The strongest tool in your arsenal is going to be a music supervisor. This person will be able to expertly guide you and take many of these responsibilities off your already overloaded plate. They can assist with creative, curation, deliverables, and the licensing process, and they often have the relationships necessary to expedite at least a few of these processes.
You have your music sup, but that doesn't solve the issue of licensing The Perfect Track, right? Perhaps you brought them on late in the process, and you've already gotten your heart set on a few pieces of music, which you just need cleared and licensed. You may think, "No big deal. They can just contact the people in charge and find out what it costs." Not quite.
In music licensing, cost is not a fixed rate item, and many things may factor into the rate you are quoted by the rights holders. To get an accurate quote, your music supervisor needs to know the following: what the project is (film, TV, branded content); who is distributing the project; where the project is airing (all possible platforms and countries); when the air date is; for how long it is intended to run (weeks, months, years); context in which the track is used; how much of the track is being used; and your budget.
BUDGETING
As it is with many industries, budget is king when it comes to music licensing. Though your project may be your life's work, it is important to remember that the people on the other side of the screen may not recognize that or feel the same way.
When licensing a piece of music, you are paying for the time and labor of the artist, and that comes at a cost. Cost, of course, is not value. Art is priceless, but time is money, and the artist and rights holders dictate the material cost of their works. So, while you may not be able to land that Whitney Houston track for under $10,000, there is another artist out there just waiting for the chance to work with someone like you or a project like yours for just that price. You may be just what they need to get their career to the next level, or the opportunity to contribute to a cause they care about. Don't overlook the best track for your story because of name recognition. Approach alternatives with an open mind.
However, if the best track for the job is out of reach with your terms, there is room for negotiation — though you may have to make a sacrifice, such as length of time. While you may not be able to land the track of your dreams in perpetuity, you may be able to land it for five years; just be sure you have an alternate track to use once the terms expire, or remember to re-negotiate if your budgetary situation changes.
It may seem counterintuitive from the outside, but coming in with a number is the most productive negotiating tool available to you. Music of all kinds has been licensed on a project-by-project basis for years, and there is no standard rate in the United States. What costs one project $1,000 may cost another project $5,000, and that is where the other information factors in. But the conversation cannot be started without money on the table, so make sure you have some set aside for when the moment comes.
The ability to offer any amount of money, within reason, could be the difference between having that perfect track and your project not hitting the right note. You won't know for sure until you make an offer, but if you approach someone empty handed, you can expect long stretches of silence, lots of emails and, eventually, a quote that your budget cannot stretch high enough to meet. The rights holders have no way of knowing what you can afford, and you cannot expect them to guess.
PLAN AHEAD
A way around most issues would be to bring in your music supervisor early, preferably at the pre-production stage. That way, they are familiar with your vision, and can identify places where some standout tracks can shine. This doesn't mean your hands are tied when it comes to making creative choices. If there is a track you have your heart set on, discuss it with your music supervisor, give them the necessary information, and get a quote. If it is able to get cleared, excellent! If not, you have someone on your team who is well acquainted with the project and vision, and will be able to find a track that works as well or better and is within your budget.
If you plan ahead and end up not needing anything licensed, then that money can go towards another line item, which is a much better circumstance than planning poorly and being stuck with coming up with several thousand dollars or pulling your project into re-edit, potentially adding time and money to your schedule. Avoid that situation by hiring a music supervisor, bringing them on early, and having honest conversations about budget.
Film and television projects have many moving parts, and many specializations, so it is important to have a team in place that can guide these parts to their necessary destinations skillfully, on time and on budget. When it comes to music licensing, hopefully the information here will assist in giving a fuller idea about what the process is, why the process is how it is, and what is needed to ensure a seamless experience.
Budget early and conservatively, have your usage information on hand, and always have a creative contingency plan. That way, no matter the journey, when you reach the end, you will always have a project that sings.
---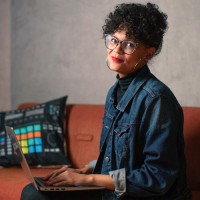 Aurelia Belfield is a Music Supervisor and Executive Producer for Raleigh based Trailblazer Studios. With over a decade of experience in music supervision, creative producing and casting, her credits include Rise Again: Tulsa and the Red Summer (Nat Geo), The Legacy Of Black Wall Street (OWN), The Future Of America's Past (PBS), Olympic Pride American Prejudice, Sister Wives (TLC), Salvage Dawgs (DIY), among many more. Throughout her career she has worked with nearly every major channel and platform including PBS, National Geographic, Amazon and Netflix.