The International Documentary Film Festival Amsterdam (IDFA) Forum was hosted last week, featuring more than 20 projects pitched at the hybrid copro and co-financing market. Some of the presenting filmmakers and the panelists, hailing from different broadcasters and distributors, attended in person, while others appeared through video.
The below is an overview of some of the projects pitched on the second day of the Forum, on Nov. 23. Realscreen will cover the other days of the Forum throughout this week. Day one of Realscreen's festival coverage can be read here.
Director: Lana Daher
Producers: Lana Daher, Jasper Mielke
Production company: Wood Water Films
Country: Lebanon, Germany
Status: In production
IDFA Logline: Do You Love Me (working title) is Lana Daher's personal journey through the fractured historical, social, cultural, and political landscapes of Beirut, Lebanon. By utilizing the country's musical, cinematic, photographic, and journalistic archives, the film collages together the story of Lebanon's chaotic past, troubled present and hopes for its uncertain future.
The director was in attendance to pitch her film, a personal documentary still in production that uses Daher's own experiences growing up in Lebanon in the early 1980s, which she says she didn't even realize was a war zone until she was an adult reflecting back on her childhood.
Pitching alongside Daher was producer Jasper Mielke. Do You Love Me already has support from the Sundance Film Institute, Doha Film Institute, Robert Bosch Stiftung and IDFA's own Bertha Fund, and the filmmakers expect to have the project completed by the fall of 2022.
Muhammad Refaat Refaat of Al Jazeera Media Network was familiar with an earlier version of the footage shown at IDFA 2021, and was impressed with the progress being made.
"I think the project has gone quickly… and now we have something very developed and improved, and this kind of mixing and combination between the past and the present, I personally admire and appreciate it," he told the filmmakers. "You made it very, very uniquely. I trust the people who, in just six or seven months, have gone through all of these developments."
Jane Mote of The Whickers was also impressed with the bold cinematic style employed by Daher.
"I feel like I've had my first injection of great cinema today, so congratulations," Mote told the pitching team. "The Whickers is always on the lookout for first-time feature-length directors and it feels like you've got so much confidence and such a stunning offer here, we absolutely have to talk some more. Whether you're at the right stage for us — you might be too far, I don't know — but I really liked the present and the interconnecting with the past and present."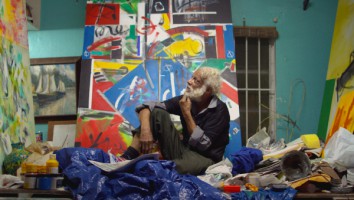 Brigidy Bram: The Kendal Hanna Story
Directors: Laura Gamse, Kareem Mortimer
Producer: Laura Gamse
Production company: Daydream Reels, Best Yet Entertainment
Country: U.S.A., Bahamas
Status: In production
IDFA Logline: In this humanistic portrait straddling fact and fiction, the true story of prolific painter Kendal Hanna reveals a case study of how we codify genius — and institutionalize difference.
Co-director Laura Gamse represented Brigidy Bram in person with fellow co-director Kareem Mortimer attending remotely. Their film, which tells the story of "the Jackson Pollock of the Bahamas," explores how Hanna was wrongfully diagnosed as schizophrenic and endured electroshock therapy, which damaged his memory.
With support from the Sundance Institute, Brigidy Bram (named for a Bahamian figure of speech, meant to approximate the sound of someone falling down the stairs) tackles issues of racism, mental health, art and more. The pitch footage made an impact on the panel — and also left many with questions.
"I'm completely thrilled by the topic, but now I'm a little bit confused," said Sabine Bubeck-Paaz of ZDF/Arte, who added that she felt that a stronger connection to Hanna was needed. "Obviously you have good access to [Hanna] but I couldn't grab him, really, in the teaser… It's a lot, and until now, I have difficulties [connecting] with him as the main protagonist."
She also asked about a potential gallery showing to coincide with the film's release.
"This would be a big argument for a TV station like Arte to get in, if there is a major exhibition somewhere going on, even if it is not in Europe."
Director: Nahid Persson
Producers: Nahid Persson, Valérie Montmartin
Production company: RealReel Doc AB, Little Big Story
Country: Sweden, France
Status: In production
IDFA Logline: After being lured to Iraq and kidnapped to Iran the France-based Iranian journalist Ruhollah Zam was executed in December 2020.
Director/producer Nahid Persson, herself an exile from Iran, and co-producer Valérie Montmartin made an impact with their footage, which details the bond between Persson and Zam's teenage daughter, Niaz, and moves between personal and political themes.
"I was blown away by your presentation," said Renaud Allilaire of France Télévisions. "I'm very sensitive to the way your story is really made of geopolitics meeting intimacy, and the closeness of your relationship with Rohollah and his family is really what makes this project very flesh and bone. We can tell stories about the Iranian regime, but this one is very efficient, in a way, of telling what happens to the citizens of this country."
He said the strength of the pitch combined with Zam's French connection made it an easy decision for France's public broadcaster: "The fact that [part of] this happened to occur on French territory and the implication of France is really of major interest for us, so I can say very bluntly that we're in."
Director: Ricardo Martensen
Producer: Eliane Ferreira
Production company: Muiraquitã Filmes
Country: Brazil
Status: Start of production
IDFA Logline: What's left of us after death? How long do these traces of existence remain here? Six stories reflect on memory. And force us to face issues Brazil insists on forgetting.
A complex documentary weaving together stories of political violence, police brutality, the COVID-19 pandemic and the need for independent forensics labs with an overarching theme of collective memory, this challenging project drew praise for its ambition.
"Doc Society's interested in projects that explore social and cultural transformation and the narrative shifts that are happening therein and those tension points as those shifts are taking place," said Shanida Scotland of Doc Society. "And I'm interested in the way that you explore macro-politics as a way to reframe what's happening in Brazil at the moment, I think that's really important and needed work. And how acts of memory can become resistance — we need more stories of resistance in the world, so thank you."
For Erkko Lyytinen of Finnish pubcaster YLE, however, the range of topics touched on  — from a coup in the 1960s to the Brazilian government's response to the pandemic to secret graveyards — seemed too broad for one film.
"There's so many important stories that you have already told about the history of Brazil which somehow are correlated with the recent strange things happening [there], it's something that I would like to know more about, but is there really a place for all these stories in one film?" he asked before recommending that Martensen and Ferreira narrow the perspective or perhaps reframe the project as a series of films.
Directors: Lina Vdovîi, Radu Ciorniciuc
Producers: Monica Lăzurean-Gorgan, Francesca Velvet
Production company: Manifest Film, Velvet Cut
Country: Romania, Italy
Status: Start of production
IDFA Logline: A journalist estranged from her violent father discovers that he's become a victim of work exploitation. When she agrees to help him expose the injustice, it reopens the wounds of their past. Will she find ways to forgive him?
The pitch team of Vdovîi, who is also the subject of the film, along with her co-director Ciorniciuc and producer Lăzurean-Gorgan, presented this harrowing examination of cyclical violence, abuse and forgiveness.
The film finds Vdovîi exploring the domestic violence she suffered as a child, and how she in turn was abusive to her now ex-husband. After tracking down her father as an adult, she learns that the man who abused her as a child is also the subject of harassment and violence from his employer.
"Above all I just really wanted to congratulate you for having the courage to do this and I think that your journalistic background helped you to dive so deeply with such rigor and honesty into your inner demons, to basically talk about the violence [you've experienced]," said Anna Berthollet of Lightdox.
"You're taking on really complex issues here as you said, of generational trauma and cycles of attachments and dynamics that people find themselves in over and over and over again, and I find that really compelling.. I appreciate the urgency of this story that you and your father kind of need to help each other in this moment to move forward," said Madelaine Russo of Hot Docs, who also advised the team that the project is eligible for Hot Docs' CrossCurrents International Doc Fund.
Directors: Pascale Appora-Gnekindy, Ningyi Sun
Producers: Mathieu Faure, Steve Dorst, Orphé Zaza Emmanuel Bamoy, Pascale Appora-Gnekindy
Production company: OAZ Picture Entertainment, Kea-Kwis Production, Rad Angel Productions
Country: U.S.A., Central African Republic
Status: In production
IDFA Logline: During a civil war in the Central African Republic, a Chinese construction manager and local African laborer work on opposite ends of the spectrum to construct a sparkling new bank building. As deadlines loom, unexpected twists threaten their jobs, relationships, and plans for a better life.
For a film about the links between China and the Central African Republic, it's appropriate that Eat Bitter's co-directors hail from the territories. Sun and producer Faure pitched their film to a receptive panel that was impressed by the footage shown — specifically, the way the film mirrors the experiences of its two subjects, Thomas and Luan.
Sun explained that she's preparing to travel to China to film footage of Lunar New Year celebrations early next year to include in the film ahead of an expected release date of December 2022, but what she presented in Amsterdam left an impression.
"This is not like other documentaries coming out of Africa about the Chinese there, it's also so lovely to see a film about the Central African Republic that's not about the war,"  said Jane Ray of The Whickers.
"I immediately thought of American Factory; to me it's kind of a more personal story, very similar, it looks at these two cultures coming together," said Cristine Platt Dewey of Roco Films, who said Eat Bitter "absolutely fits" what her company does. "I loved seeing the humor, which you talked about in the pitch when we met yesterday; that was great to see on screen. And the visuals are beautiful."