The American Dream and Other Fairy Tales, which just premiered at the Sundance Film Festival, is about the effects of late-stage capitalism, the widening gap between the rich and poor, and the plight of the American worker. It's also a personal documentary about one woman grappling with her family legacy and what she sees as its role in the shift in values that's taken place in American society over the past several decades.
The film is co-directed by Abigail Disney, a descendant of Walt Disney, and Kathleen Hughes, with whom Disney previously co-directed the 2015 documentary The Armor of Light, about U.S. gun culture and evangelical Christianity. The pair's latest film looks at the treatment of workers at Disney theme parks and resorts as a microcosm of what's happening all over America, and the world.
The doc begins with Abigail — who has no role at the company — receiving a message from a Disney parks employee who is seeking better pay, and follows the filmmaker as she learns about the massive pay discrepancy between ground-level workers at divisions such as Disney's parks department and the corporate managers overseeing them.
From a CEO who earns 2,000 times more than the custodians he employs to stories of workers at "The Happiest Place on Earth" living in their cars and relying on food banks, The American Dream and Other Fairy Tales takes the Disney business model as an example of how things have changed for workers everywhere, in a world where people on the low end of the pay scale have to work harder and harder for less, while the companies and their top executives steadily make more and more.
In response to the documentary, Disney has issued a statement to the media, reading as follows: "The well-being and aspirations of our employees and cast will always be our top priority. We provide a leading and holistic employment package that includes competitive pay and comprehensive benefits for our cast members to grow their careers and care for their families. That starts with fair pay and leading entry wages, but also includes affordable medical coverage, access to tuition-free higher education, subsidized childcare for eligible employees, as well as pathways for personal and professional development."
Realscreen spoke with Disney (pictured left, below) and Hughes (right) ahead of The American Dream and Other Fairy Tales' Sundance premiere.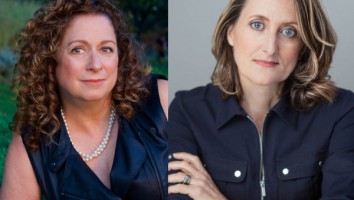 This interview has been edited for brevity and clarity.
Your film covers a pretty big topic. What was your approach to make this subject manageable for a feature documentary?
Abigail Disney: Obviously, I have a very personal connection to the company, and it just so happens that that company, of all companies, is a synecdoche for everything that has happened in the last 50 years in America. It's just been on the front edge of every change, both good and bad, since the 1920s. So it just felt possible to take a lot on — and believe me, the movie doesn't have a lot of stuff that we wanted in there, because we were trying not to overstuff it. But it's also just such a personal company. It's an intimate company. I mean, it's a brand that suggests love and family and joy. It felt possible to personalize this issue, to make it intimate for viewers, so that this idea that people are not food-secure kind of hits home, better and harder. That was our hope.
Abigail is an on-screen character in the documentary, so Kathleen, what is your role in the process when your directing partner is appearing in the film?
Kathleen Hughes: Well, the good news is that I'd worked with Abby in close partnership on another film, The Armor of Light, which she wasn't in, but in some sense, the question that we were [addressing] in that film really came from Abby's heart. So I've worked in partnership with Abby since 2013 and I've gotten to know her pretty well, and I feel like my role was to help direct a very personal, complicated story. From the get-go, Abby really wanted to make sure that the film wasn't just about her, that the film really was about workers and the economy and the history. That was a real delicate balance, and so to some extent, I had to either push her harder to be in the film, or pull her back. So I feel like from day one it was a kind of conversation.
AD: A negotiation, too [laughs].
KH: And then when you pull our editor, David Cohen, into the edit process, it was a three-way tug of war [laughs].
AD: But it was good, I would not have done this on my own. Because there are any number of stupid things you can do without knowing it, and you really need to have people around you who will tell you the truth.
What was something you learned while making this film that surprised you? And that you think will also surprise viewers?
KH: I think that people really will be surprised that even at "The Happiest Place on Earth," there are workers who are struggling to make ends meet in a kind of profound way. Even though, when you stop and think about it, we understand that they're service workers, and in America, service workers tend to be paid on the low end. Whenever we hear the jobs reports these days, they're like, "The economy generated tens of millions of new jobs," and no one ever talks about what those jobs are actually paying people, what kind of benefits those jobs offer, what kind of stability… So many people now are working at the lower end of the pay scale.
AD: For me, it was the deliberateness of where we are. The fact that this was actually a plan, and it was executed brilliantly and with fabulous public relations. Without all the advertising executives that were involved in that very right-wing original group, we wouldn't be where we are, interestingly enough. So for me, it was reading the Powell memo and paying attention to who was talking to whom and how early Ronald Reagan kind of figured into this. When he ran in '76, he was "too radical for the Republican Party!" And then four years later, he was their poster child. So how fast it happened, how deliberate it was, was shocking to me.
Was there concern that a movie about this topic — economic inequality, capitalism — might be a tough sell when it comes to finding partners, whether that's a broadcast partner or a streamer? 
AD: Yes, it was a concern from day one, and we just put our heads down and made the best film we could make and then the chips will fall where they fall, we'll see. Obviously, there are certain streamers who we're not going to go to, and certain buyers that aren't even possible… And you know what, if I have to go stand on the sidewalk with a megaphone, I'll do it.
What do you hope that the film will contribute to the conversation around class and wealth inequality?
AD: I hope that we'll focus on the legislative fixes that need to happen, the regulatory fixes, the political contribution fixes. These are emergencies, every single one of these things, and they have to be addressed, so we have to find the political will for that. But equally important is that the norms were shifted deliberately, and they were shifted from a mostly communitarian idea of the economy and the idea that everybody does well when everybody does well, to an individualist idea of the economy where everybody does well if one guy does well. Which we know is not true, and it's been demonstrated over and over that it isn't true. So I'm hoping that there's a norm shift. I hope that we can wake up from this fever dream of individualism and remember that nobody does anything alone.