A wide selection of documentary and non-fiction titles will be launched at this year's hybrid MIPTV event, which runs from April 4 to 6. Today, Realscreen presents the first installment of our three-part roundup of titles being shopped at MIPTV 2022.
BLUE ANT INTERNATIONAL
Global distributor Blue Ant International is set to arrive at MIPTV with high-impact documentaries, factual entertainment and specialist factual titles.
Three new documentary titles lead Blue Ant's slate. Evil by Design: Surviving Nygard (3 x 60 min.) is a true-crime series about the sexual-assault allegations against disgraced fashion designer Peter Nygård, featuring exclusive interviews and previously unseen photos and video. Coextinction (1 x 94 min.) from Coexistence Films covers the story of a mother orca who carried her dead calf for 17 days, as well as the collapse of the ecosystem, injustices against Indigenous people and environmental threats. Finally, Prince Charles' Grand Green Design (1 x 60 min.) from B4Films takes an exclusive look at a secret project Prince Charles has worked on for more than a decade, the restoration of a rundown estate.
Another new title from Blue Ant at MIPTV this year will be Roswell Rediscovered: 75th Anniversary (1 x 120 min. or 2 x 60 min.) from Coleman Television Limited, which takes a deep dive into the infamous UFO incident with new witness testimonies, alternative theories and scientific analysis.
In the natural history genre, Blue Ant is bringing One Planet, One Chance (3 x 60 min.) from One Planet Productions, which follows conservation photographer and filmmaker Joakim Odelberg as he covers the impact humans have on the planet. The Orchard (1 x 60 min.) from Arcadia Entertainment examines the ecological life cycle of an apple orchard, while the previously announced documentary The Ocean's Greatest Feast (1 x 50 min.) from Earth Touch immerses viewers in the annual sardine run off the coast of South Africa.
In the lifestyle genre, Blue Ant is offering Rochelle Humes: Interior Designer in the Making (10 x 60 min.) from UKTV, which sees Humes (pictured) invite cameras into her home as she seeks to turn her passion for home décor into a professional career.
History-themed projects on Blue Ant's slate include Art of the Eighth (1 x 60 min.) from Coleman Television, which looks at 200,000 U.S. air force personnel serving in England during WWII who turned their surroundings into canvases for art, drawing on the walls of barracks, canteens and block rooms. Another offering is The Lost Colony of Roanoke: New Evidence (2 x 60 min. or 1 x 120 min.) from Saloon Media and BriteSpark Films, which examines the mystery of (and conspiracy theories around) the disappearance of more than 100 colonists who settled on Roanoke Island off North Carolina in 1587.
Rounding out the history titles on Blue Ant's slate are Mysteries from Above (10 x 60 min.) from Saloon Media, which explores historic sites via drones, satellites and aerial photography, and the previously announced Ancient Earth: Dinosaurs of the Frozen Continent (2 x 60 min.) from NHNZ Worldwide and Giant Screen Films, a two–part series about paleontologists uncovering fossil evidence of ancient animals and plants that once thrived in Antarctica.
CINEFLIX RIGHTS
London-headquartered Cineflix Rights is offering up a factual slate at MIPTV this year that's highlighted by true crime and home renovation.
Dream Home Makeovers with Sophie Robinson (6 x 60 min.), produced by Pi Productions and Motion Content Group for Channel 5, follows celebrity interior stylist Robinson as she pushes homeowners beyond their comfort zones to create cozy, attractive interiors.
On the true-crime side is Descent of a Serial Killer (10 x 60 min.) from Peninsula TV, which investigates why serial killers become what they are and how investigators can miss key indicators when tracking them down. The series includes interviews with former FBI agent and criminology professor Bryanna Fox, who analyzes data about serial killers across the U.S.
OFF THE FENCE
Amsterdam-headquartered Off the Fence is presenting a factual programming lineup at MIPTV this year that includes science, nature and history titles.
One highlight on its slate is Tycoons (3 x 60 min.), produced by OTF Productions for CuriosityStream. The three-part series tells the stories of the world's richest entrepreneurs, including Jeff Bezos, Bill Gates and Wang Jianlin.
Meanwhile, a darker chapter of history is uncovered with Auschwitz in 33 Objects, produced by Polish indie Inbornmedia with Polsat Television and the Auschwitz-Birkenau Memorial. The 4 x 60-minute docuseries takes viewers into the high-tech laboratory at the museum on the site of the former Nazi death camp, where specialists attempt to discover the stories behind carefully preserved objects left behind by the camp's victims.
OTF's slate of natural history and science content from Terra Mater Studios is led by the 52-minute documentary Hippo King, which tells the life story of the three-ton giant hippo bulls that live in the remote areas of Africa's Great Rift Valley.
Greenhouse (1 x 60 min. or 1 x 90 min.) from GoodThing Productions, about the conception, planning and construction of a specially designed property that seeks to provide affordable housing, sustainability and food security simultaneously, is another new addition to OTF's slate.
Another forward-looking project is Secrets of Big Data (6 x 60 min.) from Shark Teeth Films for Super Channel Canada, which covers the world's increasing reliance on the collection (and manipulation) of information. A similar topic is covered in Trust Me (1 x 60 min. or 1 x 90 min.) from Wadi Rum Films in association with the Getting Better Foundation, which explores how negative news and misinformation can lead to polarization, racism, mental health disorders and crime.
PBS INTERNATIONAL

The programming PBS International will bring to MIPTV is highlighted by a few titles that are already proving popular in sales.
One of its strongest performers is Riveted: The History of Jeans, which tells the story of this signature American garment. Buyers for the documentary already include SBS (Australia), Télé-Québec (Canada), YLE (Finland), NHK (Japan), HOT8 (Israel), MBN (MENA), RTV (Slovenia) and RTVS (Slovakia).
PBS' other top-selling titles heading into MIPTV include World's Greatest Engineering Icons, a six-part series on the artistry, ingenuity and technology behind great architectural accomplishments, which has been picked up by RAI, Asharq and AceOne; Chernobyl: The New Evidence, which examines newly released Soviet KGB files about the infamous disaster, and has been licensed by SVT, TVN, SBS, MBN, La7 and more; and Edible Insects, which examines how food made from insects could benefit both human health and the planet as a whole, which has been licensed by Télé-Québec, EBS, Česká televize and more.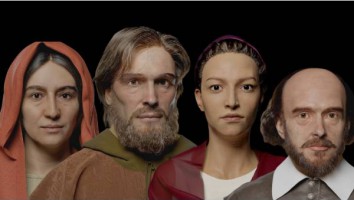 TVF INTERNATIONAL

Following up on its London Screenings event earlier this year, indie distributor TVF is bringing more than 200 hours of programming to MIPTV 2022, largely focusing on history, culture, travel and factual titles.
Its new history titles lead the slate, including NPO MAX's The Faces of History (6 x 40 min., pictured above), which uses 3D imaging to bring historical figures like Cleopatra and William Shakespeare to life. TVF's slate also includes Inferno: Letters from Auschwitz, a 50-minute documentary from NHK that unearths previously unseen letters discovered at the extermination camp.
TVF's travel series at MIPTV this year include the 4K-shot Australia from Above (4 x 52 min.) commissioned from RJ Media, which offers aerial views of the scenery and landscapes of the Great Barrier Reef, the Outback, Western Australia, and Sydney and New South Wales. Also new to TVF's slate this year is Thai PBS' Thailand Fantastic (4 x 50 min.), covering Thai people, wildlife and vistas.
Three new entries in the Channel NewsAsia Deciphering franchise also highlight TVF's slate: Deciphering India, Deciphering Indonesia and Deciphering the Philippines (each 4 x 48 min.). Each series analyzes the unique social and political landscapes of their respective countries.
Rounding out TVF's new content offerings is Mediacorp's Silk Road 2.0 and Borderlands, a series that follows the often-marginalized people living along the borders between two countries.