A wide selection of documentary and non-fiction titles will be launched at this year's hybrid MIPTV event, which runs from April 4 to 6. Today, Realscreen presents the second installment of our three-part roundup of titles being shopped at MIPTV 2022. Part one is available here.
ARMOZA FORMATS
The Israel-based unit of ITV Studios is bringing a pair of new unscripted formats as part of its MIPTV 2022 spring slate.
Leading the way is the docureality series Drive Therapy (60 min., pictured below), which was developed by Armoza Formats, Artza Productions, Ravit Lior-Mandel and Danny Friedlander. The show is based around a "backseat therapist" who, with his trusted driver, picks up three people per episode and has them driven to a destination to confront something in their lives, with stops at meaningful places along the way. During the ride, the therapist provides them with the tools they need to find a new route in life.
Also on the way is the new studio-based game show Beat the Average!, in which a team of three contestants compete together in unique challenges while trying to beat the average scores of a group of 100 people attempting the same task, like holding their breath underwater. As the challenges get harder, pros join the group of 100 to skew the average as the competitors try to win big money in the final task.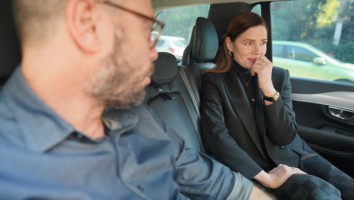 BANIJAY
Ahead of MIPTV, the global independent content producer and distributor announced an impressive range of unscripted titles across a number of genres for its spring slate.
Starstruck, created by Remarkable Entertainment for ITV, teams up trios of individuals from the public to transform into musical icons. The game show Limitless Win, created by Hello Dolly and co-produced with Mitre Studios, was ITV's biggest new entertainment series launch since January 2020, and a second series has already been commissioned in the UK. Banijay retains the international format rights to the show, which also features the world's first limitless jackpot.
Another new format on offer is The Courtship (pictured top), a new relationship series from Endemol Shine North America in association with Shine TV that sees a 21st century woman transported to the Regency era for a new — or, more specifically, old — kind of dating experience. Another dating show on the way is Language of Love from Banijay Iberia's Zeppelin and UK indie 2LE, which looks at whether love can blossom despite a language barrier as six British singletons and six Spaniards are brought together.
Shaolin Heroes (pictured below) from Metronome mixes genres as celebrities embark on life-changing journeys as they're taught ancient martial arts by Shaolin warrior monks. Finally, Your Body Uncovered, from Remarkable Factual, uses immersive, cutting-edge technology to explore and understand various medical conditions.
BEYOND RIGHTS
Global content distributor Beyond Rights brings a packed slate to this year's hybrid event in Cannes, with more than 180 hours of unscripted content.
Beyond's slate is led by the new true-crime series Santa Claus the Serial Killer (3 x 60 min.) produced by Forest, which explores the case of Bruce McArthur, a shopping mall Santa convicted of killing eight young men in Toronto. The series features journalist Mobeen Azhar investigating why the killings went unsolved for so long, delving into themes of race, culture, faith, and sexuality. Loot (8 x 60 min.), from EQ Media Rights, sends viewers around the globe for an investigation into how the trade in stolen antiquities and art has become a major source of income for criminal syndicates, gangs and terrorists worldwide.
Beyond's reality slate is headed up by End of the Rope (6 x 60 min., pictured below) from Big Coat Media, an exploration of the high-octane world of rope-access technicians. Cameras follow an elite team as they travel throughout the U.S. to fix some of the country's most impressively tall structures, with only a rope for support. Custody Cops (3 x 60 min.), produced by Double Act, takes viewers inside one of Britain's biggest and newest custody suites, while Yorkshire Midwives on Call (5 x 60 min.) from Candour Productions follows a team of home-birth midwives as they help families across the UK welcome their new arrivals. Back with the Ex (7 x 60 min. + format), which hails from Seven Studios, reunites singles with the one that got away to see if they were meant to be together after all.
New history titles for Beyond include Underground Railroad: The Secret History (4 x 60 min.). Produced by Attraction Media, the series uses archaeology and the latest technology to reveal the hidden network of secret routes and hideouts that helped slaves escape to freedom in 1800s America. Trains at War (4 x 60 min.) from Pernel Media explores the role of trains in warfare by focusing on four famous campaigns in World War II.
A new standalone documentary, 54 Hours Beneath (1 x 60 min.) from One Tribe TV, recounts the story of English caver George Linnane, who was trapped with life-threatening injuries in Britain's deepest cave, and the 54-hour mission to rescue him.
Pernel Media Europe's new travel series Greatest Train Journeys (6 x 60 min.) features extraordinary train routes, while Best of Britain by the Sea (5 x 60 min.) from Blink Films combines a travelogue format with a food series. Finally, another new food title, ECG Productions' Taste the Diversity (10 x 30 min.), explores different cultures, histories and personal stories from around the world through national dishes and recipes.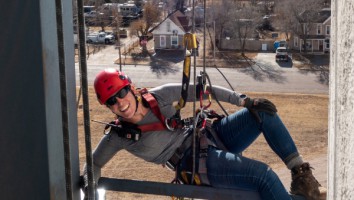 DRIVE
The London-based production-funding and distribution agency has unveiled its slate of completed factual content for global distribution debuting in Cannes this year, which includes some 110 hours of content — Drive's largest ever lineup for MIPTV.
Among the new series is Cracking the Code (8 x 60 min.), produced by Blink Films for Curiosity in association with Drive, a look at codes and ciphers that surveys everything from the code-breakers of WWII to the hunt for the Zodiac Killer to the race to crack the human genetic code. Curse of the Ancients (5 x 60 min.), produced by Future Studios and Krempelwood for Sky History, applies modern science to historical catastrophes that were believed at the time to be the result of curses and other supernatural phenomena.
Coming from Joined Up Films/Barking Mad Productions is Claremont (3 x 60 min.), produced for Channel 10 Australia, a true-crime series that examines a string of sexual assaults and murders that took place in Claremont, a wealthy suburb of Perth, beginning in 1996. No perpetrator was caught at the time, but more than 20 years later — and with the assistance of FBI profilers and British forensic experts — the killer was found to be someone who was already in the system.
Finally, the standalone Black West (1 x 60 min./90 min., pictured below) looks at the whitewashing of the American West. Produced by CAPA TV for Arte, the film explores the erasure of Black sheriffs, cowboys, trappers and soldiers from the myth of the American frontier, pieced together from archives, re-enactments and first-hand historical accounts.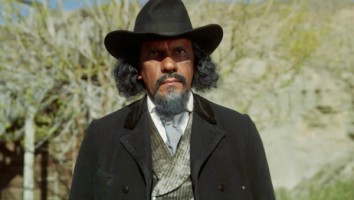 RED ARROW STUDIOS INTERNATIONAL
The global distributor is bringing several new unscripted projects to MIPTV in 2022, including the reality series My New Mystery Job, which was created by Stepping Stone Productions for the Netherlands' NPO3. The format follows contestants who are burned out at their jobs and have agreed to spend six months in a new job without knowing what it is beforehand. The show is currently in production, and is expected to launch in Q3 of 2022.
Also on the way from Red Arrow is the new game show Bet Your Lucky Stars, in which contestants bet on the general knowledge and secret skills of celebrities in order to win big. The format is created by Kinetic Content and produced by Redseven Entertainment for ProSieben (Germany). Also available at MIPTV is the new primetime competition series The Stacking Show, also originally produced by Redseven Entertainment for ProSieben, in which teams of two battle the clock to stack everyday items for a cash prize.
Last but not least is the factual miniseries Bloody Boston (4 x 60 min.), produced by Half Yard Productions for Reelz (U.S.), which promises "a fresh take" on the world of Boston organized crime as it looks at a range of underworld sagas ranging from the infamous fugitive "Whitey" Bulger to brutal wars between Irish gangs, law enforcement corruption and daring heists.
NIPPON TV
The Japanese pubcaster is returning to MIPTV with a pair of new unscripted formats that recently debuted on the network in Japan to strong ratings.
Dark Doubt (60 min., pictured below), which premiered on Nippon TV in December 2021, is an escape-based game show in which seven contestants must work together navigate an unknown location in pitch darkness while fighting their own fears, and also trying to overcome the sabotage efforts of moles placed among the contestants.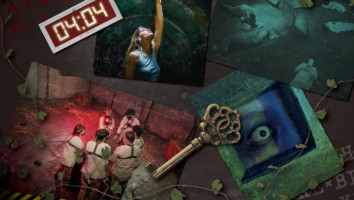 Turbo Brain (30-60 min.),  a new quiz format that also launched in late 2021 on Nippon TV, finds six competitors putting their brains into overdrive to answer questions at high speed with generally themed questions that are both visually engaging and cognitively demanding in a one-on-one knockout-style tournament.