Women, water, and an air of wistfulness are recurring touchstones in the lyrical films of Montreal-based Jacquelyn Mills, who has followed her feature-doc debut In the Waves — a portrait of her grandmother Joan, who contemplates her lives lived and yet to come in her coastal village home following the death of her younger sister — with Geographies of Solitude, another impressionistic depiction of an isolated older woman contemplating existence by the junction of shore and sea.
In this instance, however, the isolation of Mills' protagonist is one that has been very purposely sought, and the existence she contemplates is intimately tied to the fate of our planet. For more than 40 years, naturalist and environmentalist Zoe Lucas has lived alone on Sable Island, a tiny yet ecologically rich atoll off the coast of Nova Scotia. Home to dozens of wild horses, grey seals and an empire of fantastically variegated smaller creatures, Sable is a barometer of both nature's resilience in the absence of humans, and of its erosion in the face of human activity: in addition to her meticulous chronicling and categorizing of the island's flora and fauna, Lucas has also amassed enormous collections of plastic, metal, and other marine litter that has washed up on Sable's shores over the years.
Yet even as Lucas' garbage cleaning and collection serves as an eloquent portrait in miniature of the vast, unimaginable scale of human-caused environmental degradation, the mood of the film remains one of awe and reverence rather than fear. Just as she eschews the conventionally dramatic landscape shots that Sable seems readymade to provide, as well as the easily available narrative approach of "a remarkable person in a remarkable place," Mills refuses to use the island as a mere vehicle for message-mongering.
While the cameras read the signs of climate change that are inscribed in Sable's ecosystem, Lucas, through both her words and her work — which includes studying, cataloging and stacking the skulls of the horses and other creatures that expire on the island — constantly reminds the viewer that death is an inextricable part of life. "Are you emotional because of the horse?" Lucas' offscreen voice asks the unseen Mills as the camera contemplates a dead horse, its body lying in the grass. "It's the best of life — the animals being able to go about their natural lives, which includes dying and being recycled… And because we're here, breathing the air and sometimes eating a cranberry and drinking the water, we're part of the whole ebb and flow of all the materials that connect us all."
In that spirit, Mills surrenders her film wholly to the uniqueness, wonder, and sheer aliveness of the island — not least by her use of a soundtrack "composed" by the electrical impulses from insects' feet crawling up grass stems, and the cameraless images created by embedding the 16mm filmstrip in all manner of materials found on Sable (from horse hair, bones and dung to sand and balloon litter), thus literally imprinting the island's living environment onto the very material being of the film itself.
Mills (pictured below) spoke to Realscreen ahead of Geographies of Solitude's screening at Hot Docs, which follows the film's impressive haul of prizes at the Berlin Film Festival in February.
This interview has been edited for clarity and concision.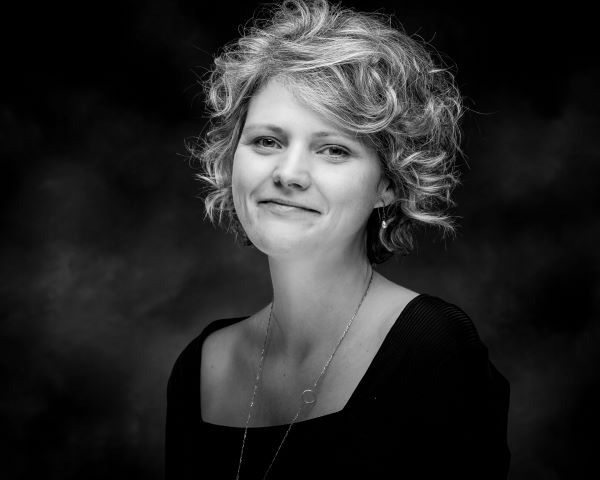 You've said that you first encountered Sable Island in a TV news report in your childhood. What drew you to this location, both initially and then later in life? 
Jacquelyn Mills: I was really young when I saw that news report with my grandmother, and it really imprinted on my memory. I remember it very vividly, because I had never heard of a place like that before: a herd of wild horses, the largest colony of grey seals in the world, prone to many shipwrecks, and this woman who had lived there and devoted her life to studying the natural world. It really stayed with me, and when I finished In the Waves I went back to that right away.
You were a one-person crew for two of the three shoots you did at this remote location. How much equipment did you bring with you, and what were some of the key logistical challenges you encountered?
Mills: I feel like that could be a whole interview! [Laughs.] I got my equipment from a co-op in Montreal — they give you great prices if you're a member, so I got their Aaton, which is a 16mm camera that shoots sync sound. And then for a lighter camera that I could be more free with I brought the Bolex, which is also film but not sync. And for a backup I brought an A7S Sony [digital] camera, in case either of the film cameras got compromised — all the little bits and pieces in those need to be functioning for there to be an image in the end, so if anything got shaken up on the charter plane on the way to the island, that was it. Plus, the digital camera meant that I could shoot at nighttime as well, and I ended up doing as much of that as I possibly could.
In terms of challenges, with this film the getting there and back alone is quite a lot of logistics. You take a private charter plane that you can only have so much weight on, including your own body and jacket and all of that. And you have to have all your food, and extra food in case you get stuck there by a storm. And when it comes to shooting you have to have an A plan, a B plan and a C plan, because once you're there, that's it.
The way I could do [this shoot] as a one-person team was that I just didn't put any pressure on myself. I felt like this is all one big risk, and I'm going to try my best to be as present and open to the island as possible — to the feelings and experience of being there, the richness of that place that inspired Zoe to spend her entire adult life there. So I didn't put any pressure on myself to get traditional shots or pickup shots or anything — it was a very open, free-flowing experience, where the logistics and the challenges were actually inspiring and led to a lot of creativity.
Why was using film on this project so crucial to you that you hauled not one, but two film cameras along on this very logistically restrictive shoot?
Mills: I learned how to make films on 16mm, but given how expensive it is and what a risk it is, I haven't had much chance to shoot on it since film school. But with this subject, it felt really right from the very first moment. The reason is that, for me, there's a real ritual that goes into shooting on film; there's a limit to what you can capture, so it makes you much more present. And there's something about just holding those captured moments in your hands when you're changing rolls — something about the materiality of film that creates a certain energy that feels completely different from when you're shooting digital. So the dedication it took to go to those lengths, and also to present the island on such an organic and beautiful medium, was really important to me.
Another thing that helped me make the decision was that I had decided to use eco-friendly filmmaking techniques, and I could only do those on film. I went to lunch with a fellow filmmaker, Terra Jean Long, and she opened my eyes to that whole world. Her and I developed the first images together in seaweed, and it's just magical when you get an image — you just can't believe it.
You frame Zoe rather obliquely throughout the film: the camera is often behind her, looking over her shoulder, or focusing on her hands or feet. Can you discuss the approach you developed in your shooting and editing?
Mills: My approach was to never portray Zoe in a traditional or set way — I wanted it to be a sensorial, experiential film that mirrors the depth and dedication that Zoe has shown [to the island] through her life. Because I was shooting on film, I didn't necessarily have the luxury of getting these secure, safe shots so that I had a "scene" — it was more about waiting for a moment that made me feel something and then filming it, with or without Zoe in the frame, spontaneously.
So I just continued to go down that path, and then when I was in the edit room I didn't know what I would find! [Laughs.] And luckily it all pieced together, and the final piece basically reflects the way that the shoot happened — it unfolded organically.
One of the things that's closest to my heart that a few people have said so far about the film is how much they appreciate what it didn't say. And that is a beautiful thing to hear, because that was something I tried to protect until the end of post-production — what not to say about this place — to leave room for the viewer to feel and to reflect and to just be in this place, and wonder, and have their own curiosity. That was my biggest goal.
The theme of ecological destruction emerges organically out of your film's subject and setting. How do you think a film such as this can contribute to the discourse around this subject in a different way than standard-issue message docs?
Mills: It really came down to me asking myself, what's the best way that I can contribute to that conversation. And I decided that it would be [by trying to answer questions like], how can we treat the environment with reverence, how can we put a lot of intention in our actions, and what kind of energy do we want to bring into the world right now.
I found this very appropriate quote from Thomas Merton: "We will never love nor save what we do not experience as sacred." I typed that up and had it in my back pocket every time I went to Sable Island, and to me that was the undercurrent of the film. So although there's a lot about the plastic invasion and Zoe's environmental work, it's there within this larger context of experiencing the sacredness of this remarkable place.
I didn't feel it was my place to give statistics or a call to action. It was more about, how can we make [that struggle] more personal and private — because I myself struggle with it every day, what to do with the current state of things. So being able to dedicate myself to a subject like this and dig my hands in, even if it just makes the tiniest difference, it helped. And I can't speak for Zoe, but I think that's part of that inspires her to do what she does — just to do something. If you can find what you feel called on to do in your own way, even if it's subtle or simple or not a traditional path, then at least you feel like you're contributing something positive.
Filmmaker photo by John Ratchford