"If you have any ideas, I'm all ears!" laughs filmmaker Jacquelyn Mills, speaking to Realscreen about her new project, Geographies of Solitude. The Montreal-based director's second feature documentary (pictured, above) is an intimate, meditative portrait of Sable Island, a tiny yet visually striking and ecologically rich atoll off the coast of Nova Scotia where naturalist Zoe Lucas has spent more than 40 years living alone and patiently studying, classifying and cataloging the native flora and fauna, which includes a herd of wild horses and the world's largest colony of grey seals.
The question that elicited Mills' amusement was about what kind of life she foresaw for her film beyond its already highly successful festival run, which has thus far included three awards at the 2022 Berlinale. Despite what seems like the highly "saleable" aspects of the doc — not least its obvious relevance to the topics of climate change and ecological destruction — the very things that mark it out as unique could well work against its chances for wider exposure: its determinedly meditative pace, its experimental visual elements, its oblique treatment of its protagonist, and its refusal to package its subject as either an eco-message movie or a traditional character portrait (or both).
"Although there is a lot of abstraction [in the film], there was [also] an intention to make it accessible and generous… to make it challenging, but also inclusive," said Mills. "So in that way, I hope that it can have a larger life than the average experimental film."
The case of Geographies of Solitude presents an opportunity to examine two roughly contemporaneous developments together. On the one hand, there is the increasing space and acceptance that film festivals have been according to more formally adventurous works of non-fiction over the past 10 or 15 years. On the other, there is the increasingly healthier appetite among both buyers and audiences for more documentary fare — spurred by the streaming explosion and the consequent competition among platforms to offer viewers as much content as possible.
The question we put to a panel of filmmakers, programmers and exhibitors: Has the proliferation of content-hungry outlets at all increased the likelihood of more experimental non-fiction work finding larger audiences beyond the festival circuit?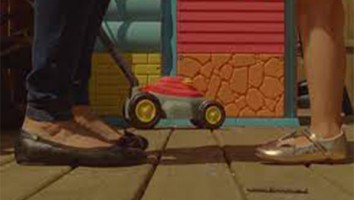 "I think that people now are interested in diversity of content, but not diversity of form," says Colombian–Canadian filmmaker Lina Rodriguez, whose documentary Mis dos voces (My Two Voices) screened alongside Geographies at Berlin. Like Mills' film, Rodriguez's (pictured) is both entirely legible in terms of its content — it spotlights three Latin American women who reflect, sometimes movingly and always relatably, on their experiences as immigrants to Canada — and surprising in terms of its form, as the filmmaker keeps her protagonists' faces (though not their hands, homes and everyday surroundings) offscreen until the very end.
Even with its hot-button subject of immigration, Rodriguez is keeping her expectations low about the extent to which the film can travel. "I do think there is a way for people from different communities, different age groups to engage [with films like this], and they don't have to feel down for not 'getting something' [about the film]," she says. "So I think there is a possibility of crossing those lines, but filmmakers can't do it alone. It requires a whole bunch of people, from different parts of the industry, to take risks."
For some films, those risks have indeed been taken. Eric Hynes, who has spent the better part of a decade making a case for precisely this kind of adventurous doc-making as curator of film at New York's Museum of the Moving Image, points to some recent examples of "experimental, hybrid, formally nimble non-fiction works" that have been the beneficiaries of robust distributor support on both the streaming and theatrical side, such as Jessica Kingdon's Ascension (picked up by MTV), Robert Greene's Procession (Netflix) and Sara Dosa's Fire of Love, which is receiving a theatrical release from Neon before heading to Disney+ later this year via National Geographic.
"There is a possibility of crossing those lines, but filmmakers can't do it alone. It requires a whole bunch of people, from different parts of the industry, to take risks.
However, Hynes also contends that the award-mongering ambitions that largely motivate these acquisitions undercut the notion that there is a more generally increased interest for decidedly daring non-fiction work from the big players. While distributors cherry-picking unconventional films they feel they can do something with is by no means a necessarily bad thing, one could also suggest that a most-eggs-in-one-basket approach to promotion can transform these titles into remarkable singularities (in market terms) rather than representatives of a broader, richer movement of non-fiction filmmaking.
"You look at [the success of] something like Fire of Love, and then you look at films that showed alongside it at festivals like Sundance that are no less adventurous, and how there's just no traction at all for them [in terms of distribution]," says Hynes.
Although documentarian Jeff Reichert — whose films range from the self-funded fiction/documentary hybrid Feast of the Epiphany to the Netflix-acquired Oscar winner American Factory, which he produced — largely concurs with this assessment, he does see a few more glimmers of promise. "As the amount of films proliferates, I think it almost forces [platforms] to diversify their menu, at least a little bit," he suggests.
"And I also think that the audience for documentary films has developed to a degree that you're able to think about that audience not just as a unified, holistic thing. There aren't just people who 'like non-fiction films,' but [different groups of] people who like certain kinds of non-fiction films. So I think that documentary audiences have begun to self-select a little bit, which does create space for works that are more oppositional or formally adventurous."
If the streaming tide doesn't necessarily lift all boats, then, it has perhaps expanded enough laterally to allow for smaller but still sustainable tributaries where those audiences so inclined can discover such work.
"We can take risks with Channel programming that can be challenging to take even in our physical-media line," says Penelope Bartlett, programmer for the Criterion Channel, the streaming platform of art-house DVD/Blu-ray label the Criterion Collection and its theatrical-distribution parent, Janus Films. For formally audacious works of non-fiction, Bartlett says, "there's a certain cachet associated with being on the Criterion Channel alongside these lauded classics of world cinema, and the trust that viewers place in our curation [can] encourage them to take risks and check out films they might not otherwise have been exposed to."
As Bartlett points out, the context of a given film's surroundings in a catalog helps create expectations about it that can drive viewership. Therefore, it would hardly be surprising to conclude that platforms such as Criterion are the most viable spaces for artistically unorthodox documentaries to find a home. While it's not wholly unreasonable to suggest that the plangent environmental theme of Geographies of Solitude (not to mention the archival cameo by Jacques Cousteau) could bring it some unexpected appreciation from nature-doc enthusiasts if they encountered it on Nat Geo alongside Fire of Love, it could be argued that a greater audience for the film would be found amongst those viewers who appreciate and seek out the unexpected.
If this is indeed the case, then perhaps the matter is less about how to bring more of these types of non-fiction films to the attention of "deep-pocketed suitors" — as MOMI's Hynes says, not uncharitably — than about how the outlets in the streaming space that cater to these (sometimes sizable) margins can continue putting this kind of work out into the world. For his part, Hynes floats an interesting notion that would see more art-house streamers such as Criterion not just acquiring, but also "actually helping to finance movies that then wind up on their streaming platform — because if [these filmmakers] don't have the money or the momentum anymore to make them, where are [the streamers] going to get them from?"
This story first appeared in the May/June 2022 issue of Realscreen Magazine, which is out now. Not a subscriber? Click here for more information.