Sunny Side '12: Arte, PBS to examine iconic monuments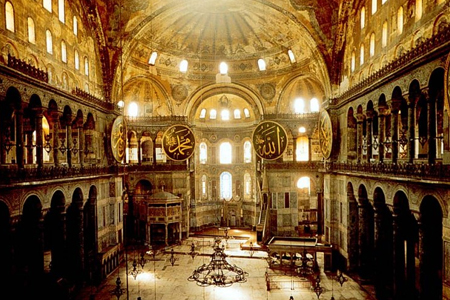 Arte France has unveiled a number of major international coproduction projects that are to air once a month on Sundays on a new event-driven, prestige primetime strand.
Overseen at Arte France by Hélène Coldey from the network's specialist factual department, the documentaries aim to be visually spectacular and will be scheduled alternatively with movies.
The channel has committed with PBS strand 'Nova' and French prodco Zed to co-develop four CGI-driven documentaries about iconic monuments for the new strand, the first two of which will focus on Hagia Sophia in Istanbul (pictured above) and the famous historical Jordanian city Petra.
Elsewhere, the broadcaster unveiled a docudrama about the Statue of Liberty, being made with Telfrance; and science doc Body Planet, being made with Mona Lisa and Mentorn. Arte has also partnered with BBC Worldwide on In The Mind of Leonardo Vinci and Earth Flight, the latter being about the migratory patterns of birds.
Arte entirely revamped its schedule in January following the appointment last year of new president Véronique Cayla. Besides the Sunday night event-driven slot, documentary changes included more strands devoted to culture, while Tuesdays evenings were reorganized to add recent history to investigative docs.
"Documentaries about literature are making their comeback on our channel, ranging from [Albert] Camus to Britain's Martin Amis," said Arte France program director Vincent Meslet. "We are also commissioning documentaries in sync with big exhibitions [on artists] such as Edward Hopper."
Tags: Arte, Arte France, Body Planet, Earth Flight, Hagia Sophia, In The Mind of Leonardo Vinci, Mentorn, Nova, PBS, Véronique Cayla, Vincent Meslet, Zed
For more information in the Contact directory:
Arte France
The definitive factual resource.
Over 5,000 company listings!