The Toronto International Film Festival (TIFF) today (July 24) began officially unveiling its 2012 film line-up, with Liz Garbus's anticipated doc on Hollywood icon Marilyn Monroe featuring among the world premieres.
Entitled Love, Marilyn, the documentary (pictured above) focuses on two boxes of Monroe's private writings and musings, which were discovered in the home of her acting coach nearly 50 years after Monroe's death.
Garbus (Bobby Fischer Against the World) will bring the papers to life using a range of modern day big-name Hollywood actors, including Uma Thurman, Lindsay Lohan, Paul Giamatti, Viola Davis, Adrien Brody, Marisa Tomei and Glenn Close.
The doc, which will play as a Gala screening, promises to give "a new understanding of Monroe… revealing her carefully guarded inner life."
Elsewhere, TIFF will also host the Gala world premiere of a documentary about political activist Angela Davis, from director Shola Lynch (Chisholm '72: Unbought & Unbossed).
Free Angela & All Political Prisoners (pictured below) promises to tell "the dramatic story of how a young philosophy professor's social justice activism implicates her in the botched kidnapping attempt of a judge that ends in bloody shoot-out," according to the festival.
In an earlier form, the film was one of the finalists in the MIPDOC Co-Production Challenge, co-presented by realscreen, in 2010.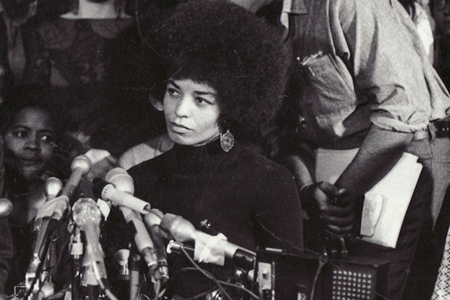 Beyond the Monroe and Davis docs, two other non-fiction titles feature among the 62 films unveiled by TIFF today, both of which will play in the festival's Special Presentations category.
Venus & Serena, from director Maiken Baird (producer of Client 9: The Rise and Fall of Eliot Spitzer) promises to deliver an "honest and unfiltered look" at the lives of sisters and tennis superstars Venus and Serena Williams.
"Through the prism of one year in their lives, the film tells the untold story of how these two great stars came to be and how they struggle to stay on top," according to TIFF. It is exec produced by Alex Gibney (Taxi to the Dark Side).
Finally, the previously announced Liar's Autobiography – the Untrue Story of Monty Python's Graham Chapman has been confirmed for the festival.
The documentary-of-sorts, which will get its TV premiere on the EPIX network in November, is based on the memoir of late Monty Python member Graham Chapman, who died in 1989.
The animated biopic features recordings of Chapman that he made of his book in 1982 and, matched with recorded sound from present, reunites members of the Monty Python troupe to bring Chapman "back to life" using 17 different animation styles from 15 different animators.
The film comes from Ben Timlett, Bill Jones and Jeff Simpson, and features appearances from Graham Chapman, John Cleese, Terry Jones, Michael Palin, Terry Gilliam, Carol Cleveland and Philip Bulcock.
The news comes after realscreen yesterday revealed that documentaries from Canadian directors Sarah Polley and Jamie Kastner will have premieres at this year's TIFF.
The festival is set to unveil the bulk of its documentary programming on July 31, with a Canadian press conference following on August 8. TIFF runs from September 6-16.