(Pictured: Cameraman Barrie Britton films lemurs in 4K for the upcoming BBC series Survival)
With NAB taking place this week in Las Vegas, realscreen looks at how the non-fiction space is adopting 4K. Here, producers and networks working with 'Ultra HD' discuss the challenges and advantages of working with the format.
When the BBC's Natural History Unit (NHU) announced plans to shoot the blue-chip wildlife doc Survival using ultra high-definition 4K cameras, the pundits were quick to pounce.
After all, at present, a 4K television upwards of 85 inches in size retails somewhere in the neighborhood of US$25,000 to $40,000, and there are no regular 4K broadcasts.
Influential blog TechRadar playfully chided the British pubcaster for greenlighting the project "regardless of the fact that approximately eight license fee payers will have a 4K TV by the time Survival airs."
Survival, a multi-genre wildlife broadcast series that will feature spiders, meerkats, elephants and more, is one of three projects the BBC is developing in 4K – also known as Ultra HD – which offers four times the resolution of 1080-pixel HDTVs. The other two are theatrical 3D projects: The Hidden Kingdom, a "Pixar-esque" micro-photography film about insects aimed at children; and an underwater feature about sharks.
Producers for the NHU are not only future-proofing their library in anticipation of 4K's disruptive effect on the consumer electronics market, but they want to up the ante on the resolution of their landmark, blue-chip wildlife programming, especially as the BBC begins pushing into the theatrical doc and giant screen markets.
"We're trying to get very intimate, connected-with-the-animals-type of visuals, and we wanted a very cinematic, low-depth of field look," NHU creative director Mike Gunton says of Survival, which will ultimately be delivered and broadcast in regular HD.
About a year ago, Gunton's team began doing tests with Red Epic cameras, which can shoot in variable frame rates up to 5K resolution. In need of a format that didn't have to be scaled up to 1080 for broadcast, the technology offered the specs and dramatic effect they were looking for. An early 4K shoot of a herd of elephants featured a shot of one of them splashing around a mud hole that was particularly vivid.
"The mud's flying around and the water is squirting, the droplets are flying off the skin and you can see every ripple, every hair and crease in the skin. It really is stunning," raves Gunton.
The BBC's Natural History Unit is one of a growing number of producers beginning to adapt to the 4K production pipeline to stay a step ahead of market demand. The need to understand the format is especially pertinent for companies that market themselves based on technological, 3D or photographic prowess.
Japanese pubcaster NHK has plans to air the 2014 World Cup in 4K (and 8K broadcasts in 2016) and European satellite operators SES Astra and Eutelsat also intend to launch 4K transmissions next year.
In the United States, the Sony/Discovery/IMAX-owned 3D satellite network 3net is developing a slate of 4K programming in both 3D and 2D. So far execs have greenlit Space (working title), a 100% CGI series about the history of the universe that it is coproducing with Percolate Digital.
The network is looking to develop a mix of 4K series and one-off docs in the realm of natural history, travel, "destination-based" series that immerse viewers in a specific place and time, and non-fiction series that heavily use CGI, which minimizes some learning curve hiccups from the 4K pipeline.
3net is also seeing a significant demand for 4K content from brands such as Samsung and Sony, which want to entice viewers into purchasing their TVs. CEO Tom Cosgrove says the network will likely transmit that content via "non-traditional" avenues ahead of a traditional TV broadcast further down the line.
Analyst Deloitte predicts commercial 4K broadcasts are 18 to 36 months away. This year, viewers will have to suffice with pre-recorded or perhaps streamed content, such as Hollywood blockbusters shot in 4K or upgraded to 4K from 35mm. But such films can devour bandwidth – the size of a typical feature film is about 100GBs.
Size also matters for content producers. A one-hour 4K show can take up seven or eight terabytes – a massive amount of data that requires high-end processing and storage. "It's an issue of how you find the right partners to work with in post-production, and bringing in equipment. We're doing a little bit of both," Cosgrove says, adding that going out of house on post has worked for 3D so "that's a model that we'll probably look at for 4K as well."
4K offers cinematographers greater depth, different color spectrums and greater clarity of light movement. But better quality generally means higher budgets.
San Francisco-based Golden Gate 3D acquired a Red Epic rig a year ago that it has used for projects in development and an upcoming IMAX film about Jerusalem. Its producers will often encourage clients – large and small – to future-proof with 4K rather than shoot in HD.
Managing partner and producer Robert Mooring estimates that 4K adds a 5% to 10% increase to the production budget and a whopping 80% to post for rendering and storing data. There are also hardware investments in the form of 4K TVs and projectors.
"If you really want to see what shots work the best in 4K – and 3D – it's good to have a 4K projector and television," he maintains. "We definitely do that because we want to control the quality of our content."
Data management is a big issue in the field for the BBC on Survival. "After you spend 12 hours following an animal, the last thing you want to do is spend four hours downloading data," says Gunton. In the giant screen market, 4K resolution does not offer as crisp an image as IMAX film but it is starting to become a viable replacement for 70mm film stock, depending on the project.
Although 4K can suffice for flat screen, it might not work for a dome in a museum where the surface area is greater. "You need to be in the uber-high resolution to be able to fill the domes and have a comparable clarity to the image that you could achieve with 70mm," says Andy Wood, senior VP and producer at Giant Screen Films, which released the 4K-shot feature The Last Reef in 2012. "What resolution exactly is unknown but we're excited about the capture technology coming to market beyond 4K."
The company completely bypassed 2K digital because the picture quality did not have the big, immersive impact audiences have come to expect with 70mm. Only now, with 4K, are large format filmmakers like Wood beginning to warm up to digital.
The creative and financial benefits can be felt during the production phase. Digital cameras are lighter and can shoot longer than a 70mm camera, meaning savings in labor and days in the field on lengthy natural history shoots. They are also less disruptive.
"If you fire up a 70mm camera it sounds like a lawn mower," says Wood. "Many animals are going to high-tail it."
While the giant screen theatrical market is more cautious when it comes to 4K, TV execs such as Gunton and Cosgrove are beginning to view the format as part of an inevitable race upwards for ever-clearer pictures.
"I can't see me working on a project that isn't shot in this way in the future," sums up Gunton. "Blue-chip projects inevitably have more resources available and the expectation is that they will look amazing. If the bar is being raised up, we are expected to be at that bar, or pushing it higher."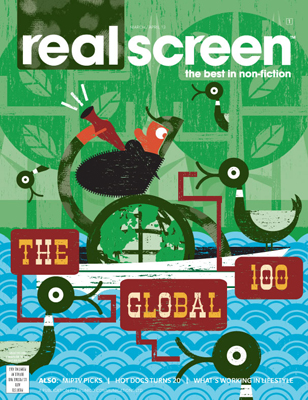 This feature appears in the current March/April 2013 issue of realscreen magazine. Not a subscriber? Click here for more information.