Following on from last week's NAB conference, realscreen contributor Carl Mrozek reports on the latest tech trends from Las Vegas, where discourse focused on the rise of 4K.
If there is one thing you could definitively say about technology trends on display at NAB 2013, it is that 4K – or ultra high definition TV – is at least one of the next big things in TV technology. And that 3D probably is not.
That said, there was a fairly impressive demonstration of glasses-free 3D from Dolby, Philips Electronics and the Cameron-Pace Group, featuring The Life of Pi playing in stunning 3D on a 70″ display.
The showcase wowed delegate after delegate, raising questions about a possible second coming for 3DTV. In addition, an ultra-high definition demonstration by Japan's NHK network, in 8K, looked so three dimensional that a future convergence of ultra-HDTV and 3D not only seemed possible, but plausible.
In terms of 4K, the plethora of technology solutions on display at NAB suggested that it is closer to technological reality than one might have imagined.
Red Digital, the firm behind the game-changing Red One camera, is already moving on to the capture of bigger and bolder 5K imagery and beyond, with its 6K Red Dragon sensor (pictured below).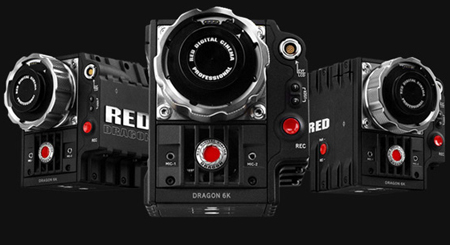 Examples of 4K footage shot with the Red Dragon sensor – by filmmaker Peter Jackson and others – were among those featured by Red at NAB, and were finally playing on Red's long-awaited Blu Ray-style player, the 4K Red Ray.
Judging by exhibits from leading NLE players, the importing and editing of 4K files from various cameras – including Red's – will no longer the onerous process that it was in the early days of Red One.
At the Vegas trade show, many different flavors of 4K were being ingested, edited and even color corrected, both internally and via third party software such as Da Vinci Resolve 10.
Adobe Premiere, Apple, Avid and Media 100 are among the firms that have gotten out ahead of the 4K curve and are now importing and editing native 4K, including some flavors of 4K raw, plus various 4K codecs, including the new H.265 codec.
There were also black box solutions from companies like Vizrt. With its latest Viz Engine, 4K graphics can be rendered in real-time and even streamed over the Internet using multiple Viz engines. Others, like Matrox, introduced 4K monitoring solutions. Their Mojito 4K video card enables real time 4K monitoring with the latest release of Adobe Premiere Pro.
Elsewhere, AJA introduced its new Corvid Ultra card with 4K support for Quantel's Pablo Rio. Corvid Ultra also supports 2K, 4K and 3D workflows in other edit systems including high frame rate (48-60 fps) acquisition.
AJA's KONA 3G card captures and outputs uncompressed and compressed 4K. However, their Ki Pro Quad was fairly ubiquitous at NAB, particularly docked to Sony F5s and F55s, although it can be used with most 4K cameras, except Reds.
Ki Pro Quad records 4K raw files and 4K compliant codecs like Apple Pro Res in real-time, with metadata. It can also record 4K in time-lapse mode and do 4K 'gang-recording'.
There was no lack of 4K cameras on hand either, although the all-in-one-piece 4K camcorder is still only a gleam in the eye of a futuristic camera designer and manufacturer.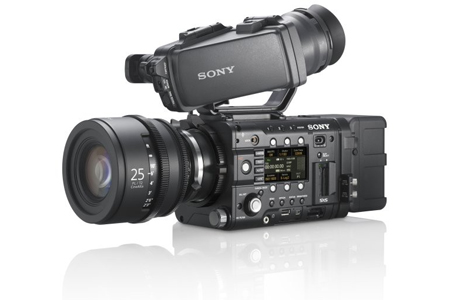 As anticipated, Sony came to NAB with both 4K barrels blazing, highlighting its new flagship cameras, the PMW F5 (pictured above) and F55s.
Both have been available for roughly two months already, but were widely distributed at NAB, particularly in the camera support genre, where companies like Multidyne offered elaborate protective mounting systems with rails for the F5 and F55.
Another impressive surprise was the introduction of an ultra high speed, ultra-HD Phantom camera – the Phantom Flex 4K – which is able to record raw 4K at up to 1,000 fps – a new technological benchmark.
While it has up to 64 GB of ram to record to, the new higher capacity Cine Mags – which have 2 TB capacity – will be needed for high frame rate work.
At normal speeds of 24 fps, the 1TB Cine Mag can record an hour of 4K raw. The Phantom Flex is also designed to be user friendly for standard production, including audio recording, besides slow-mo work. Parameters like frame rate, exposure and trigger can be remotely controlled via cable or Bluetooth, with a full spectrum of setup options accessible via the menu on an LCD side screen.
As it won't be available until nearly 2014, Abel Cine was offering full credit towards a Phantom Flex 4K (US$100,000) for buyers of the Phantom Flex 2K.
Elsewhere at NAB, Canon ramped up its presence in the 4K space, having introduced its EOS C500 4K capable Cine camera at NAB 2012.
This year the C500 was ready and able to capture 4K raw to a variety of 4K recorders.  The company's top end DSLR, the EOS 1DC, was also demonstrated, recording 4K directly to dual CF cards.
The workflow for all of this raw footage was also on display, as were some of Canon's new 4K lenses, including a set of primes and a short and a long zoom, the 30-300. The firm also introduced a 4K anamorphic lens.
On the workflow side, Canon demonstrated the amazing imaging potential of 4K by adding Barco's new DP4K-P 4K projector, with its wide color gamut filter, to a post suite.
It allowed the ability to project 4K imagery onto a very large screen as a single image, or side by side, or to use it as four different 4K monitors, enabling the most detailed color reproduction correction and image enhancement possible in 4K, for a surprisingly three dimensional look.
Meanwhile, Black Magic Design kept to its pledge to provide high caliber 2K-plus sensor cameras at prosumer HD prices, by adding two more cameras to its original 2.5K Cine Camera.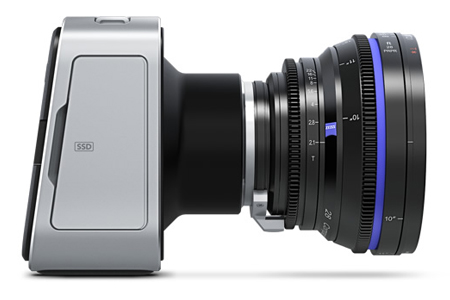 The first of these itsProduction Camera 4K (pictured above), featuring a Super 35 mm-sized sensor with an advanced global shutter that records either Apple ProRes 422 (HQ) or CineG RAW in full 4K, at the same frame rates as the Cine Camera (24p, 30p, 60i, etc).
In some ways Black Magic's new Pocket Cine Camera was even more impressive, as it is essentially the firm's original medium- small 2.5K Cine Camera compressed into palm-sized point and shoot camera body with a micro 4/3″ mount.
This means that it can accept a much broader spectrum of lenses than the new Production Camera 4K, presenting enormous creative potential, for just $1,000.
However, no manufacturer has yet managed to out-miniaturize the GO Pro pixel/gram. The company's Hero 3 not only has a 2.7 K sensor, but also can shoot up to 120 fps despite being around half the size of the Hero 2.
It can also be operated via a remote control unit or over Wi-Fi. Despite the big sensor and other gains, the Hero 3 still sells for the same price of $300, making it the biggest available bang for buck, pixel-wise, at NAB.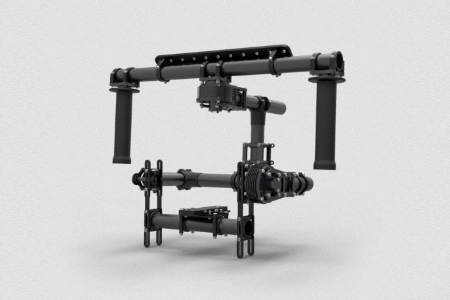 However, perhaps the biggest game changer in the opinion of many in the production crowd was Freefly Systems' MoVi M10 (pictured above) – a gyroscope-based camera support system that seemed unflappable.
The model on display at NAB was designed for mid-sized cameras, which includes the vast majority of cine-style cameras produced today.
Its sled has dual handles and is more like a DSLR rig than a gimbal-based steadicam system. This provides a greater sense of control, especially in starting and stopping a camera move. Image stability, in turn, affects apparent image resolution, and shakiness of any kind could seriously undermine 4K quality.
"It takes years to learn how to end a steadicam cam move smoothly, but with MoVi, it may be feasible to get the hang of it in days, if not hours," said Emmy-winning DP Vince Laforette at NAB. "It could be a real game-changer in many avenues of production."
 Check out realscreen's previous feature on the non-fiction industry's adoption of 4K technology here.