Realscreen contributor Carl Mrozek returns from this year's NAB conference in Las Vegas with a two-part report detailing new product news, with the first installment focusing on new developments in the 4K camera arena.
NAB 2015 may be remembered as the year when 4K really came of age, particularly for acquisition.
The Las Vegas content technology confab, which wrapped last Thursday, saw most camera companies expanding their 4K lineups, filling in gaps in size, market niche and price. One, Japan's Ikegami, even introduced a fully functional, hand-held 8K camera, developed with Japanese pubcaster NHK and geared for live studio and field production. Its very existence as a working camera epitomized what a difference a decade can make in advancing the state of 4K technology by raising the resolution bar even higher.
Take, for example, Red Digital. Its latest camera system, dubbed Weapon, utilizes the 19 MP Dragon sensor, and its advanced signal processing, 4K+ video and new onboard audio recording capabilities are compressed into the smallest, lightest and tightest, yet most functional camera chassis from the company yet. Weapon captures 6K video and stills at up to 100 fps, and more than double that in 4K, and records in Apple Pro Res as well as Redcode.
Weapon can even be configured for live production and was used to livestream events from the Red booth at NAB. Also, in true Red tradition, Epic Dragon owners can upgrade to the Weapon system for around US$10,000. Weapon is available in either a carbon fiber or Magnesium chassis, with more functionality in the former and lower pricing with the latter, starting at $30,000.
Another 4K pioneer, Canon, unveiled an upgrade to its popular C300 cine camera, complete with a new 4K sensor and much expanded processing power via dual Digic V processors. The Mark II (pictured, below) also boasts 15 stops of dynamic range, internal recording of 4K at 30p and up to 120p in a 2K crop mode.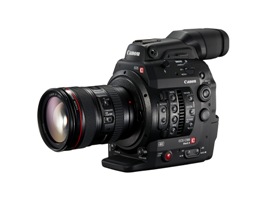 Arguably a completely new cine camera with a very similar name, the C300 Mark II will be priced about the same as the original model, in the neighborhood of $17,000, so watch for big discounts on C300s when the Mark II hits the market.
Perhaps an even bigger reveal by Canon was its XC10 4K camcorder, smaller than Canon's C100 and at around half the price. The XC10 captures full 4K images – plus HD & stills – with 12 stops of dynamic range and includes a 10X lens and a rotatable LCD viewfinder, all for under $2,500.
Canon also expanded its line of 4K lenses to six, with three primes and three zooms. The show-stopper was its newest zoom, a 20X mega-lens. Its 50-1000 mm field lens is ideal for sports and wildlife applications, but does require a large tripod. At NAB, attendees were encouraged to test the new lens by zooming into the face of a fake gorilla perched in the rafters of the Las Vegas Convention Center, more than half a football field away.
Arri finally climbed aboard the 4K bandwagon at NAB 2015, with four new cameras: the Alexa 65, Alexa ST, Amira, and Alexa Mini. While the Alexa 65 is designed for IMAX and other mega-screen productions and is priced for rental houses, like Sony, Red and Panasonic, Arri periodically upgrades its camera software to add features to and upgrade functions of each Alexa model so that they won't become obsolete in a few years.
Besides adding 4K recording Arri also added higher frame rates and 3D lookup tables (LUTs) to its Alexa "super extended technology," or SXT. Some, but not all of these features will be available with the 4K Alexa Mini camera head and with the Amira, which now records 4K at 30 fps internally in Pro Res and Arriraw, as does the Alexa Mini. Higher frame rates are attainable with both when output to Codex and other 4K recorders.
By far, Sony's most acclaimed new 4K camera at NAB 2015 was the FS7 (pictured, top of story). Its dynamic range of 14 stops, high sensitivity, compact size and ergonomic design makes it ideal for docs and reality TV production. Sony incorporated many suggestions from leading documentary makers around the globe for its final design, leading to unique features such as the customizable extended grip with lens control on a fully adjustable support arm for shooting at selectable angles. It can record 4K at up to 60p, HD at up to 180 fps internally and 240 fps HD when output to 'affordable' 4K recorders such as Convergent Design's Odyssey 7Q, or Atomos' Shogun, plus 4K/2K RAW.
Panasonic's affordable answer to Sony's FS7, the DVX200 (pictured below), has an onboard 13X lens and records UHD (3840 x 2160) at up to 60 fps, HD at up to 120p and full 4K at lower frame rates. With its compactness, range of frame rates and other features, clocking in for less than $5,000, it could become a fixture on reality TV shoots.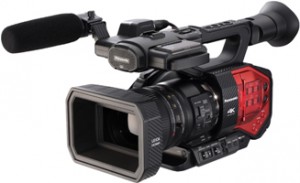 Panasonic's 4K Varicam now includes a detachable camera head which captures UHD at up to 120 fps & HD up to 240 fps. Also, soon, Panasonic's LUMIX GH4 firmware update will enable anamorphic capture in-camera, versus only in post.
JVC's prime new 4K camera was the GY-LS300 (pictured, below) with a Super 35 mm CMOS sensor, micro 4/3″ lens mount, and PL and EF mount options. The LS300 and the new 4K GY-HM200 both include an HD streaming engine for 4G LTE.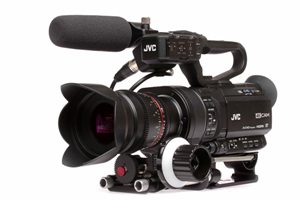 Elsewhere, among 38 new products at NAB 2015, Blackmagic Design introduced several new 4K cameras, including the Ursa Mini (pictured, below), which boasts Ursa's 4K and 4.6K sensors and processing, but is much more compact and light for handheld shooting, with several sensor/mount combos starting at $2500. Smaller still is the Micro Cinema cam with a Super 16 sensor, based on Blackmagic's Pocket Cinema camera and ideal in tight quarters and on drones, for a $1,000 list price.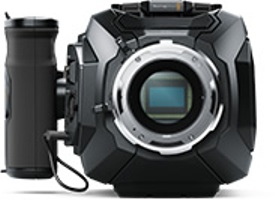 Also, previewed at NAB2014, AJA's Cion (pictured, below) was a full-featured working camera this year with 15 stops of dynamic range, optional internal color correction, and able to record 4K RAW and Pro Res 422 to 60 fps, AJA 4K Raw HFR to 120p, and HD to 180 fps.
AJA is encouraging pros to try Cion via its website.
On the lens front, one trend worth watching was the unveiling of new 4K production cameras from such brands as Sony, Grass Valley, and Hitachi that use 2/3″ B4 mount lenses, without cropping. Although mainly geared for live production, access to a broad inventory of existing 2/3″ mount zoom lenses could encourage their use for many other types of production and trigger another genre of 4K cameras in coming years – those with native 2/3″ lens mounts. Meanwhile, Fujinon introduced two new 2/3″ mount lenses optimized for 4K: a 22 x 8mm EFP lens and an 80 x 9mm box lens, both with servo controls. The company also added a 25-300mm PL mount lens to its Cabrio series of Cine lenses.